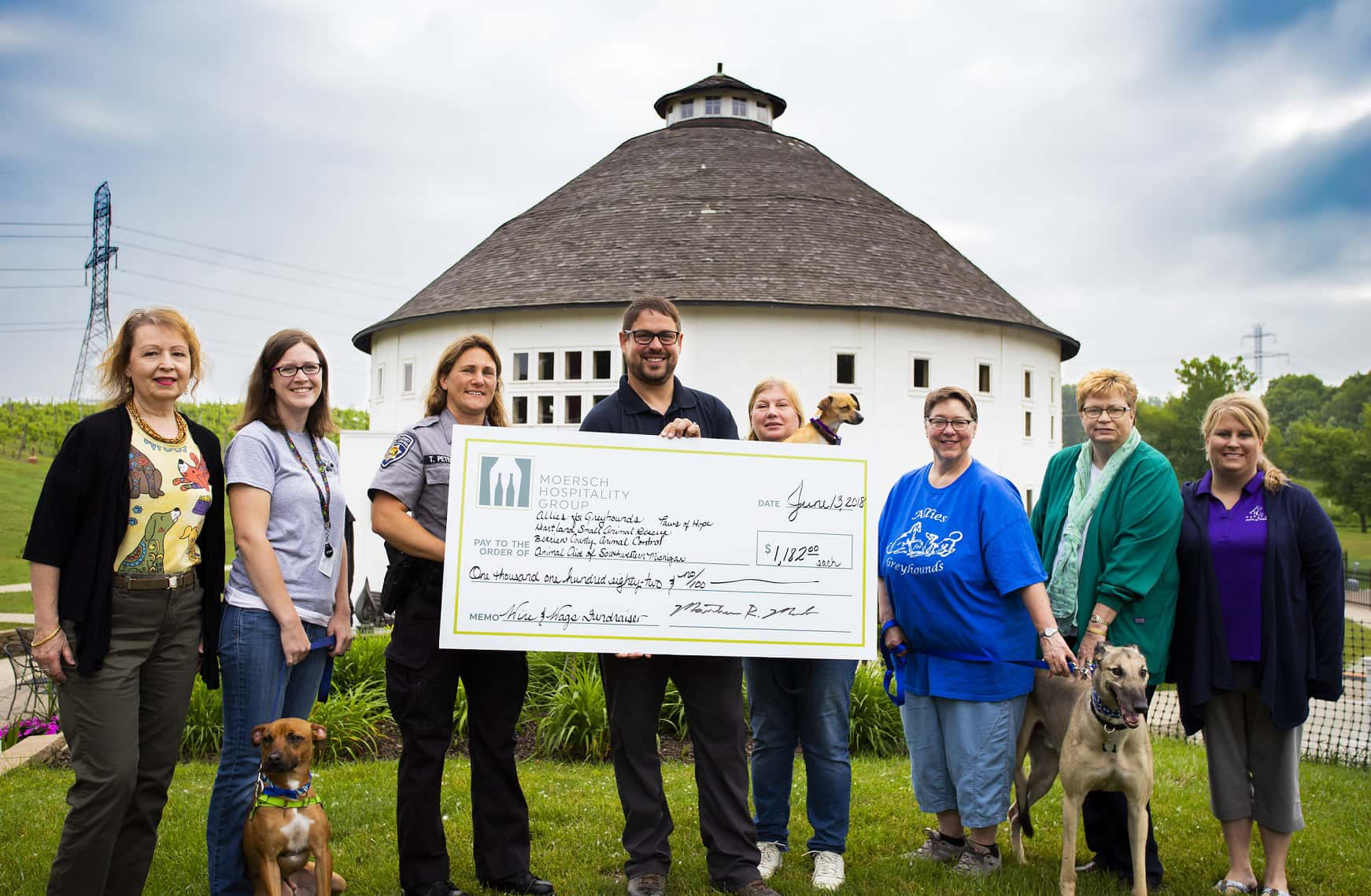 Pay a visit to Round Barn Winery's Jammin' in the Vineyard series anytime all summer long and it is immediately clear that the Round Barn family loves the entire family, including the family dog. Four-legged friends are readily in evidence every summer weekend, but one particular summer day they go over the top for the canine set.
Back on June 2nd, Round Barn's traditional Wine & Wags Fundraiser was a rousing success when five non-profit animal rescue and adoption groups were hosted in the heart of the vineyard right outside of the iconic whitewashed Round Amish Barn. A veritable extend-a-leash from the music stage, non-profit agencies showcased their adoptable animals and services to wine, craft brew and spirits lovers enjoying a special version of the Jammin' in the Vineyard music series.
Those agencies included:
Allies for Greyhounds
Animal Aid of Southwestern Michigan
Berrien County Animal Control
Paws of Hope
Heartland Small Animal Rescue
A share of the proceeds from the gates and sales that day was presented to each organization this morning in a check sharing ceremony at Round Barn near Buchanan. Representatives from four of the agencies were on hand to gratefully accept the ceremonial checks. Each of the organizations was given a check for $1,182 as their share of the proceeds from Wine & Wags. That's a whopping grand total of $5,910.00 from the Moersch Hospitality Group, owners and operators of the Round Barn family of brands in Michigan's Great Southwest.
Representatives from the four organizations on hand at today's presentation were, from left:
Vicki Dunlop, BCAC volunteer; Val Bohland, BCAC Volunteer Coordinator with adoptable dog Deno; Tiffany Peterson, BCAC Director; Matt Moersch, Owner at Moersch Hospitality Group; Becky Cooper, Social Media Director, Animal Aid of Southwestern MI with foster dog, Eloise; Suzanne Lahr, foster parent, Allies for Greyhounds with foster dog Kris; Susan Bandsma, foster parent, Allies for Greyhounds; and Kristie Paar-Miller, Kitten Foster/Photographer, Paws of Hope. Suzi Carpenter, Special Events Manager at Entente Spirits, at the helm organizing this year's fun and generous event, helped with the presentation to the groups this morning.
The photo accompanying this story on Moody on the Market is courtesy of  Jordan Roberts, Round Barn Marketing.