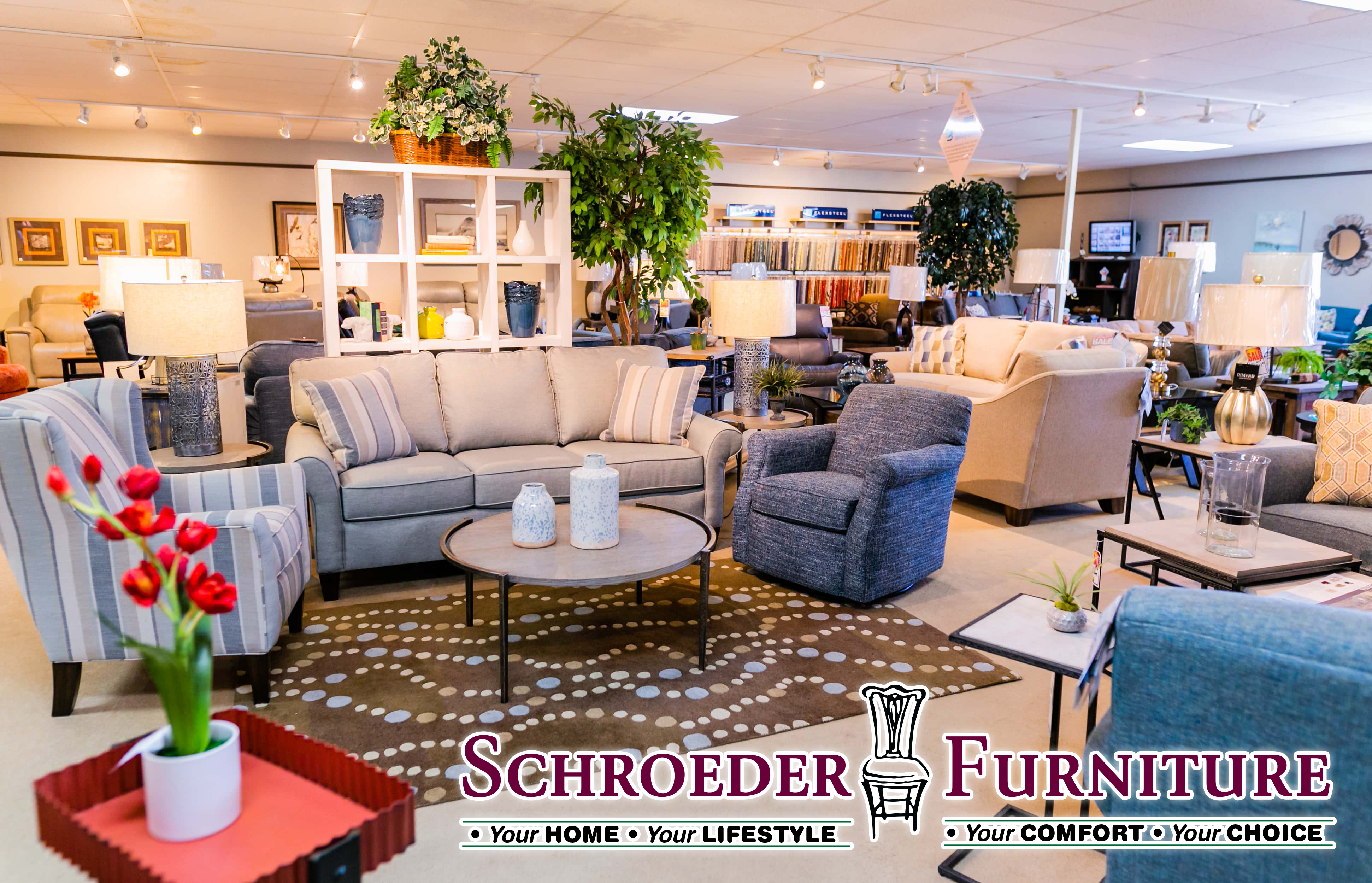 ---

---
Sometimes when your dad is the owner of the company and you come on board, you end up with a desk near his in the executive suite. For Schroeder Furniture's Scott Schroeder, his expectations of just that scenario were very high. Decades later, he laughs about how he sauntered in to his father's office, a newlywed with big plans for sitting at a desk right alongside Tom Schroeder, ideally with his feet propped up, large and in charge. "Fortunately," he says, "When I asked where my desk was, he chuckled and quickly told me to get back to the warehouse arguing, 'You're going to learn this business from the bottom up.'"
Ironically, Schroeder Furniture started out as "Something of Value," because that day Scott was delivered a message containing something of tremendous value. A lesson that has reverberated with Scott for more than 30 years. The importance of building a business from the bottom up.
Scott, now owner of the company with his wife Dawn, says, "I appreciate it now, but I was pretty angry and put out by that suggestion to get back to the warehouse because I wanted a desk up front." He admits, "I capitulated, and as I said, I appreciate it now, after years of thought and now training other people back there so they know the business from the ground up, and it was a great learning curve that proved that business doesn't just start off in the front office, it's all the other aspects of business that make it grow. It was valuable lesson, I was 23 at that time, and really thought I had everything planned out, had my feet up on the desk, and was promptly kicked out and told to get back and start breaking a sweat."
Reality is that Scott has never stopped breaking a sweat, because now the responsibility is all his, but as Schroeder Furniture embarks on its 45th Anniversary year, he's grateful that they are still relevant and an important part of the Southwest Michigan business community.
Scott's father, Tom, established the business back in 1975 as Something of Value, Inc. on St. Joseph Avenue  in Stevensville with a house up front and a barn in the back. At that time Tom did everything on consignment, and he would venture out each day being the community "Value Finder," ever in search of whatever the public would want. As Scott recalls, "It's pretty interesting because I remember a time we were riding in the van, and he spotted a couple of Schwinn bikes by the side of the road and stopped because 'I know a lady who wanted a bike' or something like that and he would stop and make a deal and bring it back and sell it."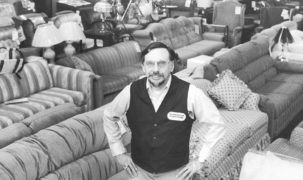 Three years after setting up shop in Stevensville, Tom moved the business to Hilltop Road in St. Joseph for expansion reasons, and that became the transition from consignment sales of all sorts of things to new home furnishings, but still keenly focused on the same mission: To bring customers brand name home furnishings at affordable prices, the best quality, and provide great service before and after the sale.
Scott says, "My father always loved people and really enjoyed the 'search & find' aspect when it came to finding things for his customers." He started in retail at Goldblatt's and Kmart in Benton Harbor when they were at the top of the retail game, but he always had the dream of opening his own store.
Scott recalls, "When we moved here to Hilltop, we switched from the consignment business to all new furniture, and here we are 45 years later." How? Well, he suggests, "When you have a great team of employees, hard working crews, and dedication, and you listen to what your customers are saying, you have staying power. You just keep plugging along, and find new things. You learn how to make the business grow and be more attractive to a broader base of customers."
The learning curve that Scott refers to was actually a two way street, as he says, "I always told my dad, if you don't change some of the colors and punch up the décor and design with some bright colors instead of wagon wheels and brown fabric, guess what, our customers are going to die off and so are we. You can't just appeal to one segment of the market, you have to reach out to a broader range, and stock accordingly." The new dog taught the old dog some new tricks and he'll be the first to tell you, "We would butt heads now and then, but I also learned a lot at his knee."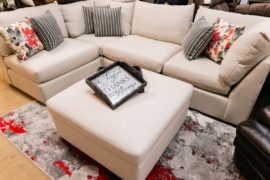 As he nurtured Schroeder Furniture through the years, Scott says he began to realize that, "For me the thing that is exciting about the furniture business is it's really a fashion industry." By way of explanation he points out, "Fabrics come and go. We see the avocado gold fabrics come and go, and it's always evolving as colors change, styles change. It's exciting to see the latest and hottest colors of furniture fashions and the way they craft things as traditional styles evolve into transitional styles, and I think my favorite part is seeing the new innovations that come out in the industry, how they build things, and change over the years. It's interesting to see some things come full circle whether it's a comeback color or something else that finds its way back into the popular trends. That's why I call it a fashion business."
Customers today have a great range of options, as Scott notes, "The beauty of today's furniture market is you don't have to be stuck with a cookie cutter selection. You can get what you want." It's important because, as he says, "People watch all the HGTV programming and come in with great ideas on what they'd like for their own home, and our designers can help you to put it together and make it a reality for you."
Another aspect Scott is particularly proud of is the fact that his team of design experts can help customers from every angle, from design to placement and layouts, to color matching or contrasting, and he says, "I think that potential buyer's remorse comes from people who are not sure that something is going to work, but now we can pre-plan all of it to take most of the 'what ifs' out of the equation, and give each customer peace of mind that they're going to get something that fits the room and its décor and turns into exactly what they dreamed of."
Unlike many businesses that find themselves on the ropes, Scott says, "That's how we've grown, because we're not just a bunch of static displays. In a big box store you have to take what's on the shelf, whereas here you can custom order in the color you want, the fabric you want, the style you want, the comfort-level you want, and it only takes an average of about 6 to 8 weeks to get exactly what your heart desires. That's a beautiful thing."
As the 45th Anniversary celebration has been approaching, things became interesting to say the least. Scott says, "I think we all got hit by surprise with the coronavirus, so right now we're just trying to get everything rolling again and moving forward." He adds, "In business you can always plan for certain things, and change certain things, but when something like this happens there's not a textbook way or a right or wrong way to study for recovery, you just have to try and do what it takes to survive."
Throughout the pandemic, Scott says, "We just wanted to keep in touch with our customers and let everyone know that we're still here, we're going to take care of everyone, and even though things are changing rapidly, we're going to still be here. We want to give folks peace of mind and going forward, we're just going to continue to find some lines that hit the niche of the community and the people that are buying from us, and just have lines that we know we can trust." Sometimes good things happen in bad times, as Scott says, "The biggest thing that has happened is we found companies that really want a partnership, who are more ready to be a partner with us and help us all get through the tougher times, and we says, "hey maybe we  want this relationship going forward not just for the customers but for suppliers you can trust to get the products to our customers in a timely manner and keep that partnership alive.'"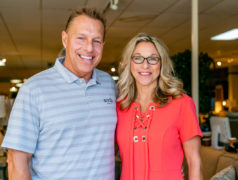 As Scott and Dawn's business has grown, they've advanced with the times providing kiosks in the store, capabilities for the design team to present digital plans for room layouts and design and even an e-commerce website that shows you what they can get from multiple sources rather than you having to buy things online from some out of town source before you've even had a chance to lay down on the mattress you're searching for, or sit in the recliner you think you want. Furniture buying for most of us requires touch, feel, scope and scale and those are pretty hard to come by from some online company you know literally nothing about.
Celebrating 45 years this month, Scott will tell you, "It seems like just yesterday that I started with my father as a young 22 year old but I think over all that time while we got a few more grey hairs, we've also gained a tremendous amount of knowledge and we're just trying to make sure that we're going in the right direction that will keep us solid in this community."
Proud of his team, Scott says, "Our staff is just phenomenal, and they really work hard to satisfy the customer and give them what they want. I think that will keep us strolling forward. It's always changing and evolving, but that's what I like about the furniture business is that it is always changing, and we go to the shows to get new ideas, and then transfer them back to our showroom and people who say 'I just saw this great HGTV show and I want this product,' and we can offer it to them, so it keeps us on our toes, just like fashion."
The Schroeder Furniture team is currently running 14 members strong and Scott says, "When you have good employees, you treat them the way that you want to be treated yourself. They, in turn, will be loyal and trustworthy. You don't treat them like they're just numbers. Most of my employees have been with us for quite some time, which makes them like family all the way around, whether they're in the warehouse or the front office, we treat them with the same respect." He's not afraid to get back to his roots, either saying that as busy as it has been since the store reopened that he's even been helping out in back and with deliveries but readily admits, "Yeah I've done this before, but that was some 30 years ago and I was a lot more nimble!"
Reflecting on the past several months, Scott says, "We've just swung our doors back open and people are out and about. It's a milestone for us. 45 years. Who thought we'd still be here. So many great companies are disappearing. Who would think that Art Van Furniture would be disappearing." Nevertheless, he is emboldened now suggesting, "We can get through anything. We got through the 2008 recession, so we can get through anything. That year I saw 250 furniture stores go out of business and some were big chains, too." He concludes, "You change with the times, you try to keep your ear to what customers are saying and while you can't be everything to everybody, we try."
So, get ready for the big top tent and the party. You have an open invitation to the 45th Anniversary Sale, and if you'd like to routinely get special offers from the team at Schroeder by way of e-mail or if you'd like to contacted directly by one of their design professionals, click the link(s) below and join the fun. You'll find Schroeder Furniture located in the Southtown neighborhood of St. Joseph at 1335 Hilltop Road, the corner of Hilltop & South State Street. You can reach them by phone at 269-983-7733 or online at  http://www.schroederfurniture.com
---
Have questions, or want more information from Schroeder Furniture? Fill out the form and someone will be with you shortly.
---

---