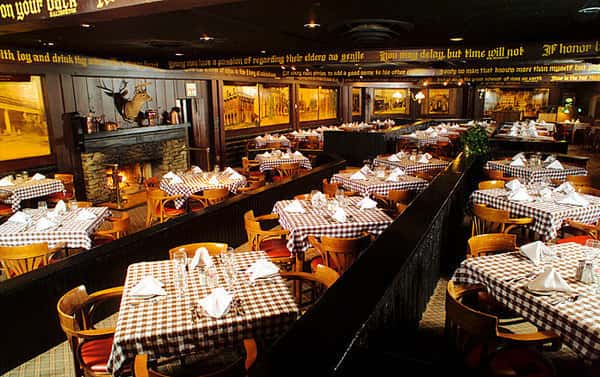 The Schuler's name and brand still draft warm memories of decades of outstanding food and service to Michigan's Great Southwest, and while the Schuler family no longer operates in Berrien County, its flagship establishment in downtown Marshall is in the midst of the latest in a series of projects aimed to enhance the customer experience once again.
The 107-year old landmark continues to undergo a transformation that will soon have guests greeted by a newly configured reception area and retail space in an area connecting the main dining room and Winston's Pub on the left and meeting spaces to the right. The upgrades are designed "to provide a more relaxing space for guests to sit and visit before or after their meal."
Schuler's originally opened for business as a cigar store and restaurant in 1909 and continues to advance year after year by taking care of its clientele.
New carpeting, light fixtures and furniture, as well as equipment upgrades like phones and computer systems are expected to round out this phase of the renovation project.
Third-generation owner Hans Schuler, who once co-owned Schuler's of Stevensville with his son Larry Schuler, says, "There's a unique challenge when you have a historic property. You want to maintain the integrity of the restaurant — which generations have come to expect — while at the same time advancing with the times to attract future customers." Schuler exhibits great pride in how his team has worked over the recent years to move the brand forward without losing touch with the past.
Two years ago Winston's Pub was completely refurbished, and next came updates to the Signature Room including new lighting, ceiling and wallpaper. Next, the Old Lodge Room was renovated and re-opened as the Grille, based on increased demand in Winston's Pub.
Last year, Schuler's installed a new bakery oven in the kitchen to accommodate increased output of baked goods in both the restaurant and the retail space. Later, a pergola and grill station were added to the front patio area and a new service bar was added in the Grille to handle increased occupancy in the Centennial Room.
Additionally, 2015 saw renovations launched on The Heritage Rooms, with new paint, wall-coverings and decor, while new carpeting and state of the art technology will also be incorporated.
The Lobby begins a new layout design this year, complete with a reception desk, retail space and comfortable seating areas for guests, and new equipment, in the form of new ovens and fryers, were added to the kitchen in Winston's Pub to allow for an ever-changing menu. Executive Chef John Stovall and Executive Sous Chef Tim Gibbs will have wider access to create new menu items for that casual dining area of Schuler's.
The iconic restaurant is located at 115 S. Eagle Street in downtown Marshall.
The Schuler family maintained a presence for decades with the Schuler's road house restaurant at Red Arrow Highway and I-94, (which was later closed and sold, later to be converted into the now-shuttered 5 O'Clock Sports Bar) and in more recent years with Schu's Grill & Bar which Larry Schuler sold a couple of years ago to Jim Kramer who now also owns and operates Tim's Too and The Food District all in the same block of downtown St. Joseph.
Larry was the fourth-generation of the Schuler family engaged in the hospitality industry in our region, and he is still President of Schu's Hospitality Group and a contract advisor for hospitality and Business Development Director of Food and Beverage for The Henry Ford Museums & Institutions in Dearborn.