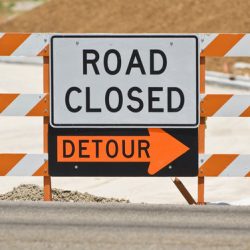 It's not a very long stretch of road at all, however when it is closed down completely next week you'll have no alternative but to follow the detour signs for a good part of the week. If your commuting route is along M-43 near South Haven, or if business routinely takes you along that segment, here's an official heads up notice for you from the Michigan Department of Transportation.
There will be a total closure of M-43 for concrete repairs between Blue Star Highway and Aylworth Avenue in South Haven from Monday, August 14, through Thursday, August 17.
Traffic will be detoured on Blue Star Highway and Aylworth Avenue.
For project details and a map, you can visit Mi Drive.
It's a short, but important segment of the route connecting to Blue Star Highway, and M-43 is already a construction zone north of Aylworth, but that section is not completely closed off. MDOT thought you'd want to know if that's a regular travel route for you, your business or your family.