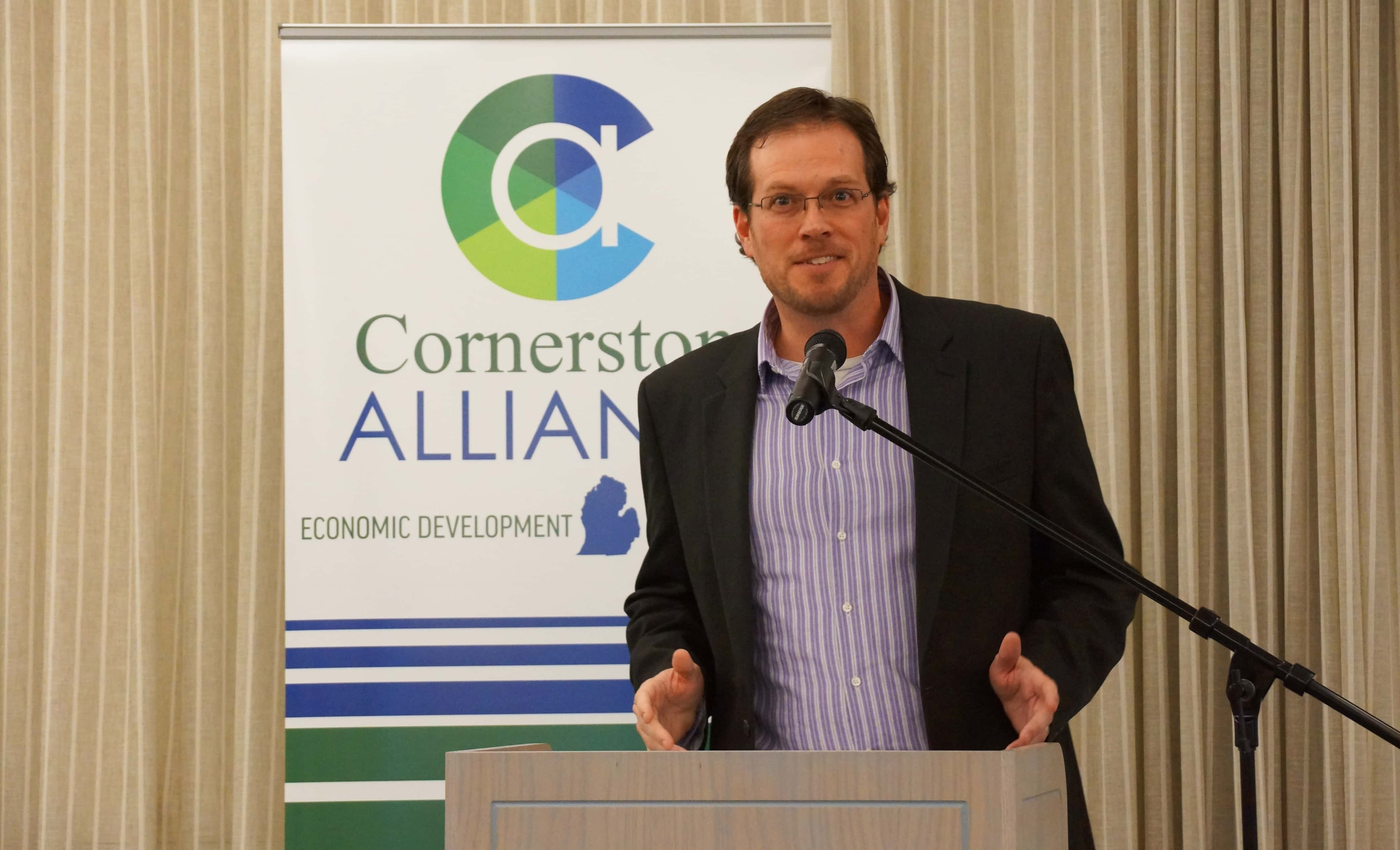 The next manufacturing company to set up shop in Michigan's Great Southwest could very well have German or Italian roots thanks to the diligence of the team at Cornerstone Alliance.
Cornerstone Alliance President Rob Cleveland is fresh off of a week long trip to Italy and Germany as part of a delegation for foreign direct investment in the United States under the banner of the European-American Investment Council, or EAIC. The group met with half a dozen manufacturers keenly interested in establishing factories in the U.S.
Cleveland was one of just seven delegates engaged in the journey, and the only one from the northern part of the country. The three other communities involved included two from Mississippi, and one each from Texas and Florida. Other members of the delegation included a site selector from Germany and the EAIC's lead agent.
Strategically, this was a timely and fortuitous window for the trade delegation. Cleveland says, "The bottom line was in every single meeting we had — in all ten of those meetings — the Trump administration came up." The economic development expert says, "They are paying strict attention to two things: Corporate Income Tax and Trade Policy."
Fear of proposed new stiff tariffs that could be imposed on foreign trade exported to America has those companies concerned, but proactive. Rob says, "Those companies are looking to see if there's going to be a pretty high tariff slapped upon their goods. They know they may have to come to the U.S. to do business, inasmuch as it may be less expensive for them to locate here rather than continue to export to the United States."
Cleveland's opportunity to make the trip stems from their long-running membership in the German-American Chamber of Commerce, which is evolving into the EAIC as they work to expand to more of Europe going forward.
The EAIC is an invitation-only group, and Cleveland says "You can't just go join without being asked. Their criteria for inviting communities is, they need communities that have foreign direct investment, and know how to work with foreign companies. They don't want to take people to Germany who cannot deliver on what they say they will."
Since membership in the group is less than $1,000 a year, and part of the payoff is invitation to join trade delegations, attend events here and be exposed to European companies, Cleveland jumped at the chance.
He tells me they spent three days in Italy, largely in the northern tier where that country's manufacturing hub is anchored as well as to Luca and Verano before traveling to Germany for the next three days in Munich and Passau.
Rob says, "We had ten meetings over the time we were there, six of which were with specific companies, and four meetings with trade delegations, chambers of commerce, foreign trade groups and others." He notes that it is the law in those countries that companies have to join the chamber, and one of the chambers they visited had over 10,000 members. He says, "They (the chambers) really are the entry point for doing business in the U.S."
Cleveland says, "From a business perspective, it was an outstanding trip, and one we will likely do again." He adds, "We had the six company visits, which were outstanding, and I'd say we came away with three solid leads."
He likes the strategy involved, being the only northern U.S. community represented. He says, "We obviously have a very different story to tell than the folks from the south. They have some advantages, we have some advantages. One of the companies that we met with was a manufacturer, and through the chemical process of creating their product, they can't be exposed to humidity. So, if you're going to settle for the south, you've got to have a temperature-controlled facility, whereas, certainly if they're in our neck of the woods, they don't have to do that. That was certainly a benefit to us. In some of those situations, it really helped that we were the only community in the north to attend."
Another company Cleveland met with is interested in setting up a sales office of two or three people soon. He says, "We met the gentleman who would be moving here with his wife and kids, and he said he needed two things — access to an international airport with direct flights to Italy, and good schools for my kids." As Rob says, "That's right in our wheelhouse, right? So, we're already following up with him."
One of the other companies told the trade delegation they will, unequivocally, be doing business in the U.S. in 2017, and will have a site selected before the year is out. Most of the others, however, weren't that definitive, but Cleveland is already following up with the company planning to be here this year. Others were looking out to 2018 and 2019, but all have clearly understood, "They're going to have to be here, doing it."
While everyone wants to win the next big manufacturing deal, Cleveland says the small delegation did anything but duke it out with one another. He says, "By the end of the week, we were all able to deliver one another's five minute pitch." All of the communities are east of the Mississippi, which allows companies looking to come here to eliminate a good portion of the country while prospecting. Cleveland says, "Ultimately, we aren't sitting in Italy competing for projects. We're sitting in Italy trying to understand from the company where the connection is." He says our region likely has no shot at winning at least two of the projects, but they were there listening, learning, and then they would debrief among one another afterwards.
Even in critical meetings like those with manufacturers looking to set up shop in the U.S., Cleveland says they were not talking about incentives or tax rates. Rather they were there to learn what the company's needs were from buildings to schools and things like access to an international airport.
Cleveland says, "There are some people who think it's ridiculous to travel internationally, but we take this very seriously, it is strategic. These are 16-hour days, and it's serious business. We aren't going to go if we don't think there is the potential to add value." He admits, "It's not something that we have the resources to do often, but we're going to pick and choose and go, and I do think it is important that we are involved in foreign attraction."
There's not much grass growing under Mr. Cleveland's feet these days. He's slated to hit New York next month to meet with sixteen site selection consultants. He says, "We're always trying to make sure we have diversity," meeting with companies on some occasions, site selectors on others, and concludes, "We're trying to put different stones in different buckets, and to spread our resources wisely."
He was hired to do a job, and he's doing it every day. From the work to help secure the recently announced $19-million expansion lab at LECO Corporation to his role on the Executive Committee for the KitchenAid Senior PGA Championship of 2018, there's plenty to keep the engine running. Stay tuned.