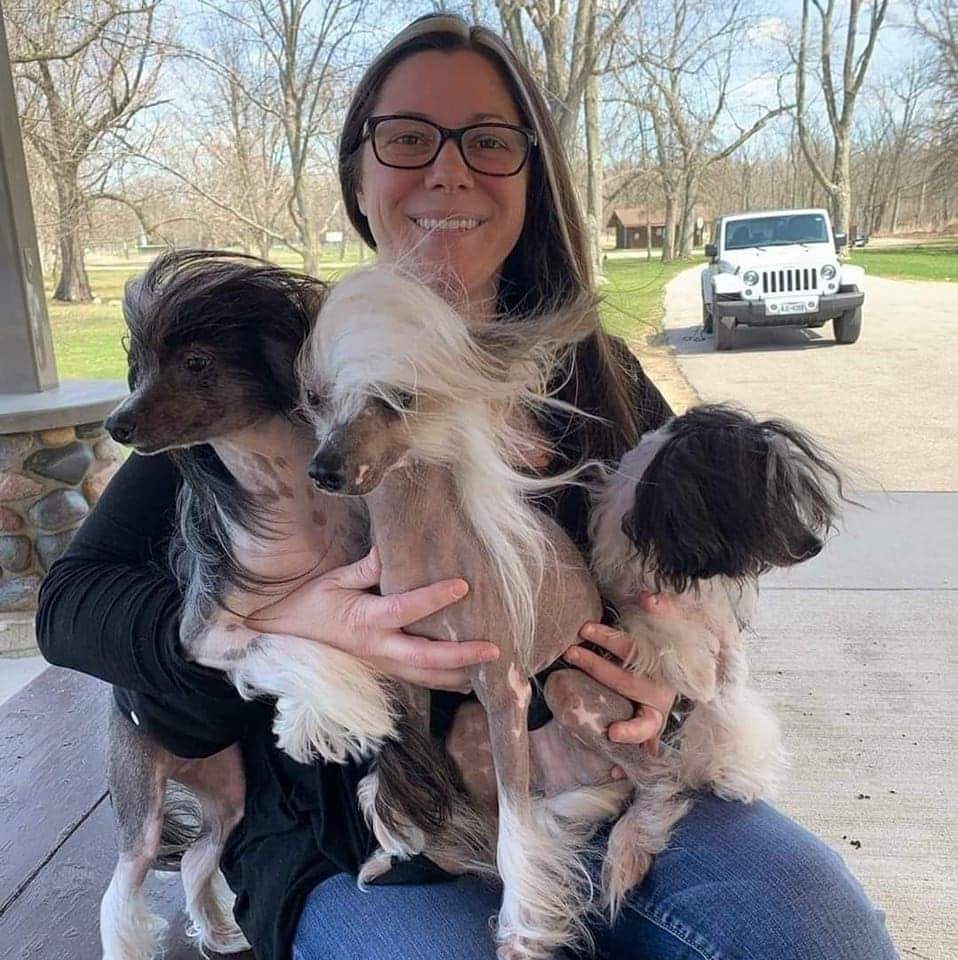 ---
Your fur babies are more than just pets. They are your companions for this journey, through life's big events and experiences. They rest loyally at your side and offer friendship and love– they are members of your family. Nikki Andrews, owner of Sesshin Grooming & Spa, understands the importance of the health, happiness, and care of your animals, and offers a zen-like grooming experience to pamper and primp your four-legged friends.
Nikki's love of animals began at a young age, recalling her mother's shock when she brought an injured bird into their home, wrapped in her dress as they readied to attend a wedding. "My mini schnauzer was my best friend and the first love of my life," she says, happily reminiscing. "Your pets are with you every moment, experiencing life with you. They deserve the best life too."
Since 2007, her training and work experience has taken her to big cities, like Grand Rapids, Kalamazoo, and Houston, TX, leading large franchise stores and managing up to thirty employees, while simultaneously attending school to obtain a Bachelor's Degree in Human Resource Management. With sixteen years of grooming experience, mostly in the busy world of corporate pet salons, and with a flair for high sales and work with specialty cuts and breeds, Nikki decided it was time to become an entrepreneur and open her own business. Sesshin Grooming & Spa is run out of her home, appropriately located near the dog park in Baroda, and after months of zoning, inspections, and working closely with the city, is now open for business.
"Being within walking distance to downtown Baroda, my clients can enjoy our beer, wine and restaurants, supporting other local businesses while their pet is at the spa," Nikki says. "It's the perfect location for my clients of St. Joseph, Stevensville, Bridgman, and further, to have easy access from the highway."
Sesshin Grooming & Spa offers a No Stress, No Distractions, peaceful environment, with very minimal kennel time, and a personalized one-on-one experience. "Your pets' comfort, health, and safety are my top priority– I have high standards!" Nikki says. "I schedule appointments one at a time. There won't be an eight hour gap between when you drop off your baby and when you pick them up. It is also my job, as the groomer, to build communication between the animal and its owner."
Nikki's extensive background in pet store salons provides her with the knowledge of a wide array of grooming products. The product lines used at Sesshin Grooming & Spa are as holistic and natural as she can find. From pet safe hair color and CBD balms + oils, to toothpaste and organic shampoo and conditioner, these premium, safe products only exaggerate the spa-like experience she offers for your pet. She takes pride in her top of the line, quiet wash tub, keeping her grooming environment soothing and calm. For your older, special needs, or disabled animals, Nikki can make house calls, offering her Mobile Services with the comfort of the pet, and owner, in mind.
The emotional state of your animals is very important to Nikki. She listens to your needs, and uses each appointment to focus on the current and future health of your pet. "My line of work is about relationships," Nikki says. "I've built some of the best friendships of my life in this business; people start as clients and end up remaining friends. And it's the same with area businesses– we support each other and build each other up."
Presently in the middle of finishing her Vet Technician clinicals at a local veterinarian office in Baroda, Nikki's animal experience goes far further than just grooming. Her current medical work and experience allows her to have a different approach to the health of your animal. She is constantly inspired by and thankful to the powerful team of women veterinarians and assistants she works with, referring inquiring clients to them when service and care is necessary. Nikki praises the multiple veterinarian offices and doctors that offer their expertise in the Southwest Michigan area.
"We local businesses work together to share our services and all we have to offer– veterinarians, trainers, specialists, groomers. We lift up our communities and support each other," Nikki says.
Nikki's knowledge of animals brings comfort to her clients. Often asked her opinion on pet food, grooming supplies, and products for the home, she hones in on the well-being of your pet in its entirety. She is not only a groomer, but your confidante in the pet world. She also offers pet sitting in your home, keeping your animals' routine steady while you are away.
Sesshin Grooming & Spa also specializes in cat grooming. "I don't know of many cat groomers in our area, and it is definitely needed," she says. "I trim the nails of rabbits, ferrets, and even guinea pigs!" Nikki's clients, of all species, are devoted to her services, following her around the Southwest parts of Michigan since the beginning. "When I groomed K9 Service Dogs for the Houston Police Department, word of my services spread quickly," she says. "Even the young dogs, who were trained for high-profile families, were always brought back to me for grooming," she says. She proudly offers specialty rates for K9 dog grooming.
Pricing for grooming services differs case by case, after an initial consultation where Nikki can assess your wants and needs. "Some animals take sixty minutes, some take three hours," she says. "Taking my time with each client allows me to keep your pets' health and safety first. Nothing can replace your pets; their time here should matter."
Nikki is patient, experienced, and excited to bring her business to Baroda. Sesshin Grooming & Spa, on Lemon Creek Road, is appointment only (no walk-ins), and Nikki is eager to meet you and your pets! You will find a slew of happy-faced pet photos on her Facebook page, and more information on her website, sesshingroomingandspa.com. Contact Nikki today to set up a consultation or appointment at 269-930-0585.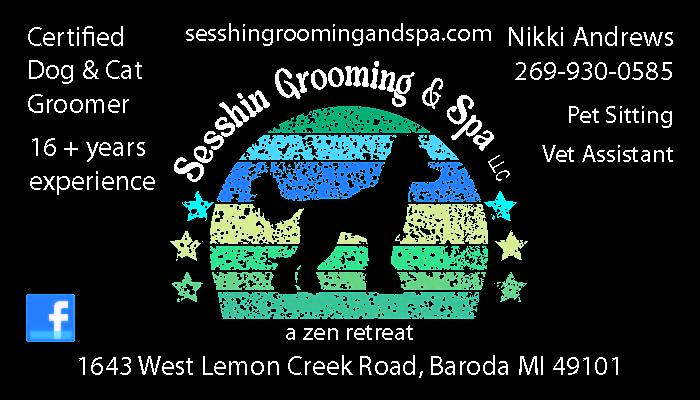 ---
Let us know how we can help. Contact us below.
---