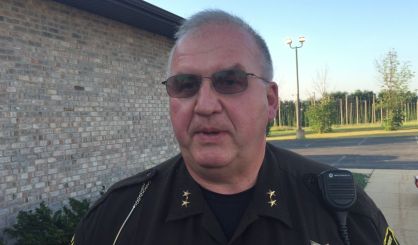 Berrien County Sheriff Paul Bailey will throw out the first pitch at the Detroit Tigers game on Monday. He tells us retired Chief Deputy Robert Boyce learned of the opportunity for a law enforcement official to throw out the first pitch at Law Enforcement Appreciation Night and put in Bailey's name for consideration. Bailey says it's an honor.
"This will be exciting to be there, to be down on the field, and I'm just hoping that I can make it to home plate when I throw the ball out," Bailey said.
Speaking of which, is he nervous about making it to the plate?
"I'm going to practice tonight and tomorrow with my grandkids. I used to be a catcher, so I didn't have any problems back in the 70s throwing down to second base, but it's been a while since I've thrown a baseball. So, I'm going to practice with my grandkids."
Bailey says he's bringing two of his grandkids and his daughter, along with Undersheriff Chuck Heit and retired Chief Deputy Boyce. He's been told they've got great seats, although he isn't sure where. The honors comes just as Bailey nears retirement. His time as sheriff will end December 31.