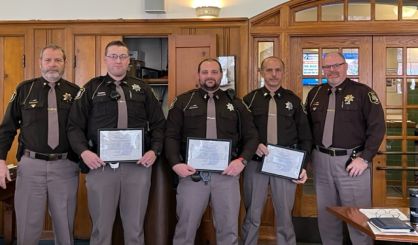 Three deputies with the Berrien County Sheriff's Department have received Certificates of Commendation for their efforts to diffuse a tense situation in September. Department Chief Deputy Robert Boyce presented the certificates to Deputies Root, Cody Utt, and Tony Anderson at Thursday's meeting of the Berrien County Board of Commissioners. He said the three responded to a domestic violence call in Buchanan Township on September 24 and found a man trying to leave with a four-year-old child. He refused to give up the child, and so the deputies blocked his vehicle with their own.
"They were able to prevent the individual from leaving the scene by strategically utilizing their patrol vehicles to prevent him from leaving with the child," Boyce said. "They then utilized their de-escalation skills and utilized the minimum amount of force necessary to bring the individual into custody and safely remove the child from the vehicle and  reunite the child with his mother."
Undersheriff Chuck Heit said the three displayed professionalism to prevent harm to others. Also Thursday, the sheriff's department awarded Civilian Certificates of Appreciation to Jerry Baskin and Anna Davis for helping at a crash scene in Sodus Township on September 9.