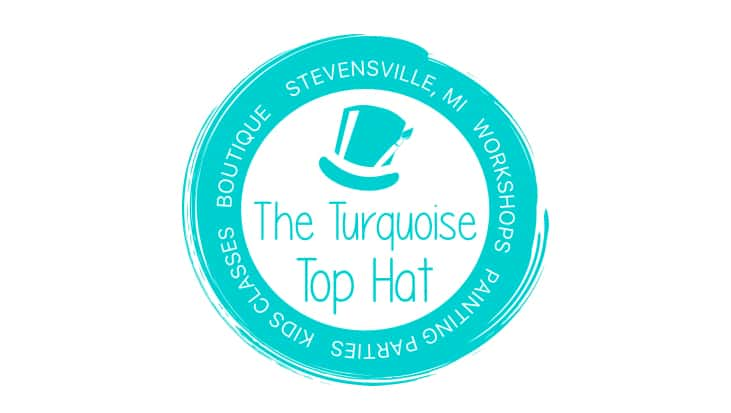 If you're ever looking for a sign directing you to the right path in your career or livelihood, you might do yourself a huge favor and follow that sign. It could very well point you to your dream job and allow you to live your passion the way that it did for Taylor Sebrechts, owner and operator of The Turquoise Top Hat of Stevensville. It could even lead you to a future class of winners in the Moody on the Market Fifteen Under 15 best small enterprises with 15 or fewer employees.
The Turquoise Top Hat is owned and operated by Taylor Sebrechts, and is located at 5705 Red Arrow Highway at the intersection with John Beers Road in Stevensville.
Her story begins in 2015 with a great love of Do-It-Yourself work and all things painted. As Taylor tells it, "My mom and I set out on our creative journey by finding and flipping old furniture and decor and selling our painted pieces at vintage markets around Michigan. We often roped my sister in joining us on our travels, and it truly became a fun, family affair."
Taylor had moved to this side of the state to be a teacher at Hollywood Elementary School, and she would teach wood painted sign classes on the side. Eventually, she realized that those classes had become her absolute passion, to the point that she finally decided to go for her dream and establish a shop to teach and expand her own creative side.
She's the first to admit that one of her favorite things to do is paint and distress wood signs. While still teaching, she said that the more signs she made the more requests she would get from friends and family requesting the creation of custom signs.
Being an elementary teacher at heart, her first instinct had always been to show others the joy of making something themselves and find their inner creativity. As she tells it, "In the fall of 2015, I began doing in-home sign painting parties for friends and after a few months, I had gained interest from local wineries and businesses, and was astonished at how many people were interested in this little side hustle of mine!"
By March of 2016, she had booked so many parties that she literally couldn't keep up. That's when she decided it was time to pursue her passion full-time and left her teaching position to grow The Turquoise Top Hat.
As the business continued to expand and she began to meet so many amazing people, she decided it was time to open her own brick and mortar painting space. Thus, in June of 2017, she opened up her Stevensville workshop and boutique and got down to business making the space truly her own. Now, clients can find Taylor and her small contingent of 5 employees there teaching workshops, creating colorful things and enjoying the company of  all sorts of customers, seeming a stone's throw from the shores of Lake Michigan.
The business has grown exponentially with the help of all of the amazing clients, customers, friends, and family who trust the creative process and endeavors of The Turquoise Top Hat and she's the first to admit, "We couldn't be more thankful for each and every one of you! We are a small, family-run business, and your love and support mean more to us than any amount of money ever could."
The person who nominated Taylor's Turquoise Top Hat calls herself simply a stay at home mom, but is enamored with the culture of the shop which she calls, "Relaxing and fun." Even Taylor reflects on that culture, noting, "Ever since I can remember, I have loved creating beautiful (and sometimes messy) things. The more colors, the better!" (Especially if they're turquoise, right?)
No business is without challenges, and for The Turquoise Top Hat, a key challenge stems from constantly trying to learn what trends people will want in their homes and on their bodies. On top of that, starting both a small business and a family in the same 2 year time span is always difficult, but her nominator says, "Taylor has done it wonderfully!"
Fans of The Turquoise Top Hat call it a great space to explore your creative side, and one that is great for all occasions including private events, kids parties and even just open painting hours. The shop is designed for customers to create artwork in a helpful, fun and non-judgmental environment.
With a small staff in an emerging business, Taylor offers employees the benefit of personal time, flexible work scheduling, and ongoing training. Together they give back to the community  by donating to various charities and non-profits around the county.
All the signs have pointed to success for Taylor Sebrechts and her team, and now they have a trophy for their classroom forever marking them as one of the best small business enterprises in the region with 15 or fewer employees, ensconced in the record books of the Moody on the Market Fifteen Under 15.