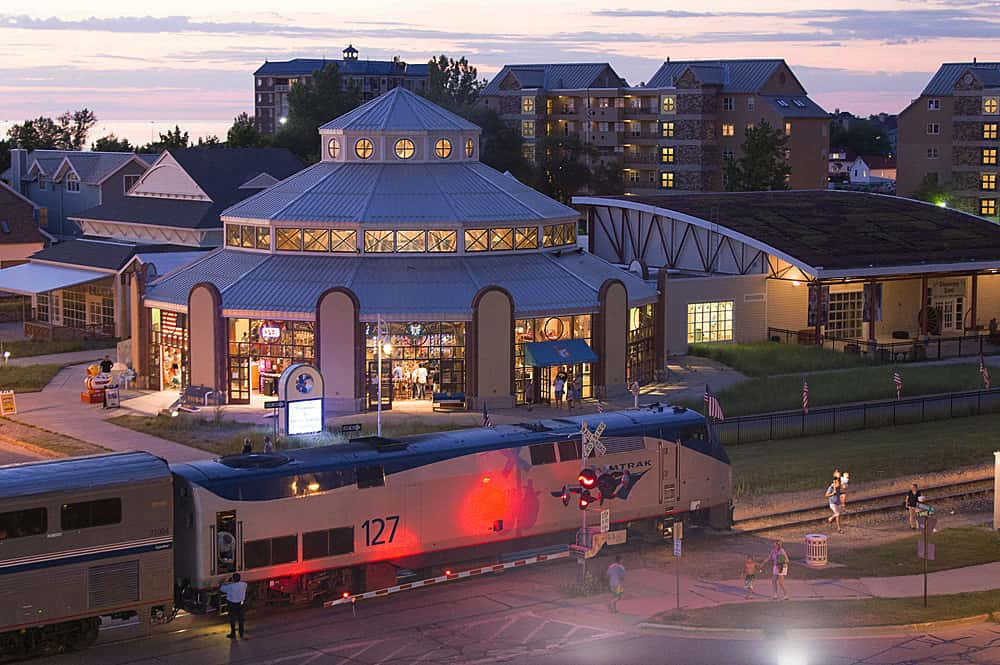 Those of us who have lived in the region for a while may vividly recall the frosty day of January 2nd, 2010 when a bell clanged and one of the nation's most magnificent hand-carved and painted carousels sprang to life just yards from the glistening shores of Lake Michigan.
Now, ten years and more than a million riders later, the 48 unique figures and two chariots aboard the Silver Beach Carousel located at 333 Broad Street in St. Joseph are issuing a call to all "party animals," to join in a year-long celebration of the 10th Anniversary of the Carousel beginning on January 2nd, 2020.
Kicking off the 2020 festivities will be a 10th Birthday Party Weekend, running January 2nd through the 5th, and the world is invited. On that Thursday through Sunday, visitors can enjoy Carousel rides, 50-cent popcorn, photo opportunities with the Birthday Hippo figure and a chance to sign a giant birthday card that also has cutouts for taking your photo. On January 2nd, from 11 am to 8:30 pm, visitors can enter free prize drawings and take home blinky rings. Plus, from 4 to 8:30 pm, rides are just $1 each.
On January 3rd and 4th, from 11 am to 8 pm, and again on January 5th from noon until 5 pm, "party animals" also have the chance to win free Carousel rides. Future birthday activities will be posted throughout the year on Facebook.com/SilverBeachCarousel.
Suz Schalon, the effervescent President of the Silver Beach Carousel Society, says, "Louis Wallace and Logan Drake, founders of the Silver Beach Amusement Park, would be thrilled that 110 years after bringing the first carousel to St. Joseph, we are still one of the happiest places on earth." She notes that this 10th-anniversary milestone is for the entire Silver Beach Center, adding, "It's a tribute to our community for envisioning and building one of the biggest draws for locals and tourists in Southwest Michigan."
Shadowland on Silver Beach Event Center, the Curious Kids' Discovery Zone by Curious Kids' Museum, Silver Beach Amusement Park Museum and Whirlpool Compass Fountain are also celebrating a decade of operations in the community.
Schalon says the Silver Beach Carousel Society wants to use this decade marker as an opportunity to increase their collection of memorabilia from the Silver Beach Amusement Park and the original carousel, noting, "Those pieces of our past are part of our area's happiest moments." She adds, "If you have items to donate, please contact us at the Silver Beach Carousel. We would be proud to share them for generations to come."
Silver Beach Carousel features 48 beautifully hand-carved and hand-painted, unique figures and two chariots (one of which is wheelchair accessible), that whirl beneath 1,000 twinkling lights. Around the top of the carousel are 18 rounding boards that tell the area's rich history through historical photographs.
The Carousel House is also home to The Brass Ring Gift Shop and the site of the Silver Beach Amusement Park diorama model, interactive displays and memorabilia. Additional family entertainment includes board games, an electric miniature train layout, hands-on activities and special events. For more information or hours, click the link below or call 269-932-1141. Here's the direct link:
http://www.silverbeachcarousel.com
The photo of the Silver Beach Carousel building accompanying this story on Moody on the Market is courtesy of the Silver Beach Carousel Society.