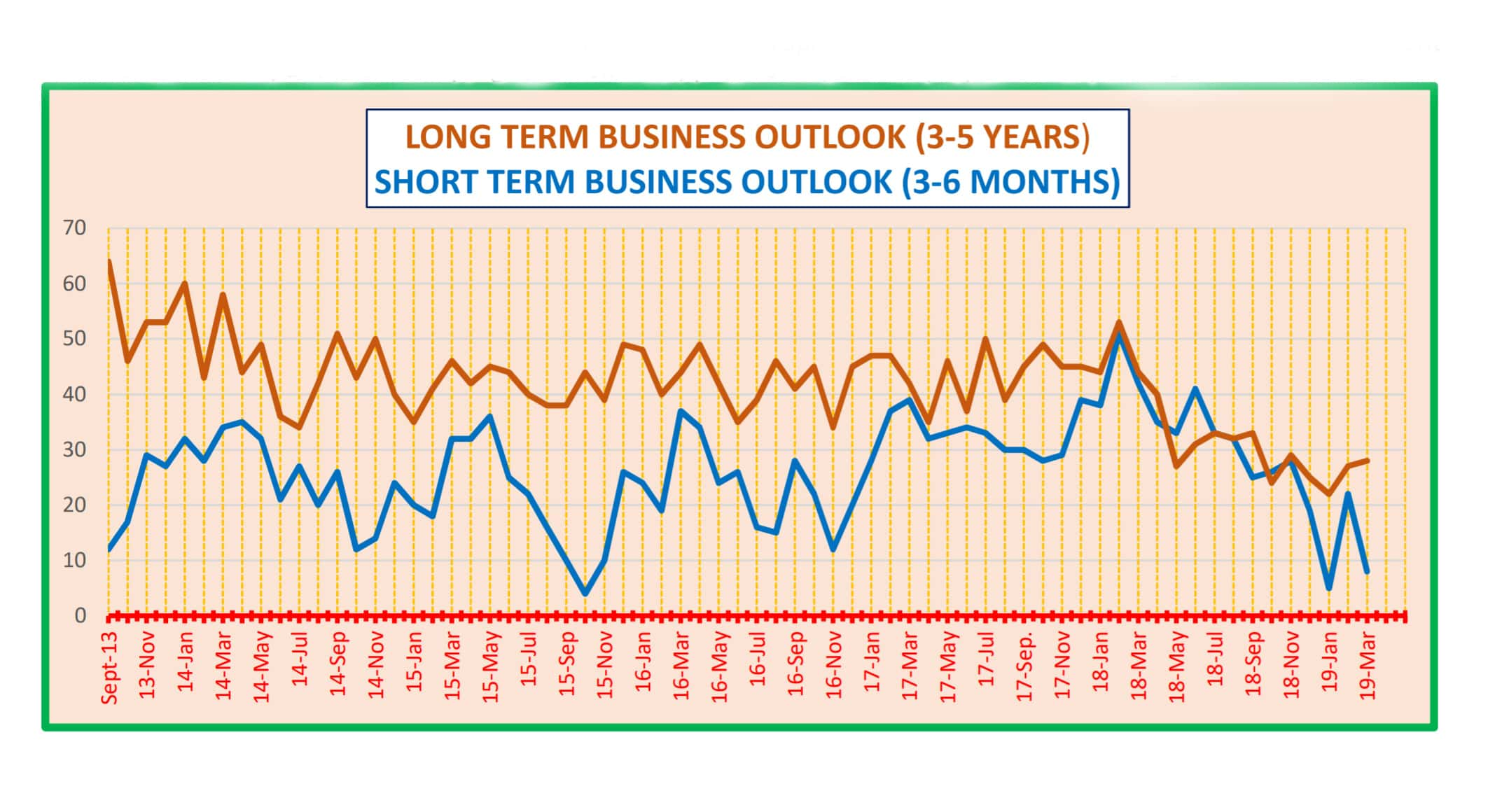 It has now been 10 years since the West Michigan industrial economy emerged from the Great Recession, and despite the sheer length of that recovery, it essentially continues to advance at the same slow pace first observed in 2009 at the beginning of that term. What has, however, begun to fade is some of the relatively strong optimism seen in the industrial sector through much of that recovery.
That's the watchword emerging from the regular monthly research conducted by Professor Brian Long at Grand Valley State University where he serves as Director of Supply Chain Management Research.
According to the data collected in mid-March, Dr. Long's New Orders Index,  his closely-watched index of business improvement, remained virtually unchanged at a modest +17, up from +16. However, he tells us, "The Production Index remained positive but retreated to +5 from +16, while activity in the Purchasing Offices, which we measure with the Purchasing Index, waned to +4 from +16."
As anybody who follows the workforce issues in the region knows, for at least the past three years, employers have complained about not being able to find enough qualified workers to hire. Long cautions, there's no end in sight, either, telling us, "If these jobs could be filled, Michigan's unemployment would be even lower. However, because of the proliferation of internet job sites, employers continue to have at least some luck drawing applicants from across the entire country." Long says, "As a result, our March Employment Index continues to remain double-digit positive at +15. Hence, according to the most recent data released by Michigan's DTMB, the unemployment situation in most of our West Michigan counties continues to improve."
Turning his attention to individual industry sectors, Professor Long says, "As predicted, auto sales are continuing to fall. According to the monthly report from Automotive News, sales for the industry dropped 3.3-percent in March. However, the industry's Seasonally Adjusted Annualized Rate (SAAR) rose to 16.8, up from 16.61 million units. Aside from the auto market being overbought, rising interest rates, tighter credit, and rising prices have apparently contributed to the drop in sales. For West Michigan, our auto parts producers are still not feeling pinched. Just as it has been for many months, the decline in auto sales has been very orderly-- so far."
Drilling down to more specific numbers, Long looks, as is his tradition, at the Detroit Three, reporting that "The March downtick was a little more significant. Sales for GM declined 8.3-percent, FiatChrysler eased by 7.3-percent, and Ford lost 5.5-percent. Among the other major nameplates on the down side, Nissan/Mitsubishi declined 3.7-percent, Toyota shed 3.5-percent, and Mazda plunged 19.1-percent. For a change, beleaguered VW jumped by 14.0-percent, American Honda gained 4.3-percent, and Subaru added to last month's winning streak with a 6.0-percent advance."
When Dr. Long shifts focus to the local Price Index he finds it remains almost unchanged at +21, down from February's +22, but notes, "Several survey respondents are still blaming the ongoing trade war with China for at least part of the double-digit rate, although the slowing world economy has brought the prices for many major commodities down over the past year."
When it comes to the ability to predict the future, Professor Long finds recent waffling has turned into a fade, saying, "While business confidence rebounded in February after posting near-record lows in January, March saw that optimism fade." He goes on to report, "The West Michigan Short-Term Business Outlook for March, which asks local firms about the perception for the next three to six months, slipped to +8 from +22." Looking at the bigger picture, Long says, "The respondents offer the same responses for the waning short-term confidence, namely the lack of resolution of the Chinese trade war, Brexit, the softening world economy, and the retreating monthly auto sales." He adds, "Fortunately, the Long-Term Business Outlook, which queries the perception for the next three to five years, remained steady at +28, up marginally from February's +27. Many firms appear to be settling in for a period of slower growth."
Dr. Long's report traditionally carries anonymous, but verbatim, comments from survey respondents, and continued that format in the March report released this week. Here is a sampling of verbatim comments culled from his report:
"Prices for many industrial goods just went up incrementally due to new year."
"We've had a sluggish start to the new year."
"Quotes are strong, but orders are up/down from week to week right now."
"With a rough outlook for 2019 in the automotive industry, it will be interesting to see how we can diversify to counter this."
"There is still a 'wait and see' attitude by buyers."
"We are still having a hard time filling manufacturing positions."
"We have had slow sales and shipments for the past four months, but January finally brought us back to our normal sales target. February shipments will be slow also, but March will be good."
"Bookings were softer for the first two weeks this year compared to last year."
"We've had a busy month again, but we still have a lot of nervousness about a recession in late 2019."
"We're off to an interesting start to the new year."
You can see Professor Long's complete report from his office at Grand Valley State University in Grand Rapids by clicking the link below: