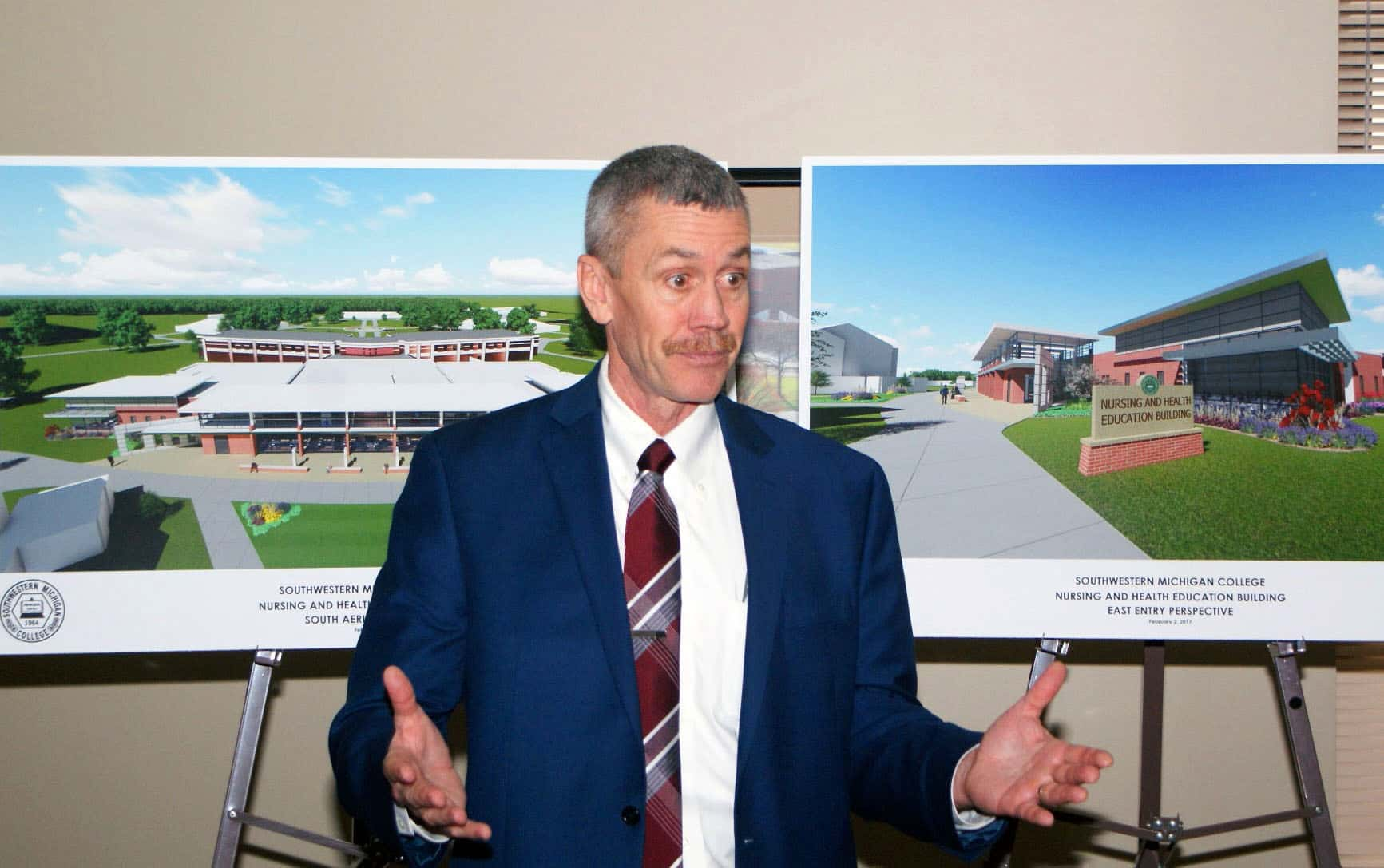 One of the best tools available in establishing where an organization stands both strategically and financially speaking is to conduct the tried-and-true SWOT Analysis — a study of your Strengths-Weaknesses-Opportunities-and Threats. It's a measure employed annually by management teams at Southwestern Michigan College and this year's exercise has proven helpful in grasping the status and producing a balanced budget for the institution.
In fact, following a public hearing last night, the Southwestern Michigan College Board of Trustees adopted their 2019-20 fiscal-year budgets.
SMC President, Dr. David Mathews, provided an overview of the annual budgeting process.
Mathews says that each fall, the college begins updating its Swot Analysis as a foundational item of institutional planning. Then, each spring, SMC updates its Institutional Report Card (IRC) which measures and benchmarks key items of performance related to student success, student attraction, student satisfaction, student engagement, student progress and educational outcomes.
Those two documents advance the college's mission against the backdrop of larger state trends, such as the declining number of Michigan high school graduates and the inverse relationship between community college enrollments and the unemployment rate. Late in March trustees convened a full-day long-range planning session to guide the college in the year ahead.
The budget is the engine powering SMC's strategic plans. As plans are developed to advance objectives, the budget is developed to ensure sufficient financial support, which Mathews contends, "Is always challenging because of perennial revenue constraints in the local property tax base and state aid for education."
SMC Vice President and Chief Business Officer Susan Coulston highlighted the budget for the Board of Trustees last night.
Budget highlights for the upcoming year include:
The General Fund Budget of $23,796,000 falls between last year's budgeted $23,842,000 and estimated actual $22,942,000.
The Student Housing Budget, $2,376,000, includes a $150,000 transfer to the Building and Site Fund for future maintenance needs.
The spending plan continues to provide for 60 full-time faculty members. Coulston says according to the most recent Integrated Postsecondary Education Data System statistics for 2016-17, that results in SMC having approximately 60 percent more full-time faculty per full-time equated student count (SMC has one FT faculty for every 26 students) than the Michigan community college average (one FT faculty for 42 students).
The Grants Budget for 2019-2020 is $909,928.
The Building and Site Budget provides for annual capital expenditures such as vehicles and information technology equipment, continued Niles Campus enhancements, residence hall furniture replacement and savings for future projects. All totaled, that is anticipated to result in a projected Building and Site ending cash and investment balance of $3,879,455, which will be used for future building maintenance and matching funds for partially state-funded projects.
All totaled, General Fund, Auxiliary Funds, Restricted Funds and Building and Site Fund expenditures for 2019-20 amount to $28,263,746.
The proposed budget contains a 1-percent increase in base state aid ($69,000), which is slightly more than that proposed by the House of Representatives, slightly less than that proposed by the Senate and much less than that proposed by Gov. Gretchen Whitmer. The final number remains uncertain.
The proposed General Fund budget includes $80,000 in anticipated legal fees related to collective bargaining for the process of negotiating an initial contract with the faculty union.
Institutional administration of $6,202,261 is approximately $82,000 less than budgeted last year.
The budget includes a 2-percent salary increase for full-time employees.
SMC Board Chair Thomas Jerdon says, "This balanced budget continues to invest in student success as our highest priority. Balancing the budget is challenging as SMC's tax base ranks in the bottom 25-percent of community colleges statewide, which limits our tax revenue more than other colleges. Nonetheless, SMC will always adopt balanced budgets that ensure student success and maximum taxpayer value."
Trustees also heard an update on the status of negotiations of an initial contract with the SMC Faculty Union. Over the past 12 months, there has been a total of 24 bargaining sessions with the result of 27 tentative agreements between the College and the Union that will be incorporated into the final contract. However, despite substantial progress, the two sides are still discussing a few major issues. A list of current agreements and the latest College proposals are available on the College's website at this link:
http://swmich.edu/taxpayer-information/collective-bargaining