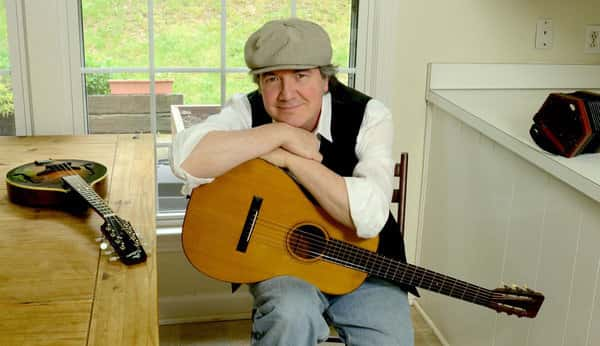 The experience of a live performance of or by the Southwest Michigan Symphony Orchestra is magical in its own right, but when you complement the aural experience with a visually stimulating experience to boot, that's a night to remember. That's what you're in store for when you have the opportunity to be swept away on a musical journey guided by renowned multi-instrumentalist and composer John Mock.
You are invited to join the Southwest Michigan Symphony Orchestra for this unique and fascinating event featuring original music inspired by the coasts of the Atlantic, from his native New England to Ireland and Scotland. His casual storytelling will invite the audience on a coastal journey, weaving tales of lighthouses, castles, and our seafaring heritage. John will perform his instrumental compositions on solo guitar, concertina, mandolin and tin whistle. Remarkably, this multi-media concert will be specially enhanced for the occasion with new music and photographs by Laura Kraklau honoring the restoration efforts for the St. Joseph Lighthouse.
A live perforemance, From Sea to Shore, will take place on Saturday, March 19, 2016 at 7:30pm, at St. Joseph High School Performing Arts Center in St. Joseph.
As SMSO Maestro & Music Director Robin Fountain tells us, "Multi-instrumentalist, composer, photographer and all-around 'Renaissance Man,' John Mock never fails to beguile, especially when immersed in his favorite tales of sea and shore."
The concert will feature traditional and original instrumental compositions performed by Mr. Mock on guitar, concertina, mandolin and tin whistle.
John Mock is an artist and the ocean and its coasts are his muse. From his native New England to the shores of Ireland and Scotland, John captures in music and story the heritage of the sea. Whether appearing solo or with a symphony orchestra, John shares this heritage through his captivating concert presentations which include both traditional and original instrumental compositions performed on guitar, concertina, mandolin and tin whistle.
Audiences are charmed not only by John's music, but also by his narration and storytelling, which bring to life the characters and places upon which the music is based. Widely sought after as a composer, arranger and multi-instrumentalist, John has worked with such notable artists as the Dixie Chicks, James Taylor, Dolly Parton, Nanci Griffith, Maura O'Connell, Sylvia, Kathy Mattea and Mark O'Connor. John's credits as composer and featured soloist include performances with the Nashville Chamber Orchestra, the Nexus Chamber Orchestra, the Nashville Philharmonic, the Southwest Michigan Symphony Orchestra and the National Orchestra of Ireland. He has also worked extensively across the country as a solo performer.
Author and Photographer Laura Kraklau is a marketing and communications professional who has been telling the stories of organizations and the people connected to them for nearly 20 years. While writing has always been a natural fit, it was the gift of a vintage Eastman Kodak Brownie camera a young Laura received from her grandmother that sparked an interest in exploring the world through photography. Over time, that interest has grown into a passion for sharing stories through the lens.
Laura's works have been included in such exhibitions as at the National Lighthouse Museum in Staten Island, New York and throughout southwestern Michigan. A variety of Michigan companies and organizations also have used her photography in print and online publications. Laura recently published a book exploring the many faces of the St. Joseph lighthouses. In View 366: A Year-long Visual Story of the St. Joseph Lighthouses, Laura combines writing and dynamic imagery to share her odyssey of chronicling a year-in-the-life of southwestern Michigan's most beloved icons through 366 consecutive daily photos.

The photos in her 229-page book, which depict the lighthouses from a wide variety of angles and locations, are a glimpse into the activity that continually swirls around the steadiness of the lighthouses. From the changing seasons and unpredictable
moods of Lake Michigan, to how residents, visitors, and wildlife spend their time under the watchful eye of the structures, this is a one-of-a-kind photographic collection that captures the beauty and subtleties of the setting.
The St. Joseph High School Performing Arts Center is located at St. Joseph High School, 2521 Stadium Drive, St. Joseph, MI 49085. For more information, contact the Symphony office at 269-982-4030 or visit www.smso.org.