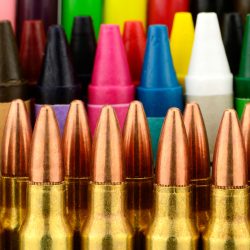 Michigan Gov. Rick Snyder refuses to sit idly by and watch students and parents suffer from the seemingly ever-increasing threat of violence in the school system. With a substantial spike in threats both real and otherwise in school districts all across the state as a backdrop, the Governor today has unveiled a plan to phase-in new school safety initiatives designed to help ensure students in Michigan can focus on growing and learning rather than being worried about violence in school.
Snyder has shared a five page report regarding his proposed response, saying, "Recent tragedies taking place in schools nationwide have escalated emotions and driven some people to entrench upon a single position. But there is no one simple solution to solve this terrible problem and prevent it from ever happening again." Snyder, who himself is a survivor of a school shooting, says, "A multifaceted approach is the best way we can ensure stable learning environments for Michigan's students while simultaneously protecting them."
In cooperation with his legislative partners, Snyder has been working to learn about best practices nationwide in dealing with the threat of violence in schools in many different forms. The Governor has enlisted the help of the departments of State Police, Education, and Health and Human Services to help find ways to strengthen Michigan's existing practices and propose new solutions.
Snyder says, "We have some outstanding programs but it's time we did more to enhance and expand upon those initiatives." He adds, "We also need to work more closely with other states to tackle shared challenges and enhance the safety of our communities and schools."
The Governor's initiatives cover the areas of preparation, intervention, response, and recovery and include:
Preparation
Schools to develop comprehensive school safety plans, including behavioral health policies, student reporting mechanisms, emergency response and building safety requirements
Require that schools be audited and submit incident reports to law enforcement
$20 million for immediate and long-term, comprehensive improvements to school facilities
$2 million in Fiscal Year 2018 to secure schools that require basic security upgrades, such as functioning, locking doors
$18 million in Fiscal Year 2019 for school safety grants to strengthen buildings, improve lock systems, and upgrade communications to be prepared for emergencies
Update and strengthen Michigan's All Hazards Emergency Operations Planning Guidance for Schools
Establish a temporary School Safety Task Force made to develop specific recommendations before the end of this year to launch these initiatives and provide additional best-practice recommendations
Establish a permanent Safe Schools Commission to review and help update the state's School Safety Plan annually
Intervention
Ensure school teachers, administrators, other school personnel, and families have the requisite training to identify when students are in need of mental or emotional counseling and support
Pilot a $2 million grant program this year in which Intermediate School Districts can apply for a competitive grant for behavioral assessment training for their administrative and academic teams
Triple the funding for exposure of the OK2Say program and requiring student-led awareness programs, as well as resources to address the increasing volume of tips from students
Require all schools to provide the state with basic information on their tip lines to ensure the appropriate resources are available
Response
Direct the Michigan Council on Law Enforcement Standards (MCOLES) to create a tiered training for school resource officers
Direct MCOLES to develop a second, advanced standard for active violence response training into the curriculum for certified police officers
Incorporate best practices to improve local and state cooperation during incident response
Recovery
Work with local and state health agencies to ensure they are prepared to provide emergency counseling services to all those affected in an active violence situation
Provide guidance on training for teachers, parents, and administrators to identify when students and others might need help accessing resources after an event has occurred
Ensure the recovery component of school safety plans are robust in both the planning guidance and audit review process
Click the link below to read the Governor's full 5-page white paper on the issue of school safety in the Great Lakes State:
School_Safety_Proposal_620639_7