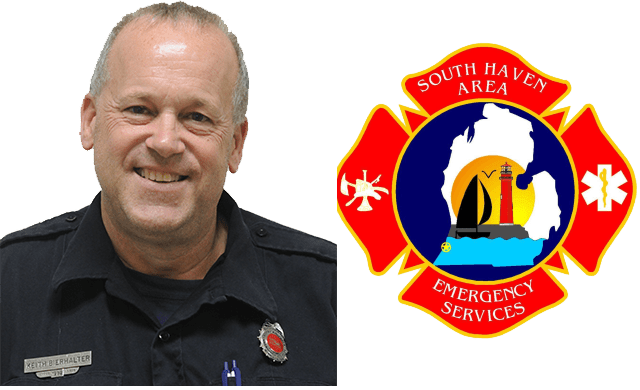 Chief Ron Wise of South Haven Area Emergency Services (SHAES) tells us Firefighter/Paramedic Keith Bierhalter has been promoted to the rank of Deputy Chief/Fire Marshal.
Bierhalter has 37 years' experience with the department, 12 years as a paid-on call firefighter and 25 years as a fulltime Firefighter/Paramedic.  He was honored as the department's Firefighter of the Year in 2010-11.
He has been president of SHAES fulltime Local #2658 for the past 15 years, is a certified fire inspector and fire investigator.
He follows the footsteps of his late father, Lieutenant Edward Bierhalter, as a second generation firefighter.  He has two grown children, Reece and Kelsi, that reside in Dallas Texas.
Bierhalter has been serving as Acting Deputy Chief since the June 30 retirement of Tony Marsala.