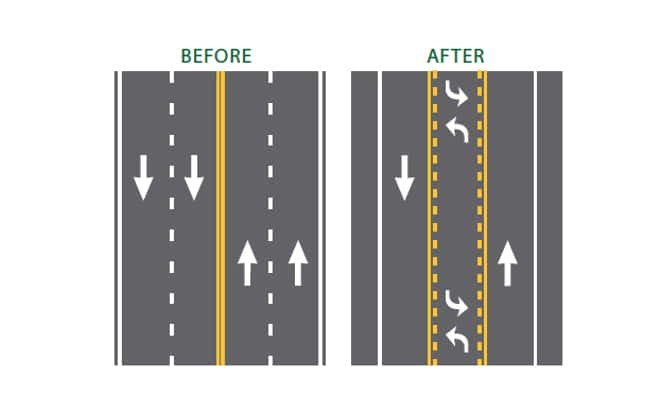 Seemingly nobody ever wants to go onto a diet, and that will include those who have never felt the need to diet before as the City of South Haven announced today that they are moving forward with plans to undertake the implementation of a road diet on BL-196 in the City.
The project has been permitted by the Michigan Department of Transportation and bids have been received to perform the work.  The City Council awarded a contract to Compton Inc. of South Haven to perform work at its City Council meeting this week on Monday, September 16th. The project will entail the restriping of the roadway from Phoenix Street to Aylworth Avenue from the current four lane configuration to a three lane configuration that includes two travel lanes and a turn lane.
Over the past few years, the City of South Haven has partnered with Abonmarche of Benton Harbor to undertake planning and solicit public input on the project before pursuing the implementation of a road diet. This first phase is a planned trial phase to ensure the proposed road diet functions as anticipated and will simply entail restriping the road.
Bill Hunter, Public Works Director for South Haven says, "No permanent changes will be made to the existing infrastructure until after the trial period is over and the functionality of the street can be evaluated and additional public comment solicited." He adds, "We'll do an assessment in the fall after we have had a full year of operation to determine how the changes are working."
These are some informational points on the road diet and its potential benefits as shared by the community of South Haven:
A Road Diet offers several high-value improvements at a low cost when applied to traditional four-lane undivided highways which is important given the cost pressures on infrastructure budgets…
In addition to low cost, the primary benefits of a Road Diet include enhanced safety, mobility and access for all road users and a "complete streets" environment to accommodate a variety of transportation modes…
Road Diet implementation can translate to more lives saved. An FHWA study found that converting a road from four to two though lanes with a center turn lane can reduce overall crashes by 19 to 47 percent…
Road Diets can be of particular benefit to non-motorized road users. They reallocate space from travel lanes– space that is often converted to bike lanes or in some cases sidewalks, where these facilities were lacking previously. These new facilities have a tremendous impact on the mobility and safety of bicyclists and pedestrians as they fill in a gap in the existing network…
A Road Diet can improve economic vitality by changing the corridor from a place that people "drive-through" to one that they "drive-to"…
Recent studies have shown that roadway modifications, which increase pedestrian volumes, can result in a decline in a neighborhood's crime rate…
The practice was first tried by MDOT in the late 1980s as a way to improve safety while accommodating current roadway vehicular use levels. Now commonplace in Michigan, more and more communities are turning to road diets as a strategy to better manage public works budgets while developing a complete streets approach to transportation creating space for all users whether cars, pedestrians, and bicyclists.
The photo accompanying this story on Moody on the Market was provided by Hunter's department to graphically show the changes coming.