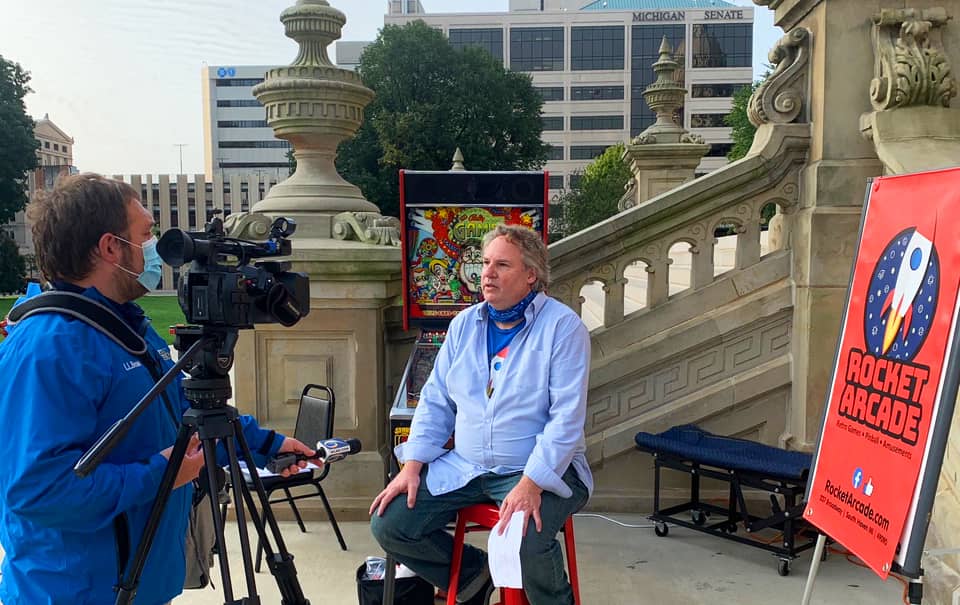 Ralph Lucius is usually a pretty patient guy. He's followed the letter of the law since day one of Governor Gretchen Whitmer's mandatory shutdown. Now, however…on the 6-month anniversary of the shutdown…Lucius, who owns and operates Rocket Arcade in South Haven is fed up beyond the pale. In fact, he hauled a pinball machine to the steps of the Michigan Capital today and is playing the game there until 3pm this afternoon, Tuesday, September 15th.
Lucius says, "I'm forced to turn business away every day to adhere to the executive order to close. I've been ready to re-open since May and what do I get in return for supporting Governor Whitmer's executive order? False hope, empty promises and increasing debt. My bank has cut off my line of credit. My reserves have all been spent. And nobody can tell me if and when I might be able to open."
Lucius says that Rocket Arcade spent $1,500 and all of May preparing to meet state-mandated COVID-19 guidelines in time for the anticipated Memorial Day re-opening. Since then Rocket Arcade has been sidelined while watching other businesses have been given permission to re-open. First retail stores, then restaurants and bars, followed by hair salons, casinos, schools, health clubs and even contact sports…but still no arcades.
He contends, "There is no demonstrable evidence that Rocket Arcade is more dangerous than other businesses already given the green light to open, yet there is not even a path to re-opening available, except through the Governor's office."
He writes, "Dear Governor Whitmer, since you are the only person who can allow me to open my business, I'm pleading with you to let me present a safe re-opening plan. And if you decide the answer is no, then at the very least contribute to my GoFundMe. I'm running out of time."
One suggestion Lucius offers is to use Michigan's new COVID-19 Ambassador program to prioritize helping any businesses who are still mandated to be closed to get open.
He says, "If you force me to close, then you have to help me during that closing. If you can't help me, then let me develop a safe way to open so that I can help myself. I'm certain I can open my business and be as safe, if not safer, than many other businesses already allowed to open."
Lucius argues that local arcades are by nature a micro-business yet somehow have been grouped in with much larger venues like amusement parks and casinos that can see thousands of people in a single day.
Rocket Arcade's business plan is based on an average of just over 30 customers per day or about 1,000 per month.
Arcades in Wisconsin, Illinois and Louisiana have been open since June without an incidence of COVID-19. Many arcades around the nation and in Michigan have already permanently closed their doors while New York and California arcades are being told they can't open until there is a vaccine. Lucius complains that politicians are killing an entire industry without recourse for business owners.
The CDC's own guidance on disinfecting surfaces states that, "Transmission of SARS-CoV-2 to persons from surfaces contaminated with the virus has not been documented." CDC Detailed Disinfecting Guidance for Facilities, Updated Sept 10, 2020.
Saying that the handful of arcades in each state don't have the lobbying power or tax-base to get noticed, Ralph says, "It's the unequal playing field that frustrates me the most. I don't have lawyers or lobbyists to get the attention of the Governor so I can't get special permission to open. All I have is me and my arcade games. It's ridiculous, it's nonsensical and I'm caught in the middle of it."
Rocket Arcade currently provides private rentals to individual groups of 10 or less and conducts a monthly "Pay-it-Forward" giveaway for families affected by COVID-19. Groups as small as 4 people can rent the entire arcade for $50-$75.
Lucius says, "If I hadn't started private rentals in late June, I would already be out of business."
Rocket Arcade's mission is to bring fun, safe and affordable entertainment to people of all ages by playing, learning and shopping a unique collection of retro arcade games, art and gifts. You can enjoy playing 75+ classic arcade, pinball and coin-op amusements from the 70's, 80's and 90's.
Rocket Arcade is located at 237 Broadway Street in South Haven, and you can learn more at this link: http://www.rocketarcade.com
If you'd like to help Ralph and Rocket Arcade stay in business, you can find his GoFundMe account here: http://www.gofundme.com/f/rocket-arcade