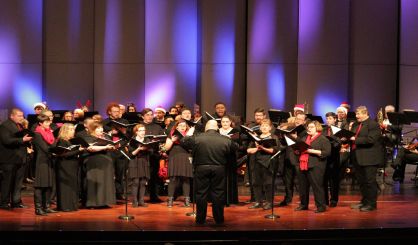 The Southwest Michigan Symphony Orchestra's 2022-23 Mainstage Series Concerts have been announced. The SMSO told us more:
The Southwest Michigan Symphony Orchestra announces its 2022-2023 Mainstage Season. Programmed by Music Director Matthew Aubin, who began the first full season of his tenure with the SMSO after being chosen as its Music Director in June 2022, the Mainstage Series promises to be exciting and will showcase a variety of music that will introduce Aubin to the community.
"Except for the holiday concert, which is different, I wanted the three classical concerts to be a picture of what I'm about and what I'm most excited about as a musician," he said, adding that it is a little tricky to do with only three concerts because there is so much music that he loves.
Aubin said because he is committed to American music; during those three classical concerts, he is showcasing works from five different American composers. During the Meet the Maestro concert, the first piece is Adolphus Hailstork's Symphony No.1.
"Dr. Hailstork is in his 80s and is one of the most prominent living black composers out there. It's neat that he has Michigan ties," Aubin said. "I like doing music by underrepresented composers. For me, if I'm trying to tell kids they should come to the symphony then we have to have music that represents the audience" Aubin said. "It's important to see everyone who writes classical music."
Meet the Maestro –

Event Details
Sunday, October 16, 2022 at 4 p.m.
At the Howard Performing Art Center
4160 E. Campus Circle, Berrien Springs
Meet the SMSO's newest Music Director, Maestro Matthew Aubin. Aubin kicks off his tenure with some of his favorite works including Beethoven's lighthearted 8th Symphony. Detroit Symphony Orchestra Associate Concertmaster Kimberly Kaloyanides Kennedy takes the stage to perform American composer Samuel Barber's Violin Concerto. The concert opens with the First Symphony of Adolphus Hailstork, a Michigan State University alum and the Dean of African American composers.
Music for the Program
Symphony No. 1 Adolphus Hailstork
Violin Concerto Samuel Barber
Symphony No. 8 Ludwig van Beethoven
Hollywood Holiday –

Event Details
Saturday, December 10, 2022 at 7:30 p.m.
At Lake Michigan College's Mendel Mainstage
1100 Yore Ave., Benton Harbor
Celebrate the season with the Southwest Michigan Symphony Orchestra. Maestro Aubin has chosen a selection of holiday songs along with your favorite music from films such as Home Alone, The Polar Express, How the Grinch Stole Christmas and more. The program promises a surprise or two – you won't want to miss it!
Music for the program
Christmas Festival Leroy Anderson
Home Alone John Williams
White Christmas Irving Berlin, Robert Russell
Polar Express Silvestri/Ballard Brubaker
Waltz of the Flowers Tchaikovsky
Intermission
Sleigh Ride Leroy Anderson
Medley from How the Grinch Stole Christmas Albert Hague, arr. Brubaker
March of the Toys (Babes in Toyland) Victor Herbert
Music from Frozen Anderson-Lopez/Krogstad
The Night Before Christmas Aaron Dai
Christmas Angels Singalong Matthew Naughtin
Shostakovich's 5th –
Event Details
Sunday, March 19, 2023 at 4 p.m.
At the Howard Performing Art Center
4160 E. Campus Circle, Berrien Springs
The SMSO recognizes musicians who create great art in the midst of darkness. American composer Jennifer Higdon's blue cathedral is a memorial to her younger brother. Pianist and Gilmore Young Artist Maxim Lando performs Rachmaninoff's Rhapsody on a Theme of Paganini, a work that takes inspiration from the Dies Irae or "Day of Wrath." Shostakovich faced censorship under Soviet rule, but managed to triumph with his 5th Symphony.
Music for the program
blue cathedral Jennifer Higdon
Rhapsody on a theme of Paganini Sergei Rachmaninoff
Symphony No. 5 Dimitri Shostakovich
An American in Paris –

Event Details
Sunday, April 30, 2023 at 4 p.m.
At the Howard Performing Art Center
4160 E. Campus Circle, Berrien Springs
Maestro Aubin celebrates his personal connection to French Culture with a mixture of French and American music. Aubin welcomes back Mitsuru Kubo (viola) and Jeremy Crosmer (cello) to perform hidden gems by Fernande Decruck, a composer near and dear to Aubin's heart. Musicians from the Lake Michigan Youth Orchestra join the members of the SMSO to perform music from Aaron Copland's Rodeo. The season will close with Gershwin's An American in Paris.
Music for the program
Rodeo: Four Dance Episodes Aaron Copland
Sonata in C# for alto saxophone (or viola) Fernande Decruck
Cello Concerto Fernande Decruck
An American in Paris George Gershwin
Tickets can be purchased as a Grand Series subscription pack (all four performances) for $116/$70*; or a 3-Pack (choose 3 of the 4) for $99/$55.* Individual tickets to the concerts can also be purchased. They are $35/$20 for adults* and $5 for full-time students, age 21 and under. *All prices listed are for Zone A/Zone B. For more information, or to purchase tickets for the concerts, call the SMSO at 269-982-4030, visit the office at 513 Ship St., St. Joseph, or its website at www.smso.org.