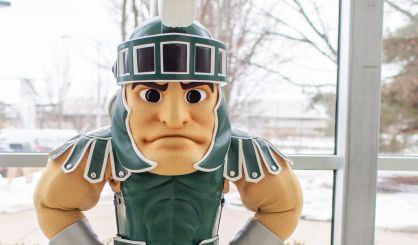 The Berrien County Michigan State University (MSU) Spartans Alumni Club will hold its annual Steak & Suds Event 5:30-9:00 p.m. Tuesday, June 14 at Berrien County Sportsman's Club, 2985 Linco Rd., Berrien Springs, MI 49103.
This is the 34th year of the event which features fellowship, food, and the Spartan spirit of Sparty. Gates open at 5:30 p.m., with dinner served 6:30 – 8:00 p.m.  This event is dedicated to the memory of Larry Smith, co-founder and former club president.  Past club president, Bob Gerbel, is also being recognized for his service.
Tickets are $35 per person and offered online only.  Tickets may be purchased at https://berriensns22.eventbrite.com until May 31.  There are no ticket sales at the door.
Alumni and friends are also invited to support the  Berrien County Spartans Endowed Scholarship Fund.
For more information, email Joanne at davidhiz@msu.edu, or call Ken at 269-252-3369.
Stay in touch with the MSU Alumni Association by creating or updating your on-line profile. Follow the Berrien County MSU Alumni Club Facebook,  @berriencountyspartans Instagram pages for updates.