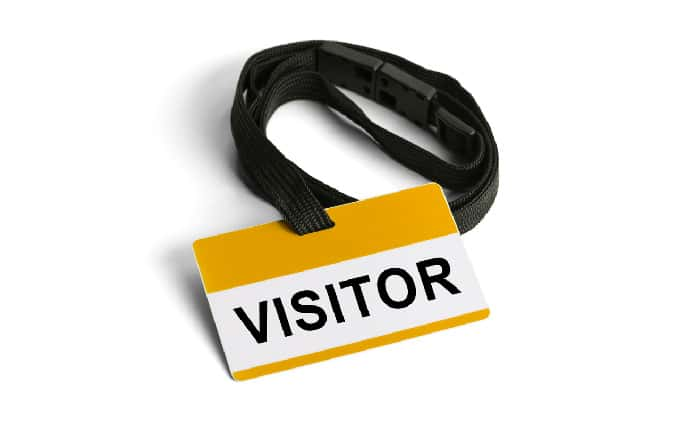 Your days of waltzing into the hospital and breezing past the front desk to make your way to visit your ailing grandmother, other family member or friend are numbered at Spectrum Health Lakeland in St. Joe.
Hospital officials tell us today that a new visitor badge system will go into effect a week from Monday and everyone 12 and older will have to obtain one for every visit going forward for safety reasons and beyond.
Spectrum Health Lakeland says that beginning on Monday, December 2nd, all community members age 12 and older who are visiting a loved one in the inpatient units at Lakeland Medical Center in St. Joseph will need a new visitor badge prior to accessing patient areas. Visitors will be required to present a valid photo ID to the front desk which will be scanned into the system to create the badge. Photos can also be taken onsite for those too young to have an ID.
In addition to photo identification, the new badges will be color coded for each individual floor and will self-expire after 24 hours. If you plan to be at the hospital longer than 24 hours, you will need to go back to the front desk to have another badge issued.
Rich Matthews, Director of Safety & Security at Spectrum Health Lakeland, says, "Studies have shown health care is the second most violent-prone profession in America," and adds, "By taking these extra precautions we are ensuring that everyone who comes into our facility has been pre-authorized by our staff which helps create a safer environment for our patients, team members, and visitors."
Plans are also in the works to begin issuing badges in the emergency department. At this time, if visitors are transitioning with a loved one from the emergency department to an inpatient unit, they will first need to visit the front desk to have a badge issued. New visitor badges are currently only going into effect at Lakeland Medical Center in St. Joseph.
The image accompanying this story on Moody on the Market is for illustration purposes only and is not intended to replicate the actual badge system that will be employed by the hospital when implemented.