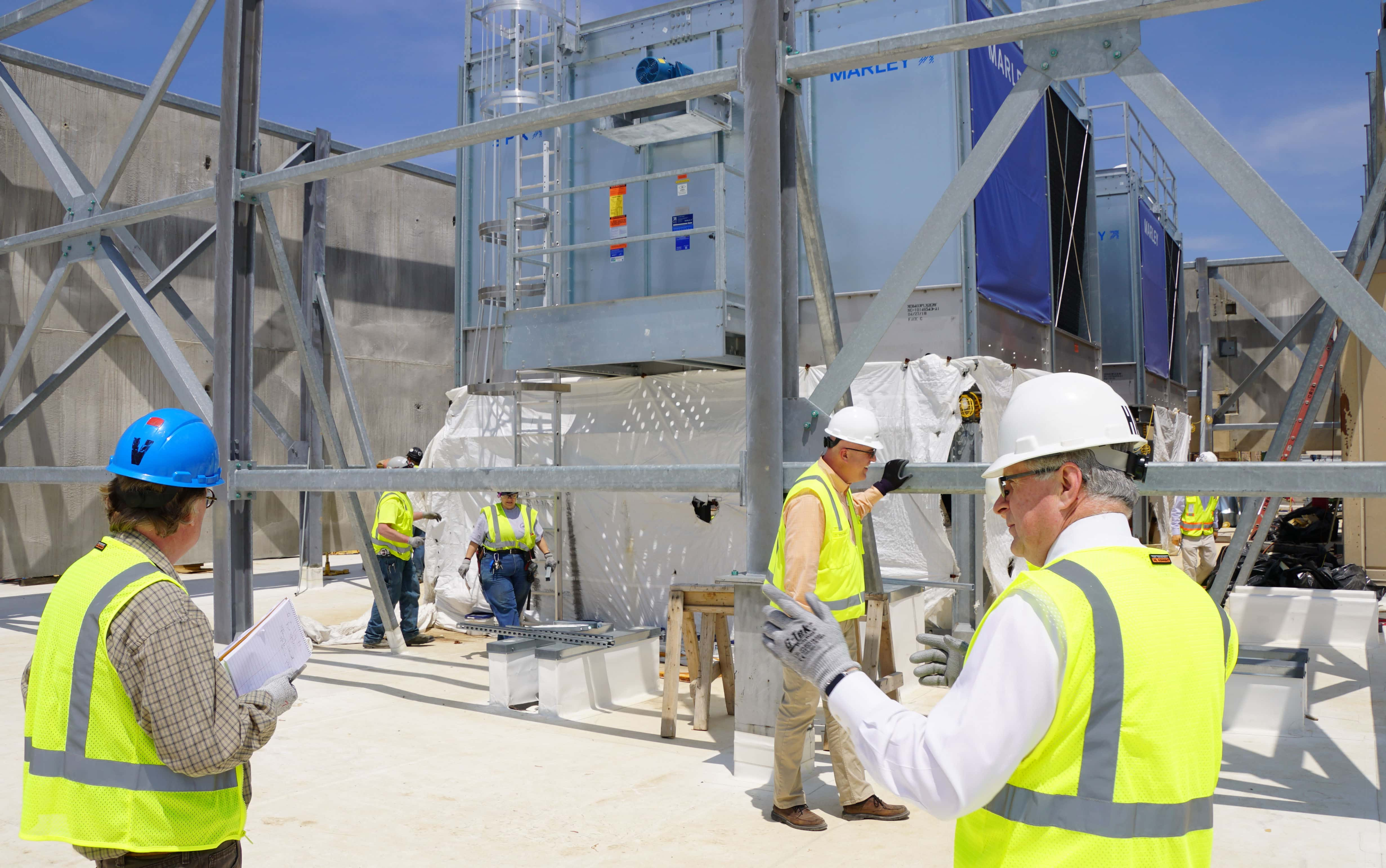 Anybody traveling near Spectrum Health Lakeland over the last couple of years remembers the unrelenting rumble of double-barreled dump trucks working the excavation site of the $160-million dollar pavilion expansion of the St. Joseph hospital campus. A progress tour Monday afternoon showed the amazing progress that has already been made since that time. CEO Dr. Loren Hamel led a media tour and reported that those double dump truck loads "departed the site every four-and-a-half minutes for week, after week, after week." Contractors had to go down 24 feet, for the new basement level, but also sixty feet more for the pilings and foundation of that new five story structure — four of which are above ground.
Director of Facilities Planning, Design & Construction for Lakeland, Daniel Bacchiocchi, says, "We essentially excavated the equivalent of 7 to 8 high school gymnasiums full of dirt," to make way for the construction project due for completion this fall.
Hamel and Bacchiocchi were joined by Mary Lou Balsis in showcasing the progress to date, pointing out key points across the five story pavilion as a veritable army of construction team members scurried about welding, hammering, drilling and more to get the tower ready.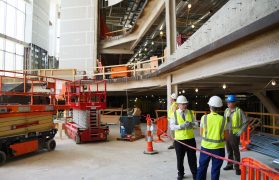 Reflecting on the decision to craft the new pavilion, Hamel tells me, "A facility like this is conceived over decades. You plan ahead, so our strategy to do basically a hospital replacement on this site in two phases, goes back decades."
Regarding why the move was made at the existing site, Dr. Hamel says, "A lot of folks move their hospitals out into a green field someplace, which is an easy place for new construction. But it leaves an old facility as an eyesore in the middle of a city where a hospital really belongs, in my view. So I think our board made the right decision to do the in-patient tower, and the rest as we could afford it, and set money aside, to do the rest of the facility replacement."
The $160-million pavilion project, according to Hamel, "Is essentially replacing all of the clinical space. Now we have areas that we have can back-fill for administrative support, but Daniel and his team can take space that was clinical and make it clerical space for about $100 per square foot, that's very competitive with new greenfield construction, and then its in the right spot for us." He also recognizes, "This is about the last thing that can fit on this campus. Obviously if we have to build something more here, it's going to be up, or its going to be on adjacent property very likely."
Hamel adds, "We think this fits well. One of the things we needed to do to make this work was to put another level on the parking garage, and to put a roof over that so that it can be used for four season parking, plus we needed that done first to make sure our friends and neighbors had enough space to park on site." He went on to applaud the teamwork, saying, "Daniel and his whole team have done an unbelievable job of bringing a team together and to do this on time and on budget. This is not necessarily an easy time to do construction management because there's construction going on around the country in a bit of an economic boom. It's a remarkable task."
In one area of the basement level which starts well below grade on one end of the pavilion and ends above ground on the other, a long stretch of translucent glass obscures the parked cars on the opposite side of the glass from the patients and providers on the inside. Designers felt that it was critical to have glass in that hallway according to Dr. Hamel, because, "it's always helpful for patients and providers to know whether it is night time or daytime, to help orient one to the time of day, and makes it feel a lot less unpleasant walking down this hallway in the basement when you can see sunlight."
The precision planning has helped construction to advance rapidly, as Hamel noted, "Everything in here was pre-measured in CAD before we started building. Everything. If you move a pipe, everything gets re-drawn and re-done, we know exactly – even the fenestrations through the floor were planned, sort of geo-located, with GPS, so that we don't have to drill later, every fenestration was planned ahead of time." That meant that when the main steel beam work to erect the building was delivered, all pre-cut and ready to be assembled, "It was amazing to see it all go up and every last bolt fit. A very, very precise work of art." That example was shown to us in what is considered to be the central marshaling core.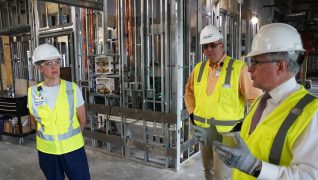 Next, we advanced to one of the sterile operating rooms where even spaces were cut into the walls for flat panel TV screens, because everything in the room will be flush…to allow it to be completely clean and sterile. Stainless steel walls will be erected inside, to allow for very quick and efficient cleaning, and they've mapped out how the ceiling grid will go in, with large areas for "laminar flow," which is air that flows in a direction such that no airborne germs can fall into a patients wounds.
The system carries everything away from the patient. The air is changed completely in the room every two minutes. There are 30 air changes per hour, despite the code of one every 20, but Lakeland is exceeding that rate by 50-percent. Balsis noted, "The floor in the air flow zone is a different color from outside of the zone, so that teams that are performing surgery know that they cannot step out of the sterile area once they've scrubbed for surgery. That helps keep things safe in that flow area." Once the system begins flowing it will never stop, maintaining a sterile environment forever.
The technology that will be available in the state of the art operating arenas is amazingly different from days gone by, according to Hamel. He says, "The technology that we have today in operating rooms with robotic equipment, robotic navigation equipment, 3-D images in surgeries being performed, modeling and 3D printing, those kinds of things that are all technologies used in operating rooms that were just not available even a decade ago but are now making things dramatically different."
Hamel points with pride to that new operating room admitting, "One of the reasons that it was important to us to replace clinical space, and particularly this clinical space, is we want to have something that is a magnet for young talent. Our community won't get any better health care than the talent that we're able to recruit, to work here. Part of that challenge is to make sure that the facility is absolutely modern and up to date, and it gives our friends and neighbors the best chance to get the best care, the best technology available and that certainly will be in this operating room and of course the whole facility."
There is a waiting area for surgery on the second floor, which will also provide a direct line to a dining area of the Courtyard Café, which will move to the second floor, meaning they'll have to change the name from Courtyard, but it will be a very nice grill for guests, for families, and for team members.
There's a large garage door looking window wall in the atrium which is there in case of fire. It's a specially designed "smoke-evac" door, which opens wide in the case of a fire, and allows the smoke to be sucked out to keep the entire area safe. Due to the sheer amount of air volume in that atrium area, the doors allow fresh air to be sucked in and then vent the heat and smoke out up the large duct work overhead.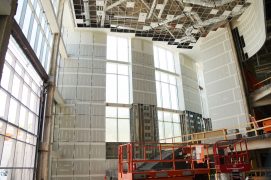 Bacchiocchi says, "95-percent of the pavilion will be on emergency power with the capacity to run for three full days on that  emergency power." Hamel says the glass in the atrium is a good example of the aesthetics designers have factored in across the spectrum. He notes, "The design team spent a lot of time determining ways to make the glass look from a distance almost leafy and tree like, but not terribly obvious, so the glass is marked to obscure the view a little bit because it overlooks the emergency room where people are entering on beds and gurneys, but moreso to make the atmosphere more comfortable so you don't get the heat of sunshine making it unbearable and providing a bit of privacy as well. It moves across the face of the building. The smoke evac doors will also be designed with the same pattern on the glass."
The new pavilion encompasses five floors. Four above grade, and the basement.
The first floor is a universal consultation area where physicians can see patients being admitted to the hospital. And also on that floor there's the radiology department, the Hanson Heart Center, and endoscopy.
The new Upton Education Center, on the basement level, is free span, meaning there are no posts due to the special construction method used, for unobstructed views and total collaboration throughout the entire room. It can be divided into six different rooms if needed, and 11 or 12 different configurations for both internal education needs and for the community as well. Capacity is 300 for dinner seating, and its now at the same level as main dining services, so servicing it will be much, much easier as well.
On the opposite side of the wall from the education center sites a multi-disciplinary amphitheater which will also be used as a board room. Hamel says there will be "Two layers of seating in the space, for meeting in the round, improving collaboration, improving conversation, and it allows sharing of data more readily." He calls it, "An ideal space," and notes, "The only way to do a space like that in a building like Lakeland is to put it in the basement, where you can go down. Being in the basement allows for a higher ceiling for both the amphitheater and the Upton Education Center, and better viewing angles for large screens. A bonus is that it is also very close to where the cafeteria, the Atrium, will be and food service can be close at hand for functions."
Also on that level are central stores and sterile supplies, and also where they make ice.
Hamel chuckles that, "What used to be the cafeteria in the basement was only reachable by a hallway that contained the loading dock, and the morgue, and other things that happen in basements of hospitals. This will be a much more appealing entrance coming in from the common area, from the multi story atrium, so we expect you to smell the garlic on that pizza upstairs and follow your nose right down here to get something to eat. That would be the goal."
Noting that the building is still an operating entity, Hamel says, "We're a 24/7 city, so right behind this wall we're still making meals by the thousands for our patients and guests every day."
The main waiting room on one level and the surgical waiting room above it both overlook the atrium space and acres of glass, while the fourth floor will have its own viewing garden and glass wall.
At one point we arrive at what Hamel contends, "Is Berrien County's biggest ice cube factory. Every one of these big tanks produces ice cubes at night when power is less expensive, and cools the building during the day when power is more expensive. There are twenty four ice towers, and each one becomes a solid cube of ice at night and then during the day time when electricity costs are higher, we can move away from the chillers and cooling towers and just run cooling systems off the ice, from 7am until about 2 or 3 in the afternoon." Then, when its all worn out, they remake it overnight to start the next day. That way they only have to run the chillers and cooling towers when the ice is gone. The refrigeration cycle is turned off from about 7am until 3pm.
An MRI machine space is heavily shielded with copper, wood, plastic — anything but steel due to the magnetics involved in the machine. Bacchiocchi notes, "Just to get that 25,000 pound machine in, there's a specially reinforced pathway and a very specific route for it to be brought in through and taken out. We had to reinforce the concrete slab just for that route, and a second MRI suite will be right next door for future expansion.
The healing garden is an area where Lakeland team members, in about 3 or 4 weeks, gave $340, 000 to $350,000 as a gift to the community to create a healing destination on the first floor. It will be completely filled with greenery and live plants.
Best of all, the project is on budget and on time.
Hamel says, "It has been really rewarding watching this take place. The bottom line. This is a place where we save lives. Every day. And we take that extremely seriously and want to create space that is respectful, healing, and engenders relaxation response, and space that makes our community feel cared for. It's rewarding to get up every morning and know that's what we're doing."
Workers have distinct deadlines. The Lakeland Foundation Gala takes place in the new Upton Education Center in the Pavilion on November 2nd, another event in November for all team members honoring their anniversaries will take place, and on December 12th, the Southwest Michigan Regional Chamber of Commerce will host a Business After Hours there. The work continues in earnest. Stay tuned.