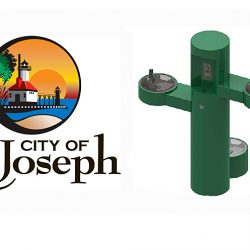 The safety of drinking water in America is increasingly paramount, especially following the troubles of communities like Flint. Ever pro-active in keeping the community safe, city officials in St. Joseph will take up public drinking fountain replacement tonight to assure only safe water is available at those fountains at all times.
Deputy Director of St. Joseph Parks & Grounds, Greg Grothous, has been studying the safety of local drinking fountains since the staff at city hall were alerted to issues with lead levels in Chicago Park District public fountains. In some cases the Chicago Parks District actually forced drinking fountains to run continuously to reduce lead levels.
Having seen the issue raised in Chicago, St. Joe city staff began testing water samples from city drinking fountains to see how things stacked up here in Southwest Michigan. The city's total water system is routinely tested and passed both such tests last year. However, staff found that federal recommendations suggest action be taken in schools if an individual water fountain is found above readings of 20-parts-per-billion (ppb) of lead content.
City officials in St. Joe set internal standards to address any city-owned water supply with a level above 5 ppb, the same as set by the FDA for bottled water. The city reasoned that while they can't control customer plumbing and fixtures, which can have a significant effect on water quality, they do control the entire process from intake to tap on city-owned fixtures, and therefore should adopt the higher, more protective standard.
The city ended up testing more than 50 sites including 29 drinking fountains. Six of the fountains tested above 5 ppb, including three that tested above 15 ppb, the highest being 150 ppb. The remaining 23 fountains tested below the bottle water limit of 5 ppb.
As a result, the city shut down the three public fountains above 15 ppb, all of which had been installed in a time from from 2007-2009 and are certified lead-free by the manufacturer, leaving the issued as the service lines involved. The other three locations included one new and two older fountains.
Grothous is asking the city tonight to approve seven new drinking fountains, with all six of the questionable fountains being replaced this spring and a seventh for installation at the Dickenson Park Softball Field. All would be models as shown in the photo accompanying this story on Moody on the Market with each including standard height bowls, ADA level bowls and pet bowls as well as incorporating water bottle filling stations.
City staff issued a request for proposals on the purchase of 7 fountains and they are recommending Murdock drinking fountains as shown above provided by Columbia Pipe & Supply Co. of Kalamazoo. The seven replacement fountains will cost $19,423.24 from the city's Capital Improvement Fund, if the City Commission gives the green light to the project.