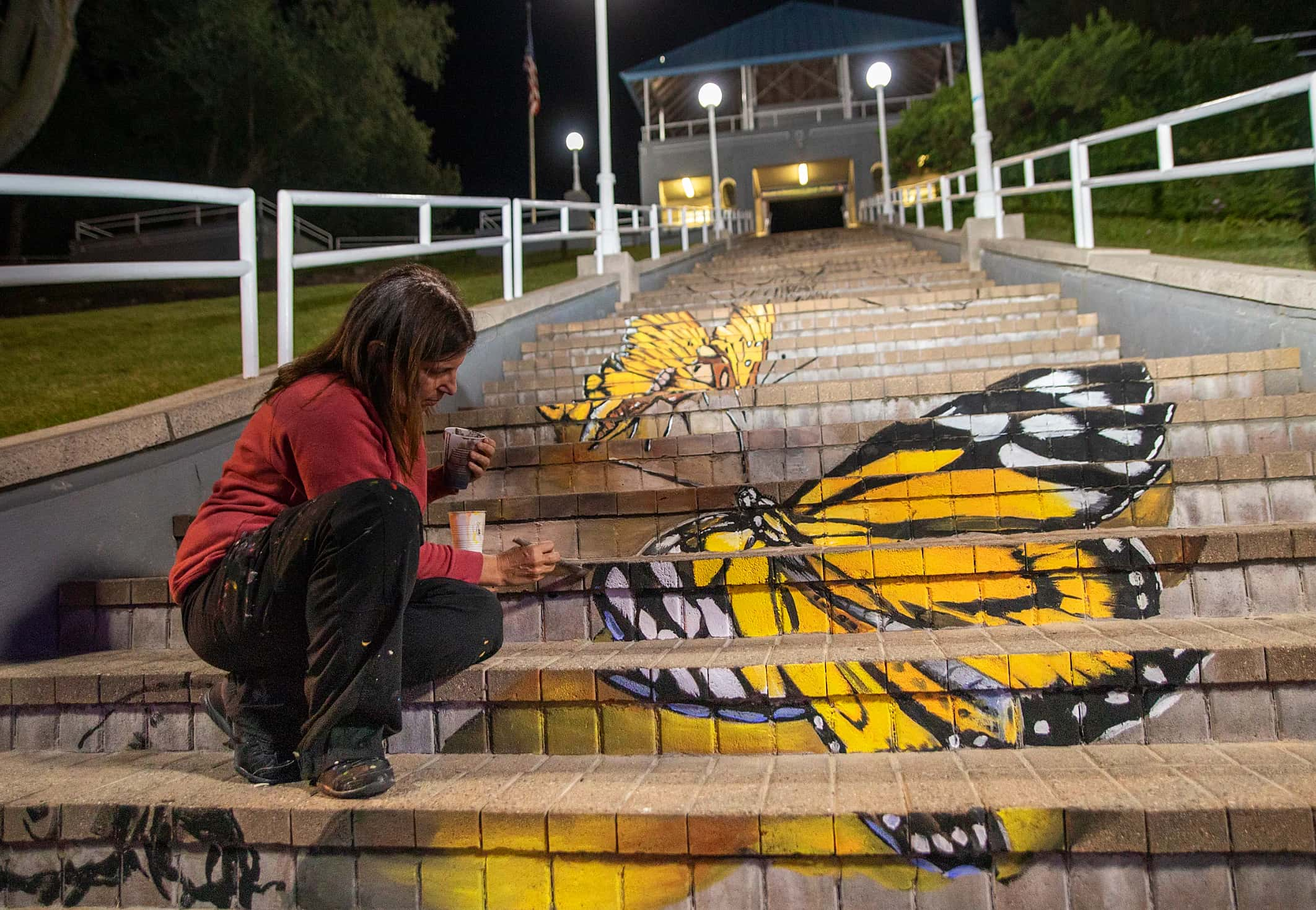 There might not have been miniature hand-crafted sculptures on multiple street corners in downtown St. Joseph this summer, but public art of another nature roared back onto the scene with the stunning staircase mural that captured everyone's attention and could become a more permanent fixture going forward.
St. Joseph Today, who partnered with underwriters from the Southwestern Michigan Association of Realtors and philanthropist Edward J. Todd to bring a temporary mural to the bluff stairs leading to Lake Bluff Park and downtown St. Joseph during the recent Chalk the Block Festival, says the reaction bodes well for the future.
The merchant promotion and event coordination team at St. Joseph Today began the mural project a year ago in the week leading up to Chalk the Block with a permanent mural on the back of their downtown Welcome Center building.
That commissioned piece was painted by Houston, Texas based artist Anat Ronen. Amy Zapal, who serves as Executive Director of St. Joe Today, says, "It was well received and we immediately started planning for the next mural." Zapal says they were lucky to work with Ronen again on the stair mural, noting, "We wanted something that not only expanded the footprint of Chalk the Block, but of the whole downtown. The bluff stairs were the perfect canvas to achieve this goal."
Zapal says that the bluff stairs mural, while temporary, has sparked a lot of interest for future permanent murals, telling us, "A handful of private property owners have expressed interest and support for the ongoing mural project. We plan to continue through a variety of partnerships and with the help of local and regional artists."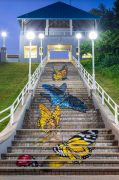 Edward J. Todd is devoted to supporting the education of local youth in Michigan's Great Southwest, as well as supporting the growth of local businesses through community events. St. Joseph Today and the whole community benefit from his generous support for the fine arts.
The Southwestern Michigan Association of Realtors, Inc. is a professional trade association for real estate licensees and an ancillary service provider for the real estate industry.
St. Joseph Today is a 501(c)(3) membership-based organization dedicated to developing and promoting events and businesses in St. Joseph and its surrounding communities. For more information about upcoming events, you can visit stjoetoday.com, facebook.com/stjoetoday, the Welcome Center or call 269-985-1111.