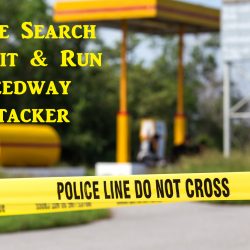 Until they catch the culprit police can only speculate on what might have motivated an early morning commuter to purposely slam into a service station building and then drive away from the scene this morning.
Paw Paw State Police are asking for the public's help in tracking down the driver of a newer model white Jeep, possibly a Grand Cherokee, after he purposely drove into the Speedway Gas Station located at 208 River Street in Comstock Township of Kalamazoo County around 5 o'clock this morning and then drove away from the scene.
The Jeep bears a Michigan Registration plate DVZ 1085, and was driven by a light-skinned black male with dreadlocks, a mustache and goatee, wearing Chicago Bulls sweatpants. He is believed to be in his mid-20s, and was traveling with a passenger described as a clean-shaven white male wearing a Bob Marley tee-shirt and jeans, also believed to be in his mid-20s.
Following the crash, the Jeep was also spotted at the intersection of Lake Street and Portage Street in the City of Kalamazoo.
State Police Troopers are asking anyone with information on the identity or location of the driver and passenger to contact Trooper Knaup at the Paw Paw State Police Post at 269-657-5551.