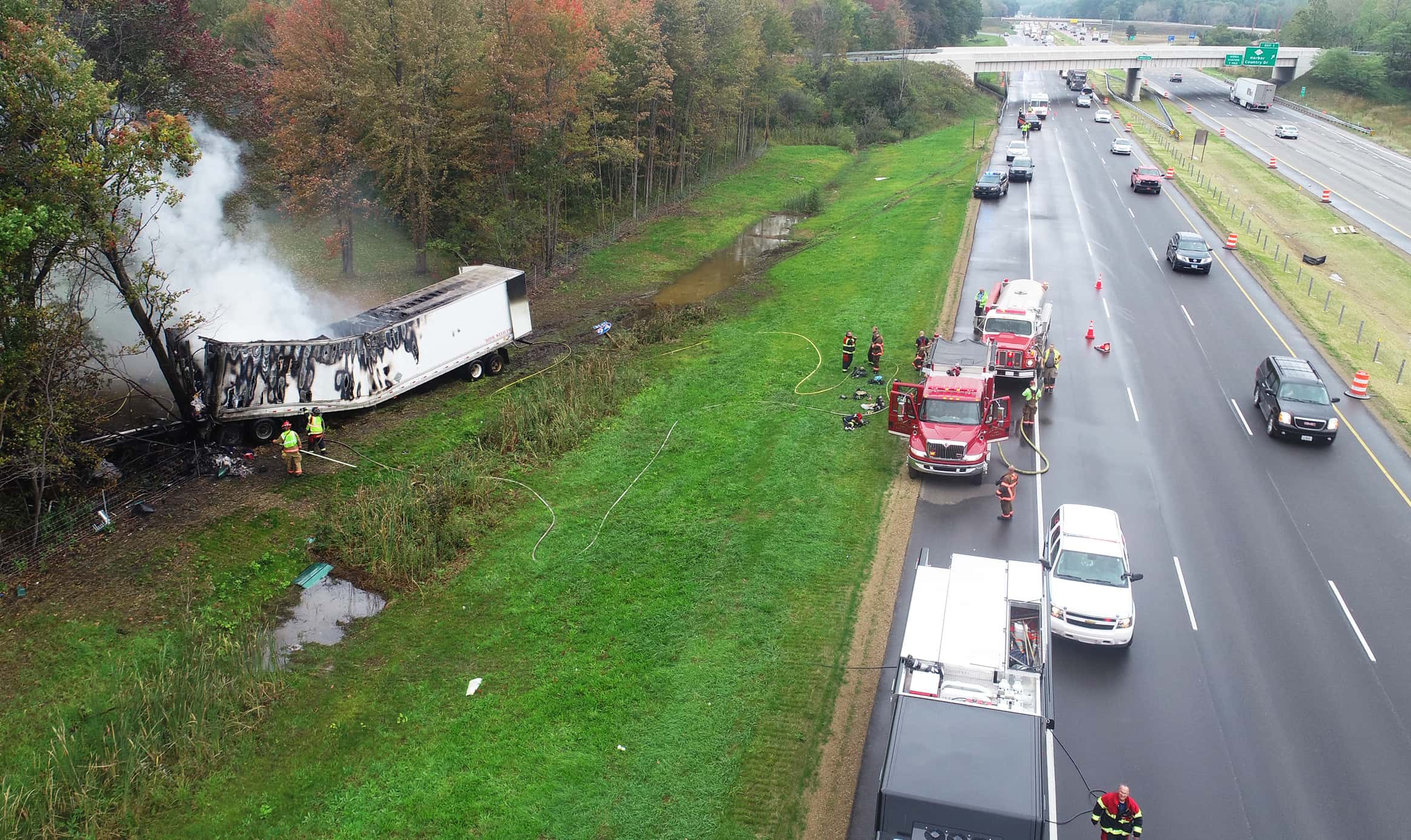 *****UPDATE*****
Berrien County Sheriff's Deputies have updated this story saying that an autopsy was completed and the driver of the semi has been identified as 65 year old David Monroe from Holt, Michigan. The cause of the crash is, however, still under investigation.
*****
Tragedy struck early on this Friday morning for a semi driver who, for whatever reason, left the interstate highway barely a mile from the state line on his way to Wisconsin and crashed his truck into a tree before it burst into flames engulfing his entire load, and keeping first responders at bay. He died in the fire.
Berrien County Detective Sgt Thad Chartrand reports that just minutes before 9am today, Friday, October 11, 2019, the unnamed driver was westbound near Mile Marke 1 in New Buffalo Township when his rig slammed into the guardrail before running off the roadway and eventually into a tree before bursting into flames.
Chartrand says an autopsy will be conducted to determine if he suffered some sort of medical emergency or if his truck sustained some type of mechanical malfunction leading to the crash and fire.
Berrien County Sheriff's road patrol was assisted at the scene by the Pokagon Tribal Police, New Buffalo City Police, New Buffalo Township Police, Chikaming Township Firefighters and Medic 1 Ambulance operators.
The driver, who was the only person in the truck, was found deceased inside his truck and was taken to the Home Stryker School of Medicine at Western Michigan University in Kalamazoo where an autopsy will be conducted to confirm his identity and the cause of his death.
Details of the accident were provided to authorities by eyewitnesses who saw the accident unfold, who were also kept at bay by the fire.
Detective Chartrand says that the semi was registered to Nationwide Truck Brokers out of Byron Center near Grand Rapids and had been hauling clothing for Meijer on the way to Wisconsin.
The crash is being investigated by the Berrien County Sheriff's accident investigation unit. The drivers name and hometown are being withheld until next of kin can be notified.