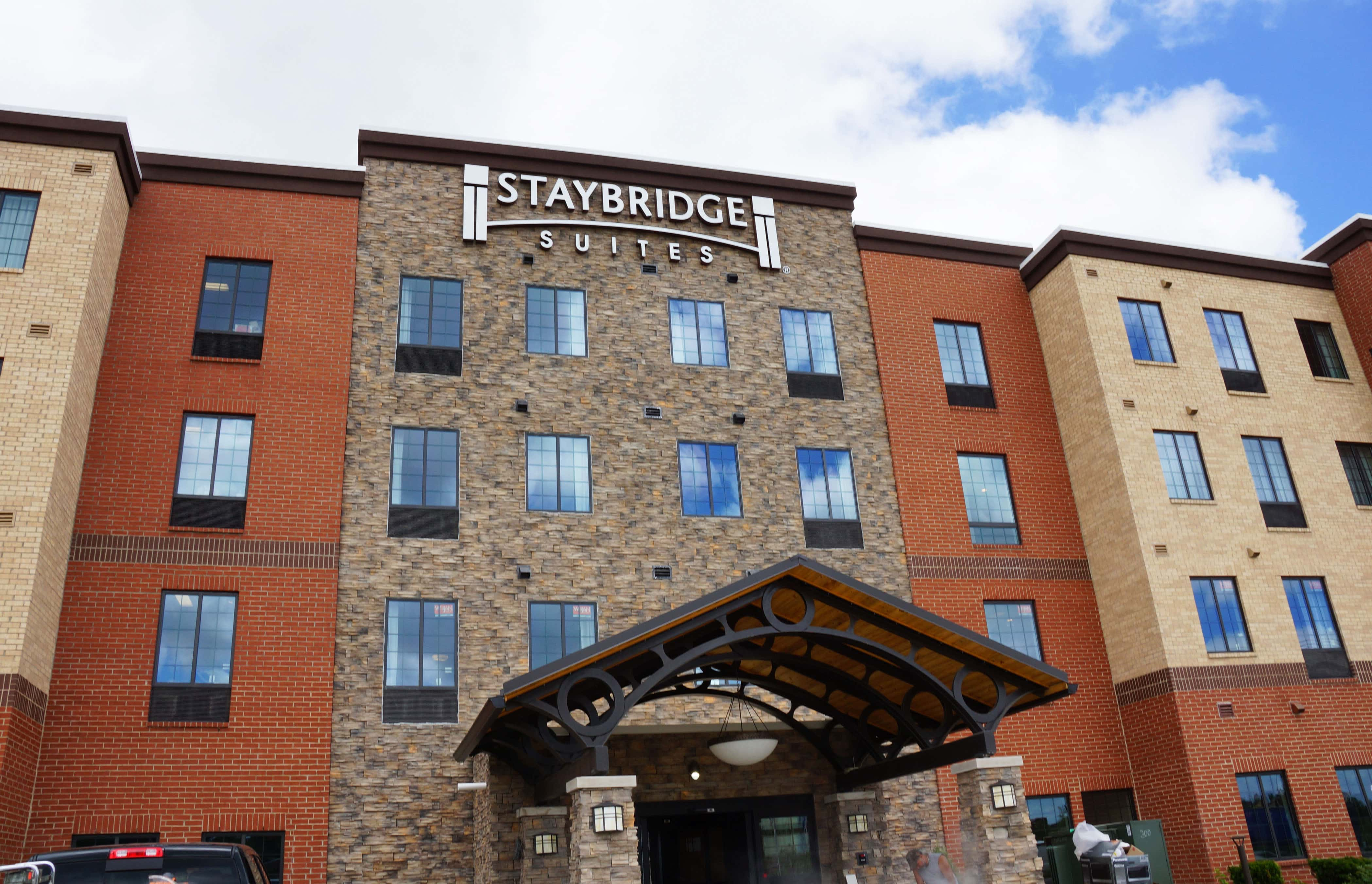 The first family to check in to the new Staybridge Suites of Benton Harbor tomorrow afternoon may well be there for the next three to five weeks, but that's exactly what the new lodging property is all about according to Brian Dabish, who is a member of the family that owns the new 88-room hotel along Cinema Way in Benton Harbor.
At 1pm tomorrow afternoon the unidentified family of mom, dad, three kids and their dog will check in to the brand new hotel. Reality is that they wanted to check in on Sunday after undergoing some sort of disaster at their house in the region and their insurance company suggested they stay at the new extended stay facility which officially opens for business this week.
Tradesman have been busy putting the finishing touches on the four-story hotel alongside another Sandiha family property, the Springhill Inn & Suites next door. Springhill has been open for several months, while the Staybridge has been under construction since breaking ground last September at 1275 Cinema Way.
The Detroit-based Sandiha family also owns the Benton Harbor Holiday Inn Express across I-94 from the two new hotels and is expected to break ground in a couple of months on their next venture, a Courtyard by Marriott immediately next door to the new Staybridge.
The family moving in tomorrow, and everyone else who stays at the new Staybridge will find virtually all of the comforts of home inside. The 88-room property boasts two-bedroom suites, single bedroom suites, and studio suites on four levels, a number of which are also pet friendly.
Each suite offers flat screen TVs, full sized refrigerators, microwave ovens, cook top stoves, dishwashers, ironing boards and more. The average stay at a Staybridge Suite across the country is about 9-days and is often used like tomorrow's first guests — to help recover from personal disasters and relocation issues.
In addition to the in room amenities, the hotel offers a sizable dining area where complimentary breakfast is served daily and every Monday through Wednesday Social Events are hosted from 5:30 to 9:30pm with the staff of the hotel doing a barbeque on the outdoor grills for guests. Guests also have access to the grills, a gazebo, chaise lounges, and other tables and chairs on the outdoor patio. There is also an indoor, heated pool, access to complimentary guest laundry facilities, a full fitness center, a business center, and even access to 8×8 storage units on each floor.
Brian Dabish and his brother-in-law Stefen Sandhia are the primary owners of the new facility which will be under the management of Rick Zichterman as General Manager and Christine Coble is the team's Director of Sales. Christine returns to the community from a two year stint with the Double Tree Hotel in South Bend. Prior to that job she worked with teams at Lake Michigan College and Michigan Blood, so she knows the area quite well. In fact, she's already putting the finishing touches on contracts with the DC Cook Plant in Bridgman for large blocks of rooms for their transient teams who regularly come in during outages and the like.
A staff of 30 to 40 employees will round out the crew at the new Staybridge, which will also feature a ground floor expanded living room setting for when families and others come to visit those on an extended stay visit. Complimentary Wi-Fi which even reaches out to the gazebo is offered and separate meeting space will be available for various sized groups. The exact capacity of that space is still being determined by the amenities that will be included there.
Outside fire pits can be used by guests, there is a small shop off of the front desk for purchase of sundries and other supplies, and everything should be in place by mid day tomorrow.
A number of suites will be open tomorrow and Wednesday, July 25th and 26th between 1 and 4pm for those interested in seeing the new property and a formal grand opening will be held in the near future. Just ahead of the first open house, the staff will enjoy a huge employee luncheon and cut a ceremonial cake.
This is not the end of the Sandiha family adventure in our region. Shortly after the Courtyard by Marriott gets built, a fourth hotel will be built immediately adjacent to that property — behind it — and it is slated to replace the Benton Harbor Holiday Inn Express, moving up a notch to a different grade of that brand and at that time the existing Holiday Inn Express behind the Bob Evans restaurant at Pipestone and I-94 will change flags to a different brand going forward. Stay tuned.
Reservations are now being accepted online for the new Staybridge Suites of Benton Harbor.