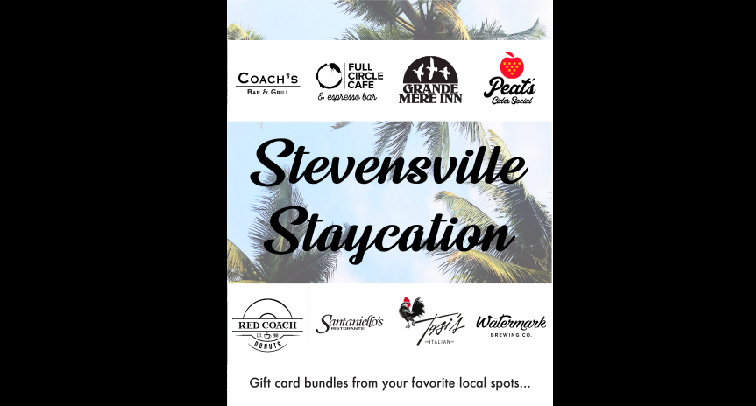 The unprecedented impact of the coronavirus pandemic has brought many business owners to their knees, but in the community of Stevensville, eight determined and dedicated hospitality industry business enterprises refuse to stand by and watch years of hard work fade into oblivion, opting instead to rally as a collaborative team bidding for public support to keep their businesses alive and thriving in Michigan's Great Southwest.
With small businesses across the landscape needing support from their communities more than ever before, in the small town of Stevensville those eight hospitality businesses have come together to offer a one stop shop for anyone to accomplish their holiday shopping while supporting local businesses.
Dan & Leah Peat of Peat's Cider helped lead the way, saying, "We're excited to team up with other Stevensville businesses to make it easier to shop small this season! (And yes, we kept the bowling lanes)."
To counteract Black Friday deals that most big box stores offer and to complement Small Business Saturday the "Stevensville Staycation" bundle features a $25 gift card from all eight of the Stevensville businesses:
Jayme & Ryan Bendoski of Full Circle Cafe say, "We are honored to serve this amazing community alongside so many wonderful family-owned businesses, and excited to partner with them, to offer you this one-of-a-kind holiday gifting option."
Rosanna & Ralf Santaniello of Santaniello's Restaurant & Pizzeria say, "We are super excited to collaborate with amazing family-owned businesses, at the same time giving this equally amazing community an opportunity to get some great local deals. Shopping locally helps us all!"
Amanda Nitz of Red Coach Donuts was succinct in her message, saying, "Donut hesitate to support Stevensville!"
With hospitality businesses once again required to shutdown indoor service in the state of Michigan right before the holidays, the impact can be unprecedented without public support. If the closure lasts until the end of the year, hospitality businesses will have had to rely on curbside pickup for literally half of the year, 26 weeks out of the entire year of 2020.
Lori & Dan McCrery of Tosi's say, "In the spirit of our town, 8 family businesses are coming together. We combined a $25 Gift certificate from each Stevensville business. That's a total of $200 to give you the freedom to shop and support local."
Chris Mason of Watermark Brewing Company adds, "It is important to take care of our neighbors during the challenging times that we are currently facing. I could not imagine Stevensville without any one of these staple businesses who have supported our community for so many years, and for years to come."
You can purchase the "Stevensville Staycation" gift card bundle on Friday November 27th or Saturday November 28th from 12 noon until 3pm.
On Friday the valued $200 gift card bundle will sell at a discount for $160, receiving one $25 gift card from all eight businesses. Then on Saturday the same bundle will sell for $200. Based on the reception of this bundle opportunity, the business owners will explore other collaborative efforts into the future.
To take advantage of this deal in supporting local hospitality businesses, you will need to pay by either cash or check. (checks made payable to Tosi's)
For additional information and other questions you can contact: events@watermarkbrewing.com
The pickup location for these bundles will be at Tosi's, located at 4337 Ridge Road in Stevensville
To pre-register for this gift card opportunity you can fill out this form:  https://tinyurl.com/y225j5sr