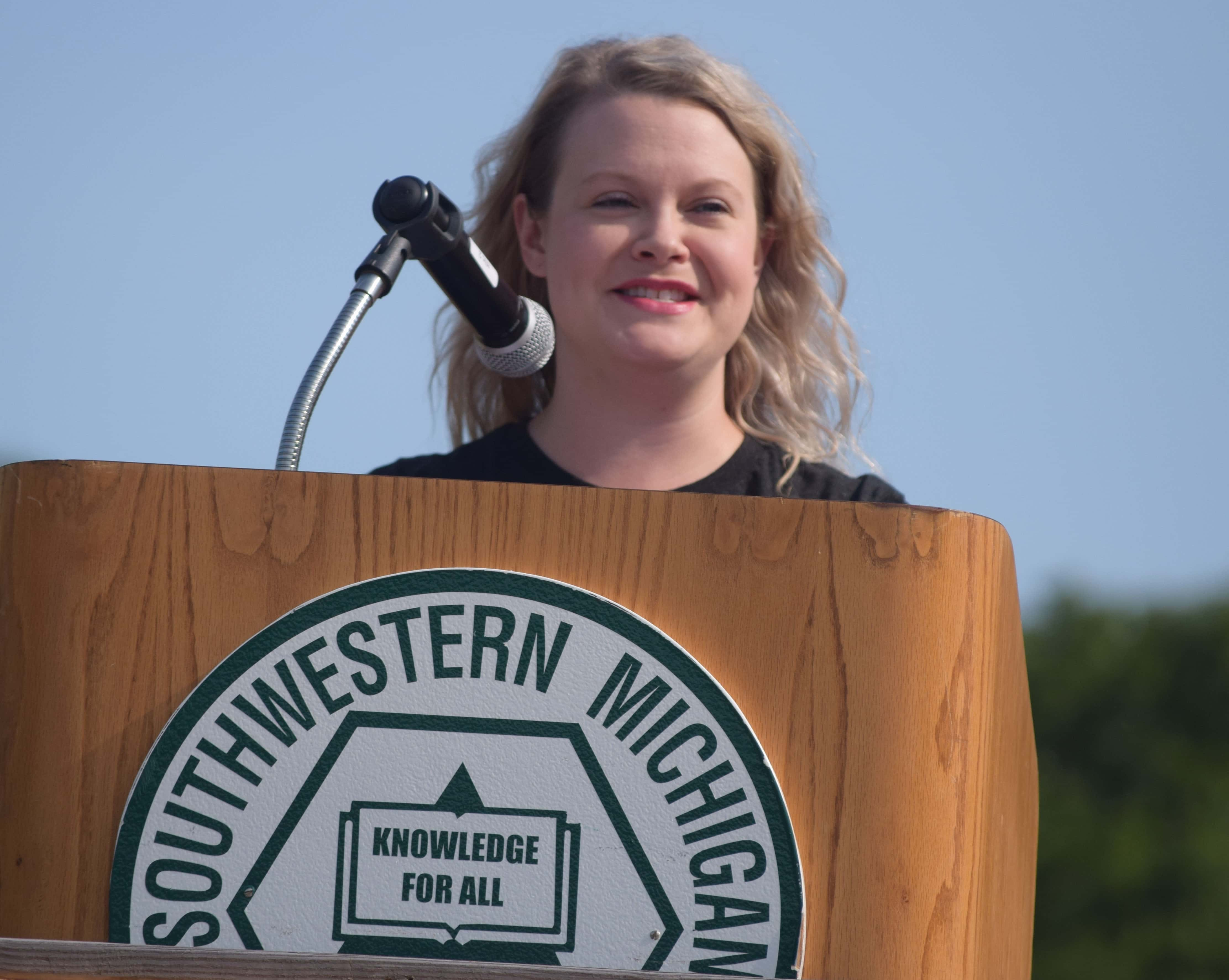 The guest speaker of this year's Steve's Run at Southwestern Michigan College is reflecting on her journey to become a mother after battling breast cancer several years ago.
"A baby is God's sign life should go on," Emmy Rickert, breast-cancer survivor and mother of three, said after the 45th Steve's Run.
"There are cracks in all of us. That is how the light of God shines through," she said. "I used to want my cracks to heal, but they are a gift of light in a very dark room. Cancer spares no one, binding us together. At 24, I never would have believed myself to be a potential victim. I was at the peak of my career (with the Michigan Senate), exercising daily, eating healthily and taking on life with optimism. I have learned life is precious in its fragility."
First her family battled a genetic heart condition that claimed her grandfather, two uncles and an aunt. Her father survives thanks to a heart transplant. Seven months later her mother, 45, died abruptly from a brain aneurysm. Breast cancer killed her aunt.
"Reeling," she returned to work feeling "sad, angry and weary. I realized the top of my chest felt bruised. Pushing a little harder, I felt a lump in my left breast. I normally wouldn't have thought much of it, but with my aunt's death fresh in my mind, I went to my OB/GYN immediately. She said many times, 'It's probably nothing,' but I persisted for an ultrasound. As tears fell down my cheeks and stained the paper covering the bed, I asked God to carry me through whatever was to come. That was Friday. Monday, March 18, 2013, the radiologist called me at work. I became distinctly aware of sounds like the clock ticking" at the words triple-negative, very aggressive breast cancer. She met with a surgeon the next morning.
"After I hung up the phone, I wasn't thinking of myself, I was thinking of my family," Rickert said. "After all of the heartache they had endured, I had to tell them I had breast cancer. I headed home with all the optimism I could muster. I picked up my sister, 19, (from Central Michigan University)" and drove to the family home in Hersey.
"I told them I'd beat it. I was so ready to get the beast out of me. My surgeon took my hands, looked into my eyes and said he was not just going to remove my tumor, he was going to make sure I lived a long, happy life. My fighting will took over at that point. I knew I wanted to move home during treatment" at Spectrum Health's Susan P. Wheatlake Regional Cancer Center in Reed City.
"I was not scared of losing my hair, being sick or even losing my life," Rickert recalled. "I was scared of not becoming the one thing I wanted to be more than anything — a mom. Infertility topped a long list of chemotherapy side-effects. That same day I made an appointment and froze nine eggs to give me hope I needed to make it through."
Chemotherapy "was debilitating," she said. "Utter exhaustion, pain and weakness took over. My hair fell out in seven days, which marked me. Scars on my chest rising above my shirt line marked me. I was bald, misshapen and tired, but remained largely positive. I wasn't in control of many things, but my attitude was one of them."
She and her college boyfriend reunited and married. "A true miracle had arisen from hope I kept alive. We were expecting our first child! In May 2015 we welcomed our daughter, Grace Angelin, named after my mother. Eighteen months later, we welcomed our second miracle, our son Huck. One year ago we welcomed our third child, Boone."
Mistress of Ceremonies Caroline Torie, WSBT-TV weekend evening news co-anchor for the South Bend CBS affiliate, said, "Steve's Run benefits two incredible causes — the Steven Briegel Scholarship and Mayo Clinic cancer research that has the possibility of saving lives.
"I'm particularly thankful for research innovations since cancer runs in my family. My mother is currently undergoing chemo," Torie said. "Like me, many of you are impacted by cancer in one way or another. Perhaps you or a loved one is battling the disease, or maybe you're here to remember someone cancer has taken from you. No matter your reason, we gather to sustain our resilient hope that perhaps one day research leads to a cure."