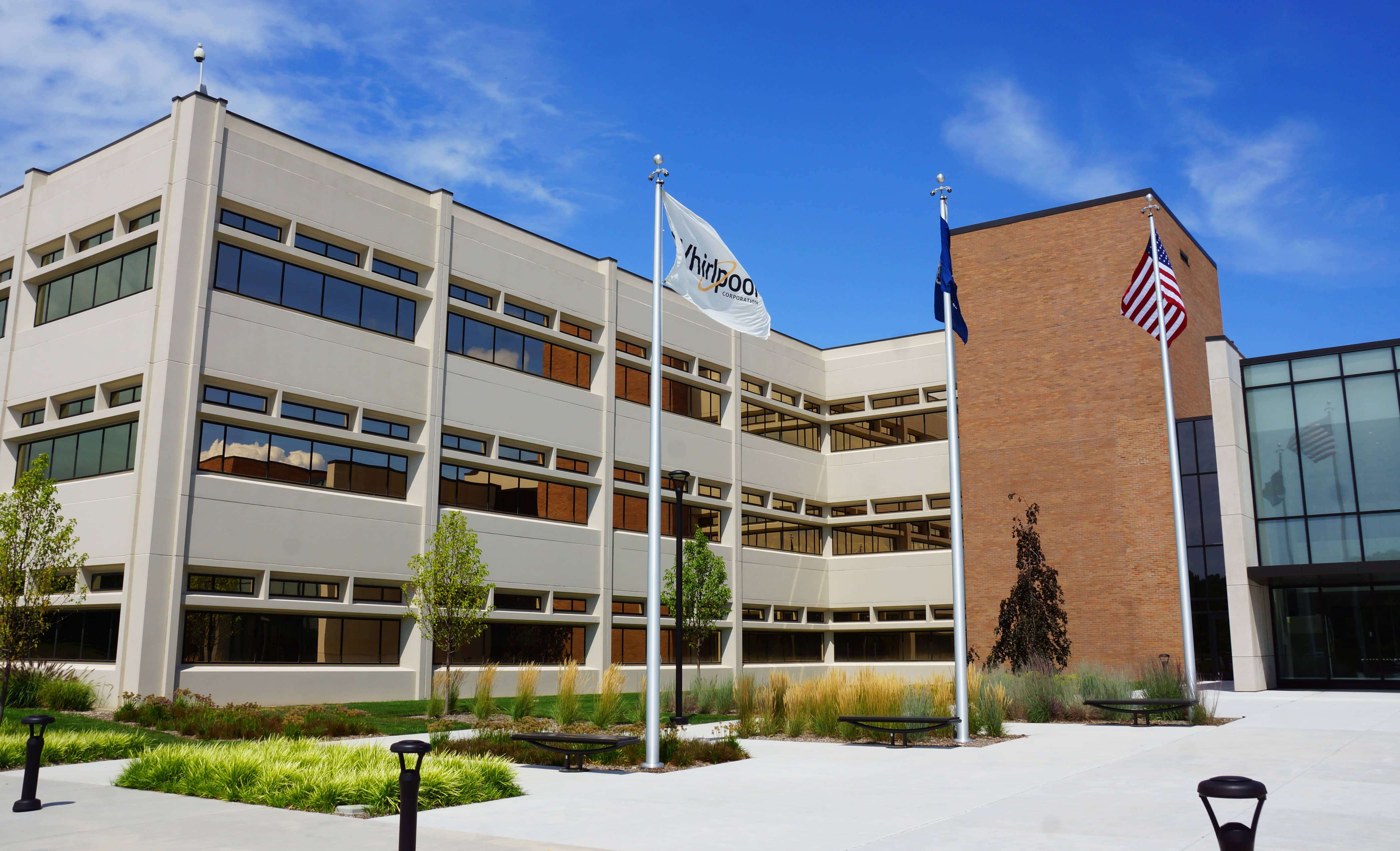 "Sustained strong consumer demand," and "cost-based pricing actions," are leading Whirlpool Corporation's strong first quarter results and the decision by corporate leaders to raise their full-year guidance going forward. The result has the company's stock price rising in after hours trading on Wall Street, with shares advancing by more than 3.7-percent shortly after the news, reversing the stock's close which had seen the price per share drop by $1.75 on the day.
The Benton Harbor-based appliance manufacturer beat Wall Street's expectations for both earnings per share and revenues, as sales rose to $5.36-billion in the quarter as compared to $4.33-billion a year ago.
Whirlpool Chairman and CEO Marc Bitzer says, "Our Q1 results successfully demonstrate our agility and resilience in dealing with component shortages and inflationary pressure." He adds, "Sustained strong consumer demand and our recent cost-based pricing actions give us confidence to significantly raise our full-year guidance."
That guidance for full year earnings per share has been reset from the prior forecast of $19 to $20 to the range of $22.50 to $23.50 per share.
The company's first quarter GAAP earnings per share of $6.81 beat Wall Street analysts by $1.58, beat non-GAAP earnings per share of $7.20 by $1.80 beyond analyst expectations, and 1st quarter revenues of $5.36-billion topped the street's guesstimates by $460-million. The appliance maker has now topped earnings per share estimates in 12 straight quarters. The company's share price is now close to its 52-week high of $240.50 per share.
Whirlpool Chief Financial Officer Jim Peters says, "We generated positive cash flow in the quarter, driven by strong net earnings and disciplined working capital management," while adding, "We are pleased that we are expanding our share repurchase authorization by $2 billion and increasing our dividend for the ninth consecutive year, demonstrating our continued commitment to returning capital to shareholders."
Among the highlights listed by Whirlpool, the point to:
Net sales growth of ~24-percent, driven by sustained global industry demand and cost-based pricing actions…
GAAP net earnings margin of 8.1-percent (up 450 basis points) and ongoing (non-GAAP) EBIT margin of 12.4-percent (up 620 basis points) with all regions delivering double digit growth across revenue and EBIT…
Delivered cash provided by operating activities of $182 million and free cash flow of $132 million, driven by strong earnings and disciplined working capital management…
Raised full-year 2021 guidance; earnings per diluted share now expected to be $23.10 to $24.10 on a GAAP basis and $22.50 to $23.50 on an ongoing basis, cash provided by operating activities of $1.70 billion and free cash flow of ~$1.25 billion…
Increased quarterly dividend to $1.40 per share on April 19, 2021, the ninth consecutive year of dividend increases…
Increased share repurchase authorization by $2 billion to ~$2.4 billion…
In the regional reviews, Whirlpool reports:
REGIONAL REVIEW
North America
Q1 2021
Q1 2020

As Adjusted

Change
Change excluding currency impact
Net sales ($M)
$3,044
$2,540
19.8%
19.3%
EBIT(3) ($M)
$607
$306
98.4%
–
Significant top-line growth driven by strong consumer demand
Record EBIT, with EBIT margin of 19.9-percent, compared to 12.0-percent in the same prior-year period, driven by go-to-market actions
| | | | | |
| --- | --- | --- | --- | --- |
| Europe, Middle East and Africa | Q1 2021 | Q1 2020 | Change | Change excluding currency impact |
| Net sales ($M) | $1,171 | $879 | 33.2% | 25.0% |
| EBIT(3) ($M) | $21 | $(15) | nm | – |
Revenue growth, excluding currency of 25-percent, as volume growth outpaced industry demand
EBIT margin of 1.8-percent, compared to (1.7) percent in the same prior-year period, driven by significant top-line growth and disciplined cost takeout
| | | | | |
| --- | --- | --- | --- | --- |
| Latin America | Q1 2021 | Q1 2020 | Change | Change excluding currency impact |
| Net sales ($M) | $732 | $618 | 18.4% | 35.4% |
| EBIT(3) ($M) | $62 | $31 | 100.0% | – |
Top-line growth driven by strong industry demand in Brazil and Mexico
EBIT margin of 8.5-percent, compared to 5.1-percent in the same prior-year period, as the impact of cost-based price increases and strong demand offset unfavorable currency
| | | | | |
| --- | --- | --- | --- | --- |
| Asia | Q1 2021 | Q1 2020 | Change | Change excluding currency impact |
| Net sales ($M) | $411 | $288 | 42.7% | 39.6% |
| EBIT(3) ($M) | $21 | $(16) | nm | – |
Net sales growth driven by strong demand across the region and share gains in China
EBIT margin expansion in India and China driven by go-to-market and cost productivity actions