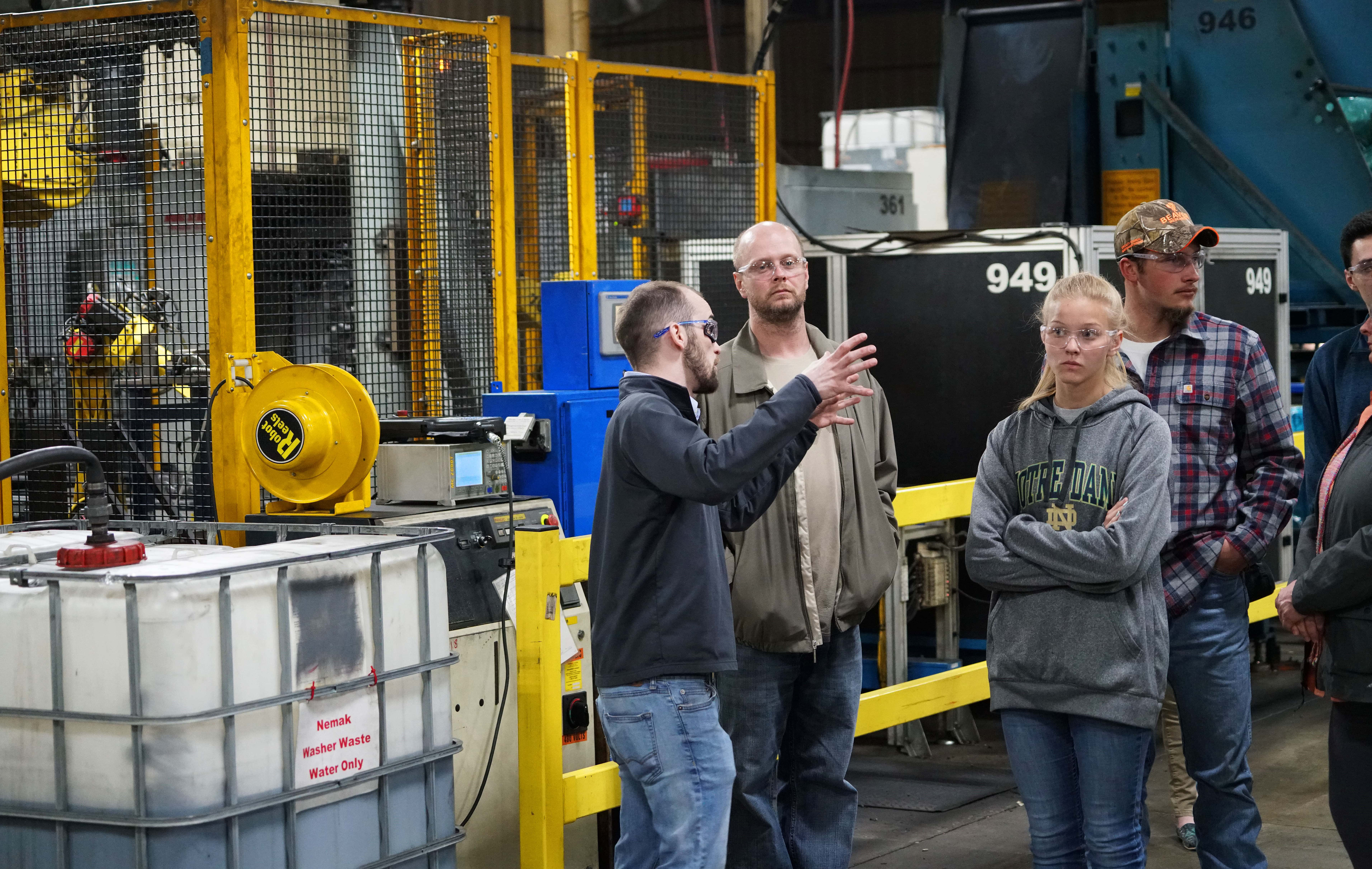 More than 50 young people and their parents got a peek behind the curtain into the future, and for some they could well be the future for the companies they visited Tuesday evening at four manufacturing firms in Michigan's Great Southwest.
The newly created Manufacturing Education Awareness Group (MEAG) rolled out its first ever Working Together Tour, with support from the team at the Kinexus Group, visiting Vickers Engineering in New Troy, Accu Die & Mold in Stevensville, Hanson Mold in St. Joseph and Gast Manufacturing in Benton Harbor. The tour was designed for local students and their families to learn more about the careers that exist within manufacturing at last night's event, with the goal of then filling those jobs at a second event, and upcoming Job Fair.
At Vickers Engineering, groups of 10 to 12 were shepherded through the sprawling manufacturing facility watching literally dozens of robots convert raw steel into machined parts for major automobile manufacturers all over the eastern half of the United States, oil fields in Texas and electric cars in California just to name a few.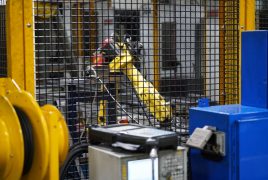 They learned a lot in a short period of time but also heard the amazing tale of one young man who started as an operator at Vickers Engineering, with no experience whatsoever, who caught on very well, very quickly. An engineering manager says the young man had what it takes, "A ton of ambition and a powerful drive to learn."
The young man had been with Vickers for some 6 to 9 months when he kept going to his engineering manager at the time, saying, "Hey next time you've got an engineering opening, I want it." Every week for six months he begged to advance into engineering, so, having been growing the entire time he was there, and learning more and more, it was an obvious decision to give him that slot when the first one opened up. They put him into engineering where he started at the very bottom, much as he had when he started at the bottom of the team of operators. Once again, he climbed his way up at a rapid pace.
It was the case of a young man, with no degree…who actually got his GED when he joined the Army…and hadn't even graduated from high school until he got that GED. He worked his way up in engineering, again racing through the learning process, and passing people in work experience all the time and pretty soon he's the number one guy in Vickers' CNC department on the engineering side.
Then they moved him over from CNC engineering into electrical, where he is now their lead electrical designer and does all of their programming and prints on the electrical side. "A guy who literally came out of nowhere and due to his drive became an extremely valuable asset to our entire firm. The next person that we hire could replicate that entire process. That's what we're looking for…people with the drive and desire to succeed at every level."
Many of us drive by these manufacturing plants at 50 to 60 miles an hour and have no idea what's going on behind those walls and what's being created right here in the heart of Michigan's Great Southwest. That's one reason why one key founder of the Manufacturing Education Awareness Group, Dave Goodenough, Director of Robot/Technology Development at Edgewater Automation values events like Tuesday's parent/student tours. He told me after the tour, "I think it's been great. I've seen a lot of people with their eyes wide open, saying 'I can't believe they do this here!' At Vickers it was a very good tour, where they did a great job and I was very impressed with way they did it, and I'm hearing nothing but good comments."
At Accu Die & Mold on Red Arrow Highway in Stevensville, tour participants got a peek into the future, seeing parts crafted from the tooling dies that Accu Die creates for customers like General Motors. The company is currently building a lot of tooling that will make parts for electric cars at General Motors that aren't even on the market yet. The cars of the future.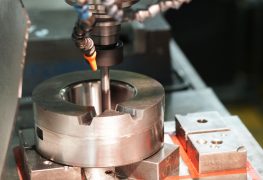 Other customers at the Stevensville manufacturer include Honda, Whirlpool, Chrysler, Briggs & Stratton, and many other Tier I and Tier II companies. At Accu Die, they build the tools that help manufacturers make parts for multiple industries, crafting tooling for both plastic injection molding and molten aluminum cast parts, where the molten aluminum is injected at extremely high speeds into the mold cavity to create the parts. They build the tools for the casting plants like Supreme Castings in Stevensville, and many others.
Dan Reifschneider is President & CEO at Accu Die. I asked him about the tour, and he says, "The biggest thing that pleases me is that parents are involved. Kids don't always realize what's going on in the community around them, but the parents already know and they work with their kids and can see what's possible for them, and it gives them opportunities besides college and tuition fees and those things, so it's important that they see and know what their options are."
Reifschneider says, "There's a lot of interest. People obviously haven't seen this before, but they're curious and they can learn from the opportunity." The next stage could result in offers of job opportunities for some of those who toured Tuesday, as Dan says, "The job fair comes next and we'll attend that as an important element in getting the word out, and that's what we're trying to do."
Caitlynn Harrell hopes so. Having taken the tour, she tells others, "You should join the Manufacturing Day tour for high school CTE programs. I loved the information and I'm interested in the apprenticeship for 2020."
Darrick, the parent of a New Buffalo student says, "MEAG was a great opportunity for students to see what opportunities exist in Southwest Michigan to gain degrees and skilled trades while working full time."
Lane Roberts of Buchanan came away duly impressed, telling me, "This event was very well managed with people who were able to explain and answer all of our questions in detail."
So, after teachers stepped onto the manufacturing floor across the region last fall, the next logical step was to get parents and students into the facilities to see first hand what the options are. Organizer Dave Goodenough from Edgewater Automation says, "I think for a first time effort it was good and I'm hoping that it grows. It's not as big as we'd hoped for, but I'm impressed with the people that have shown up, I give them credit for being here to take an interest and that's very comforting to see. Over 50 people showed up, but we'll go and grow from here."
The tour traveled by motor coach from plant to plant as those who took part ventured inside to see the types of jobs and working conditions prevalent in today's manufacturing world.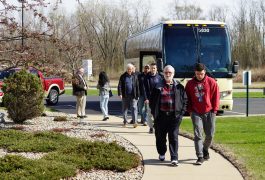 Tim Tate, another founding member of MEAG and Director of Manufacturing at Edgewater Automation says, "We're looking forward to the spring job fair because that's where we will see the work pay off. Local employers are in need of work-ready talent and our hope is that events like these will help us create that pipeline."
Local sponsors for the Working Together Tour include:
Accu-Die
Apollo Seiko
Beaudoin Electric
Eagle Technologies
Edgewater Automation
Gast Manufacturing
Hanson Mold
Kinexus
Lean Factory Automation
Maximum Mold
There are a lot of people reaching retirement age in the manufacturing trades across our region and throughout America, and while the industry has made a resurgence over the last 10 to 15 years or so, there will be many additional job opportunities coming through that pipeline Tate talked about. Smart students will be honing their skills to take up those top dollar jobs right here at home.