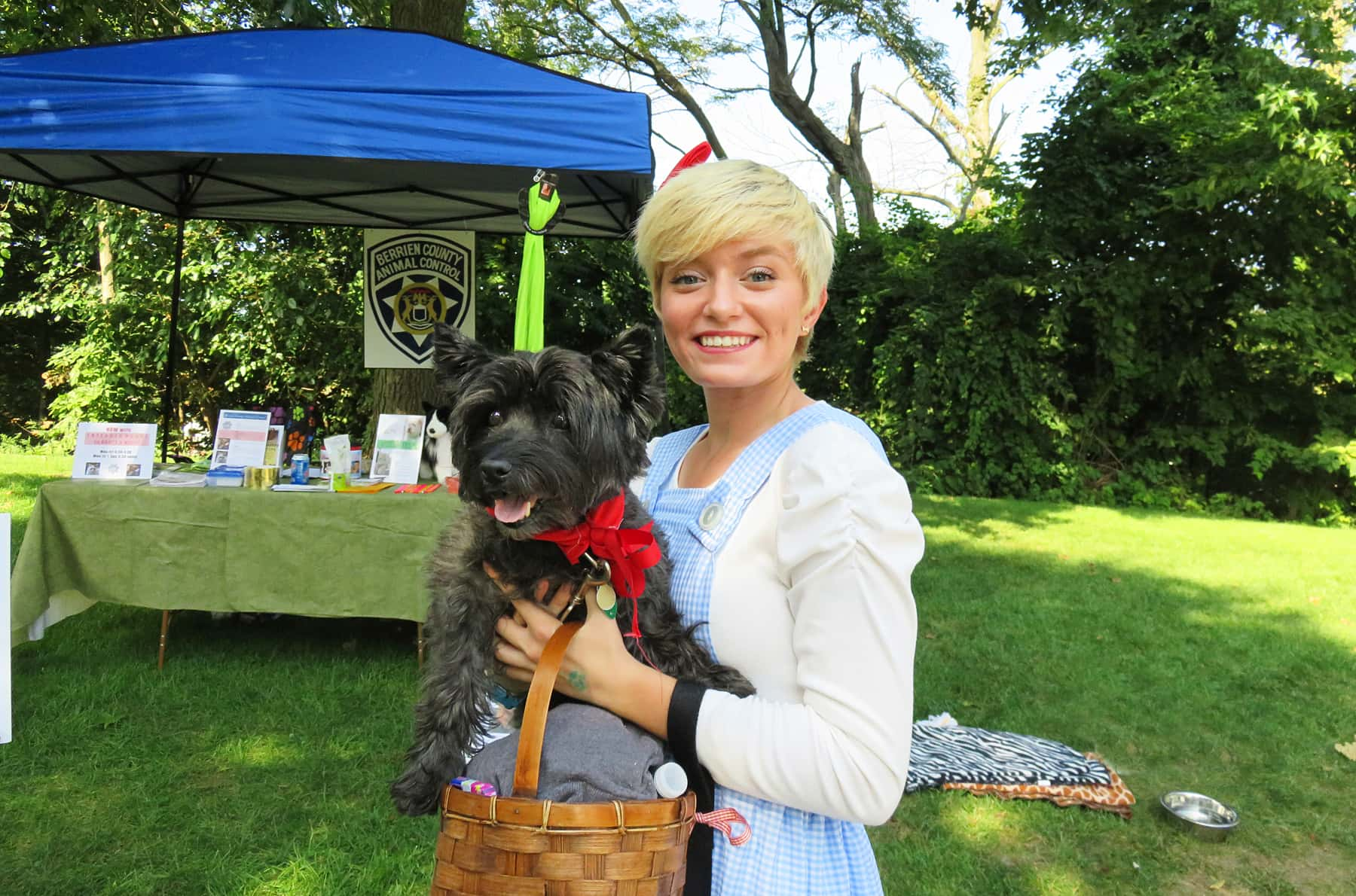 Visitors to downtown St. Joseph and the city's sprawling Lake Bluff Park this Sunday may have a tendency to be reaching for a calendar to make sure they haven't turned into Rip Van Winkle, sleeping away a large chunk of time. The Lake Bluff will hold a decidedly Halloween-feel as the animal welfare group, Animal Aid, is unleashing a "Howling Halloween" theme for their annual showcase and fundraiser.
Moving to a Sunday this year, Animal Aid's Annual Mutt March has some ghostly changes in store this weekend on Sunday, September 22nd. With the theme of "Howling Halloween," you and your dogs are invited to a fun fundraiser at Lake Bluff Park in St. Joseph from 1 to 3 pm. The day and the times have changed from the traditional Saturday to the Sunday of the Fall Festival in St. Joseph, with lots of Halloween activities scheduled that afternoon. Organizers have also issued the caveat that "With Sunday's weather looking dubious, and no rain date, you are encouraged to check Facebook for updates and/or postponements of the Mutt March."
Animal Aid has assisted homeless, abandoned dogs and cats in the region of Michigan's Great Southwest since its inception 39 years ago in 1980. Focusing on at-risk animals, it is the oldest all volunteer, non-profit animal rescue group in Berrien County.
From 1 to 3 pm, an Adoption Day will take place with adoptable dogs, cats, and kittens available from Animal Aid of Southwestern Michigan and select other rescue groups and organizations. As always, many partner rescue organizations will have foster dogs and cats.
There will be kids' games, displays, animal exhibits, local vendors and service groups along the bluff south of Broad Street & Lake Boulevard, to the left of the stairs that lead down to the beach. Pets other than dogs are also welcome so long as they are friendly. Participants will be able to have their paw read by Madame Carolyn, meet a Pirate Captain at the Cannon in the Pirate Cove. Fairies and other colorful characters will be available for selfies and to give out treats.
A pre-carved pumpkin contest for adults and kids starts at 1 pm, with judging at 2 pm. Attendees and their pets are encouraged to dress in costume for a Costume Contest with judging taking place at 2 pm at the Animal Aid Registration Booth, located at the north end of the event line-up along the Bluff. Contest and Parade entry is $5 per person/pet ensemble. The five winners of the Costume Contest will lead the Pet Parade at 2:30 pm from registration along the sidewalk past the vendor booths.
Animal Aid has extended sincere thanks to these Mutt March sponsors:
Third Coast Paddling
Honor Credit Union
Berrien Kennel Club
LeValley Chevrolet Buick GMC
Harbor Shores Golf Club
Sunset Coast Veterinary Clinic
Nickerson Animal Care Center
Wil-O-Paw Animal Hospital
Two-by-Two Veterinary Clinic
Organizers ask you to show your support and patronage to the sponsors of the march.
There is no rain date, and the event will be postponed if it rains. Check Facebook for updates that day. Military and veterans can join the fun free of charge but must register. If you are unable to attend, but would like to help the cause, donations are accepted online or at Box 217, 717 St. Joseph Drive, St. Joseph, MI 49085.
Animal Aid is a 501(c)(3) non-profit animal organization. You can see their pets at www.animalaidswmi.com and on Facebook/Animal Aid of Southwestern Michigan. Phone 269-934-SPAY. Foster parents and volunteers are always needed, and they ask that you please join in helping the animals.