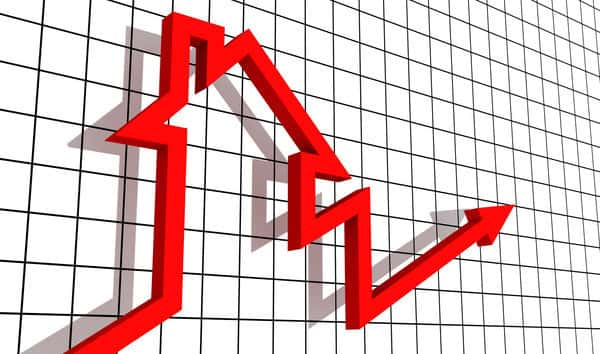 After a brief time out in July, the Southwest Michigan housing market soared back in August with record performances on most fronts. Despite lower selling prices for the month, even total dollar volume is up year-over-year so there's not a terrible amount of concern on behalf of industry leaders.
Gary Walter is Executive Vice President of the Southwestern Michigan Association of Realtors. He says, "With August sales and selling prices, we now have four months in 2016 that have set record numbers. When we look at how the market performed in the month of August back to our peak year in 2006, August 2016 had the highest number of houses sold and total dollar volume." In fact, Walter notes that "Year-to-date, the total dollar volume, average selling price and median selling price were the highest when compared to year-to-date results back to 2006."
Walter reports that in August 388 houses were sold, which is the highest number per month so far this year in 2016. He says, since May, the number of houses sold has ranged from 331 to 388. August 2016 was up 4-percent over August 2015 when 374 houses were sold. Year-to-date, the number of houses sold was up 7-percent over 2015 (2,314 vs. 2,158).
While selling prices stumbled in August, the total dollar volume in August was up 2-percent when compared to 2015 ($81,956,166 vs. $80,321,954). Year-to-date, the total dollar volume was up 10-percent over 2015 ($460,371,934 vs. $417,166,881).
The average selling price in August at $211,227 was down 2-percent from August 2015 when the average selling price was $214,765. Year-to-date, the average selling price was up 3-percent ($198,950 vs. $193,312).
The median selling price in August dropped 8-percent from August 2015 ($146,700 vs. $159,575). Year-to-date, the median selling price was up 4-percent ($139,900 vs. $135,000).
The median price is the price at which 50% of the homes sold were above that price and 50% were below.
At the end of August there were 2,363 houses on the market. At this number the inventory had 8.2-months supply of homes for buyers. In August 2015, there was 9.8-months supply of houses for sale (a total of 2,642 at that point).
The number of bank-owned or foreclosed homes as a percentage of all transactions in the market remained 10-percent in August.  Since April the percentage has ranged from 9-to-11-percent. The percentage peak this year was 20-percent in March. The highest percentage on record, in February 2009, was 75-percent.
Locally, the mortgage rate was 3.56, up slightly from 3.50 in July. In August 2015, the rate was 4.10. Nationally, the Freddie Mac mortgage rate in August was 3.43 compared to 3.44 in July 2016.
According to the National Association of Realtors existing-home sales eased up in August for the second consecutive month despite mortgage rates near record lows as higher home prices and not enough inventory for sale kept some would-be buyers at bay. Only the Northeast region saw a monthly increase in closings in August, where inventory is currently more adequate.
Total existing-home sales, which are completed transactions that include single-family homes, townhomes, condominiums and co-ops, declined 0.9-percent to a seasonally adjusted annual rate of 5.33 million in August from a downwardly revised 5.38 million in July. After last month's decline, sales are at their second-lowest pace of 2016, but are still slightly higher (0.8-percent) than a year ago (5.29 million).
Lawrence Yun is Chief Economist for the National Association of Realtors. He says recent job growth is not yielding higher home sales. As he tells it, "Healthy labor markets in most of the country should be creating a sustained demand for home purchases, however, there's no question that after peaking in June, sales in a majority of the country have inched backwards because inventory isn't picking up to tame price growth and replace what's being quickly sold."
Yun adds, "Hopes of a meaningful sales breakthrough as a result of this summer's historically low mortgage rates failed to materialize because supply and affordability restrictions continue to keep too many would-be buyers on the sidelines."
The median existing-home price for all housing types in August was $240,200, up 5.1-percent from August 2015 ($228,500). August's price increase marks the 54th consecutive month of year-over-year gains.
Regionally, existing-home sales in the Midwest decreased 0.8-percent to an annual rate of 1.27 million in August, but are still 0.8-percent above a year ago. The median price in the Midwest was $190,700, up 5.5-percent from a year ago.
The share of first-time buyers was 31-percent in August, which is down from 32-percent both in July and a year ago. First-time buyers represented 30-percent of sales in all of 2015.
All-cash sales were 22-percent of transactions in August, up from 21-percent in July and unchanged from a year ago. Individual investors, who account for many cash sales, purchased 13-percent of homes in August, up from 11-percent in July and 12-percent a year ago. Sixty-two percent of investors paid in cash in August.
Tom Salomone, broker-owner of Real Estate II Inc. in Coral Springs, Florida, is President of the National Association of Realtors. He says in today's fast-moving market, a Realtor who knows about down payment options and their target area is essential to a successful buying experience. He suggests, "Given the inventory shortages in most markets, new listings at affordable prices are receiving multiple offers and going under contract almost immediately upon becoming available." He adds, "Home shoppers serious about buying need to be ready with a pre-approval. This allows a Realtor to hone in only on homes within the buyer's price range and ensures any offer presented to the seller is taken seriously."
Nationally, the total housing inventory at the end of August fell 3.3-percent to 2.04 million existing homes available for sale, and is now 10.1-percent lower than a year ago (2.27 million) and has declined year-over-year for 15 straight months. Unsold inventory is at a 4.6-month supply at the current sales pace, which is down from 4.7 months in July.
Yun bemoans the lack of inventory saying, "It's very concerning to see that inventory conditions not only show no signs of improving but have actually worsened in recent months from their already suppressed levels a year ago." He says, "While recent data from the U.S. Census Bureau shows that household incomes rose strongly last year, home prices are still outpacing incomes in many metro areas because of the persistent shortage of new and existing homes for sale. Without more supply, the U.S. homeownership rate will remain near 50-year lows."