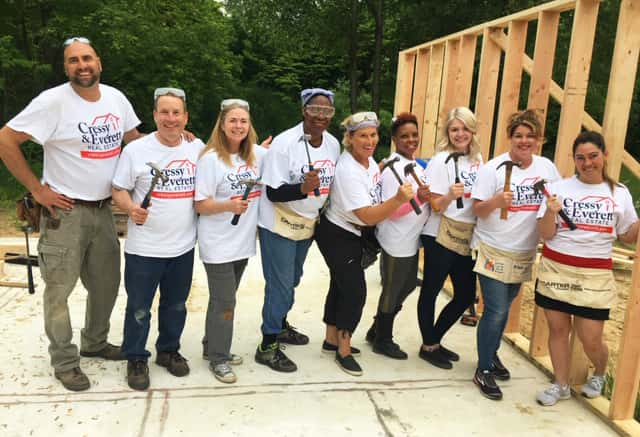 It's what you might call a foregone conclusion. For sure it is an ongoing mission, and it's all about Making The Difference. It's essentially in the DNA of the real estate community in Michigan's Great Southwest.
Almost daily, the members of the Southwestern Michigan Association of Realtors are actively giving back to their communities. The members take great pride in finding and funding solutions that make Southwestern Michigan a better place to live, work, and play; all while being professional real estate advisors helping clients to purchase and sell a property that will benefit those client's financial futures.
Frank Noble, Affiliate Member with Ruoff Home Mortgage in St. Joseph, is taking charge to help local veterans in our community that might need some monetary or physical help in the upkeep of their homes. Noble says, "Our committee has a lot of ties with the military or those who have served in the military. For example, my father was in the army for 27 years. Committee member, Alan Jeffries, Association Executive, is a former Marine and Mary Watkins, Affiliate Member with First American Title, has a son who served in the Marines."
Noble tells us, "The committee members have donated time to help clean yards for local veterans, make minor repairs, and other tasks that these fine people could not do for themselves," and adds, "I did a mortgage for an Army Vet, Thomas Lear. He came to me afterward saying that he had roots growing into his drain pipes between the house and the sewer system and needed some money to pay for it." Noble explains, "We didn't get involved in time to help with the repair, so we decided to help him defer some of the cost by giving him some cash."
Noble notes, "Since that time we have received many requests for help. Anything from simple yard work to home repairs. The committee analyzes requests and sends out a notice for volunteers from the Realtors and the Affiliate Members to get out and help our veterans. We always get a lot of helping hands. "
On another front, The SWM Association of Realtors received a request from Reinaldo Tripplett, Benton Harbor High School Principal, for help both financially and with volunteers to help build their Queen's float for the 2019 Blossomtime Grand Floral Parade. Realtors and affiliates eagerly provided money for materials and to be hands-on in help decorating the float.
Chelly Bussey, Realtor with Keller Williams in St. Joseph, was one of the volunteers, and says, "This unique experience was fun and amazing. We were able to accomplish a lot within a short amount of time.  The enthusiasm and pride were inspiring."
Other volunteers that helped with the float included: Rebecca Ludens, Coldwell Banker Residential Brokerage, New Buffalo…Association President, Mark VanDusen with Cressy & Everett Real Estate, Edwardsburg…Alan Jeffries, Association Executive…and Mary Watkins, Affiliate Member with First American Title.
Habitat For Humanity is a favorite "Give Back To Our Community" group for the Realtors at Cressy & Everett in St. Joseph. Volunteers from the office and some affiliate members of the Association are currently working at the Habitat build of the fourth house in the Sandy Creek Development located in Benton Harbor. To-date, the group has completed the slab and three walls.
The Habitat For Humanity Board President is Jude Murray, a Realtor with Cressy & Everett Real Estate in St. Joseph.  She says, "It is great fun to get out the office and work side-by-side with the new homeowners who are there to put in their sweat equity into building of their future home. We are looking forward to completing this home over the summer and building two more homes in the future to complete the subdivision."
Murray adds, "I am so happy that fellow Cressy & Everett realtors are committed to donating two full days per month to make this Habitat Build a success. It gives us a new perspective of the impact that homeownership has for families."
Other volunteers from Cressy & Everett working on the Habitat Build included Mike Barber, Manager Broker…Lisa Katowich, Realtor…Ryan Katowich, Realtor…Alli Plaisier, Realtor…Allison Faris, Realtor…and Phyllis Palmer, Realtor.  Joy Cluff, Affiliate Member with Ruoff Home Mortgage in St. Joseph, also participated.
Alan Jeffries, Association Executive sums up his organization's quest, saying, "The face of real estate has changed dramatically over the past ten years, and the commitment of our members is more important than ever. Our board oversees and encourages all of our members to become engaged in their communities. Our Association wants to encourage the public to call or email with any questions they may have regarding the activities of Realtors."
The Southwestern Michigan Association of Realtors, Inc. is a professional trade association for real estate licensees who are members of the National Association of Realtors and ancillary service providers for the real estate industry in Berrien, Cass and Van Buren Counties. The Association can be reached at 269-983-6375 or through their website at www.swmar.com.