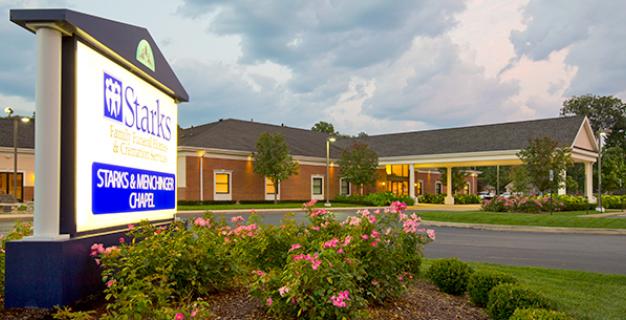 ---

---
Taking care of families and the community is the Starks Family tradition. Tom Starks, co-owner with daughters Olivia and Laura Starks, reflects on the family philosophy established early on by his long time mentor Lou Kerlikowske, "If you take care of the families, they will take care of you." Tom goes on to explain that the best way they can live up to their tradition of taking care of families is by pre-arranging. "We feel very strongly about that, because we can sit down and talk with the families, and give them information to make sure it's done their way. There's never a right or wrong way, it's the family's way. How do we honor the person? Honor their life. Make it meaningful for the people that are left."
By way of explanation, third generation owner, Laura Starks says, "We will personalize the service for your family any way that we can. For example, we've had motorcycles in the funeral home, or the Hot Dog Kart as in the case of Ben Yaccobozzi. We've done services down at the beach. Wherever it is meaningful to the family, we try to do everything. Nothing has to be held in the funeral home. Nothing has to be held in the church. We can go wherever and try to make it as personal as possible."
Tom adds, "We had one service for a gentleman who passed away, and he was a member of a band for many years. His visitation started at 8pm and ended at 11, where we set up tables with chips and pop, and they had several different bands come in and play for his service. We wore blue jeans, no suits." He notes, "We want to do whatever makes it meaningful for the family, and that represented him so well because for as long as anybody knew him he had been in a band, and that allowed the bands to pay tribute to him, too."
"We always try to provide the Wow Factor." Olivia Starks says, "There are so many things that we can do that people will remember, that's why I try to make people think about when they come in to make arrangements, what more can we do. Maybe have grand-kids draw a picture of what they remember of a grandparent, have them create things, because that makes it fun for us as well, that we can add that creativeness, personalization, and it gets us thinking outside the box. It's about celebrating and reliving those memories."
These types of special details and unique services are best accomplished through pre-planning. Pre-planning can take several different steps, the first of which is to just make an appointment and they'll gather information that can be kept on file for you. There is no charge at all to share the kind of information you want placed into the obituary. It also allows for the selection of things from the casket to other amenities that can be shared with the family.
There are over 100 different decisions that need to be made regarding funeral arrangements. When many of these are done ahead of time, the family feels considerably less stress when they're grieving and going through a difficult situation. On a practical note, pre-planning also guarantees today's prices if you do pre-pay. Olivia Starks says, "There are some pre-arrangements we are working with now that were established back in the early 90s, when they paid for a full service which at that time might have been about $1,500 or so, and everything is covered. Because the interest remains with the trust, that's how the guarantee is made." Her father adds, "We stay within the laws on everything we do. That's part of our reputation. We do the right thing."
Currently, the Starks Family Funeral Homes business has locations New Buffalo, Buchanan, Berrien Springs, Dowagiac, Decatur and on Niles Road in St. Joe. Tom says, "We're in a lot of small towns because we're trying to take care of people the right way." They also added a crematorium to the family business, which Tom says, "allows us to take care of people that always remain in our care, as opposed to those services who have to send to another location." He adds, "It gives us the ability to have a service in the morning and do the cremation and burial of the remains in the afternoon. Or if they want the service one day, and burial the next, we have the capabilities to do that, giving us more opportunity to create a meaningful service for when everybody is still here in town."
The Starks team recognizes that every family that walks through the door has lost a loved one, and that loved one is important. Tom admits, "This is not a nine to five job. It's our profession. This is our life, because this whole town is our family. We want to take care of each person as a part of our family, and take care of them the right way." To illustrate that point, Tom says, "I've made funeral arrangements at 3 o'clock in the morning, I've had people call me directly at home, and I've gone to the house because that's what the family needs. I've even flown back early for a funeral service, just because families are very important to us." Stressing the Starks family commitment to this community, he continues, "I grew up in this town. We moved here in 1961, I graduated from St. Joe High School and came back home and joined the family business back in 1986."
Together, Tom and daughters Olivia and Laura, have crafted a remarkable and memorable business by carefully nurturing the "family" in Starks Family Funeral Homes throughout the communities they serve.
---
If you'd like to learn more about pre-planning funeral arrangement from someone with the Starks family, please submit your email address here and you'll soon be contacted.
---

---