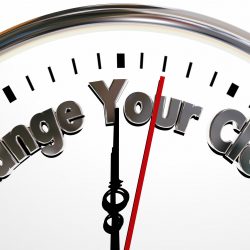 If they add many more tasks to the annual ritual of changing the clock we're going to need a log book or sheet of guidelines on what all we need to take care of in this important time of the year. First they just had us changing our clocks...then they added changing batteries in your smoke alarms...and then they suggested changing batteries in your carbon monoxide detectors. Now, even the Michigan State Police are getting in on the act, encouraging you to re-set your emergency preparedness kits in case of fire or natural disaster. I[m guessing some entrepreneur could actually run a cottage business of doing all these things for us for a small fee.
At any rate, the advice is as you spring forward to Daylight Saving Time and set your clocks ahead one hour either tonight when you go to bed or early tomorrow, Sunday, March 11, be sure to change the batteries in your smoke alarms and carbon monoxide detectors. Replace all smoke alarms every 10 years, test them monthly and clean them regularly. More on the State Police suggestions in a moment.
State Fire Marshal Kevin Sehlmeyer says, "Working smoke alarms cut your risk of dying in a house fire in half." He reminds you, "If you have a fire, you will have less than three minutes to get out of your home before the smoke and fire gases become deadly based on live fire studies conducted by Underwriters Laboratory (UL) and the National Institute of Standard and Technology (NIST). The early warning given by smoke alarms provide you with extra time to escape, especially children and senior citizens who are most at risk and need extra seconds to get out safely."
In 2017, Michigan's fire departments collectively reported 87 residential fire fatalities with the highest percentage (52.4-percent) among those over age 60. Sehlmeyer, along with the Michigan Community Risk Reduction (CRR) task force is focusing on increasing awareness through education, the importance of having working smoke alarms in every home, especially among those over age 60; and installing smoke alarms in high-risk areas in the state as identified in 2017 fire reports.
Sehlmeyer urges Michiganders to ensure family members, friends and neighbors over age 60 have working smoke alarms and carbon monoxide detectors in their homes. He suggests you contact your local fire department or local Red Cross Chapter for installation or if a financial issue is preventing your family from having a working smoke alarm.
Homes should have a working smoke alarm on every level of the house, including the basement, and one in every bedroom. Never borrow a battery from a smoke alarm to use somewhere else. Never remove the battery because the alarm sounded due to burned food or cooking smoke. Sehlmeyer says, "Every year we see tragedy hit because a battery was removed for these reasons and was not replaced."
If your smoke alarm "chirps," it's a warning that the battery is low and needs to be replaced. Traditional smoke alarms are either powered by battery (a disposable 9-volt battery or non-replaceable 10-year lithium "long-life" battery) or they are hardwired into the home's electrical system. Hard-wired alarms are usually equipped with a backup battery and those batteries also need to be replaced at some point. It's best to hard-wire alarms into the home's electrical system interconnecting all of the alarms so that when one goes off, they all go off.
Sehlmeyer also urges citizens to install and maintain carbon monoxide (CO) alarms. CO alarms should be installed in the hallway outside the bedrooms as this odorless, colorless gas that can be fatal at relatively low levels in the home. If the CO alarm sounds, leave your home immediately, and call 9-1-1.
The Fire Marshal also suggests you, "Develop and practice an escape plan for the family that has two ways out in case of fire." He adds, "At least twice a year, conduct a home fire drill at night so the kids recognize the sound of the smoke alarms and teach them to respond instinctively to their signal by exiting the home."
Designate a clear meeting place for everyone to gather outside the home in case of a fire or other emergency and notify the fire department by calling 9-1-1 from a safe location once you are out of the home. Help your firefighters by remaining together outside the home and direct them to any endangered family members when they arrive.
According to the National Fire Protection Agency, the peak time for home fire fatalities is between 10pm and 6am when most families are sleeping. In more than one-third of home fire deaths, no smoke alarms were present. In one-quarter of home fire deaths, smoke alarms were present, but did not sound.
For more fire safety information you can visit the Bureau of Fire Services website at www.michigan.gov/bfs.
Meanwhile, with Daylight Saving Time beginning at 2am tomorrow, the Michigan State Police, Emergency Management and Homeland Security Division (MSP/EMHSD) is encouraging Michiganders to restock their emergency preparedness kits as they "spring forward."
Capt. Chris Kelenske is Deputy State Director of Emergency Management & Homeland Security as well as Commander of the Michigan State Police Emergency Management & Homeland Security Division. He says, "While we continue to see snow in our forecasts, the possibility of severe weather and flooding in Michigan increases as we move into the spring season." Kelenske adds, "By acting now and replenishing or building an emergency preparedness kit, you will be better prepared in the event of an emergency or disaster."
When a disaster strikes, you may have to evacuate, take shelter or go without basic services such as electricity or water for hours or days. Having enough supplies to function without those services is critical during an emergency or disaster because help may not be able to reach you right away.
All households are encouraged to be self-reliant for at least three days by building a preparedness kit. Using five-gallon buckets or similar containers, assemble a kit with the items you and your family will need during an emergency.
Essential items to include in an emergency preparedness kit are:
Water, at least three gallons of water per person for 72 hours
Food, at least a three-day supply of non-perishable food per person
Medications
Battery-powered or hand-crank radio
Flashlight and extra batteries
First aid kit
Whistle to signal for help
A complete change of clothing and footwear for each person
Bedding
Important family documents
Pet supplies (if you have pets)
For more information about what to do before, during and after an emergency, go to the MSP/EMHSD's website at www.michigan.gov/miready or follow them on Twitter at @MichEMHS.
The Michigan State Police, Emergency Management and Homeland Security Division is responsible for coordinating state and federal resources to assist local government in response and relief activities in the event of an emergency or disaster, as well as coordinating homeland security initiatives and various federal grants.