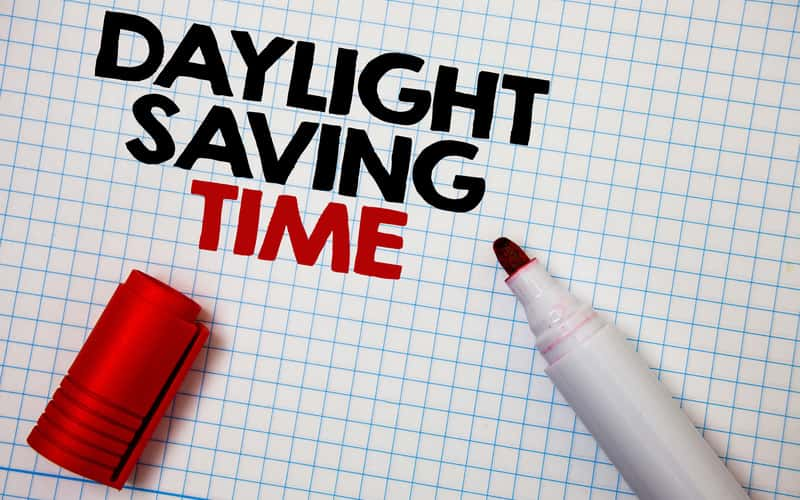 You'll be reminded repeatedly over the next two days to change your clocks this weekend, but you'll also find that the task list related to the fall and spring ritual forced upon us by Daylight Saving Time is growing all the time. In addition to adjusting your clocks, you are also being urged to take other potentially life-saving measures as well.
As the temperatures continue to drop and Michigan prepares to turn back the clocks on Sunday, November 1st for Daylight Saving Time, you are also urged to change the batteries in your smoke detection alarms, to take action to prevent carbon monoxide poisoning, and to be careful on the roads in the first week following the change. In fact, with regard to the task on carbon monoxide, to help bring attention to the potentially life-threatening issue, Governor Gretchen Whitmer declared October 26th – November 1st, 2020 as Carbon Monoxide Safety Awareness Week.
The governor warns, "Carbon monoxide poisoning can occur almost anywhere and I hope Michiganders take this time to prepare and prevent this life-threatening issue," adding, "Awareness about carbon monoxide safety is a top priority, and Michiganders are encouraged to learn about this poisonous gas and ensure homes and appliances are maintained to protect themselves and loved ones against possible poisoning."
Orlene Hawks, Director of the Dept. of Licensing and Regulatory Affairs in Michigan says, "To prepare for winter weather, Michiganders should make sure their heat sources and carbon monoxide detectors are in good working order," and adds, "Being aware of the dangers of carbon monoxide and having a working carbon monoxide alarm is essential to keeping your family safe."
Annually, about 140 people are hospitalized for carbon monoxide poisoning in Michigan and across the United States, thousands are poisoned and at least 430 people die from accidental carbon monoxide poisoning. In 2017, the latest year data available from the MDHHS Michigan Environmental Public Health Tracking Program (MiTracking),126 people were hospitalized.
State Fire Marshal Kevin Sehlmeyer tells us, "Working carbon monoxide detectors save lives," pointing out, "Only 1 in 8 families in the United States have a functioning carbon monoxide detector. Michigan residents should install a detector today to protect loved ones from the dangers of carbon monoxide poisoning. Carbon monoxide is a colorless, odorless, tasteless and poisonous gas known as the 'Invisible Killer; it requires an electronic sensor to detect."
Such hospitalizations for carbon monoxide poisoning are preventable when people are prepared.
To protect yourself and your family from carbon monoxide, follow these safety tips:
Make sure you have working carbon monoxide detectors. Detectors on every level of your home, including the basement, are strongly recommended. Detectors can be purchased at most hardware and big box stores. Daylight Saving Time is a good time each year to replace the batteries in your detector and push the "Test" button to be sure it's working properly. Replace your detector every five years or according to manufacturer's instructions. Use a battery-powered detector where you have fuel burning devices but no electric outlets, such as in tents, cabins, RVs and boats with enclosed cabins.
Have your furnace or wood-burning stove inspected annually. Hire a professional to make sure it is functionally sound and vents properly outside the home.
Never run a gasoline or propane heater or a grill (gas or charcoal) inside your home or in an unventilated garage. Any heating system that burns fuel produces carbon monoxide.
Generators should be run at a safe distance (at least 20 feet) from the home. Never run a generator in the home or garage or right next to windows or doors.
Never run a car in an enclosed space. If a vehicle is running, you must have a door open to the outside.
Symptoms of overexposure to carbon monoxide include headache, fatigue, dizziness, shortness of breath, nausea and confusion. At high levels, carbon monoxide can cause death within minutes. If you suspect you may be experiencing carbon monoxide poisoning, or your detector sounds an alarm, head outside immediately for fresh air and call 911.
In addition, Michigan residents are reminded to install smoke alarms and carbon monoxide detectors on every floor in your home, push the button to test them regularly, change all alarm batteries every 6 months, and replace alarms after 10 years.
Fire threats and carbon monoxide poisoning are two reminder points as Daylight Saving Time ends on Sunday, but the Michigan Department of Transportation is piping up to, reminding drivers to be alert as clocks "fall back" on Sunday
MDOT reminds that when the ghosts, goblins, vampires, witches, and zombies return home on Halloween night, the clocks will "fall back" to standard time on Sunday, November 1st at 2am, causing a fright when we lose light one hour earlier. It does not have to be a spooky sight because the MDOT reminds drivers to watch out for pedestrians, joggers, and bicyclists each evening on the drive home.
Research from the University of Michigan Transportation Research Institute confirms that pedestrians are more at risk of serious injury from a motor vehicle crash in the weeks following a return to standard time. The most dangerous time is the first hour of darkness.
State Transportation Director Paul C. Ajegba says, "Drivers need to realize that after the time change it may be more challenging to see people walking, running, or bicycling as they will be much less noticeable," and adds, "To ensure visibility, pedestrians, joggers, and bicyclists are encouraged to wear brighter-colored clothing with reflective material. Drivers need to eliminate distractions, slow down, and focus fully on the task of driving."
According to the National Highway Traffic Safety Administration, traffic crashes in 2018 resulted in the deaths of 6,283 pedestrians and 857 pedal-cyclists (bicyclists and riders of two-wheel, nonmotorized vehicles, tricycles, and unicycles powered solely by pedals). Unfortunately, those incidents increased by 3.4-percent and 6.3-percent, respectively, from the previous year. Most pedestrian fatalities (76-percent) and pedal-cyclist fatalities (50-percent) occurred during dark conditions between 6 pm and 8:59 pm.
So, make your task list to check batteries in smoke detectors and CO alarms, add CO alarms if you don't already have them, watch out for pedestrians, runners, school kids, and those on bikes, and…be sure to take care of the primary task: set your clocks back one hour early Sunday morning.