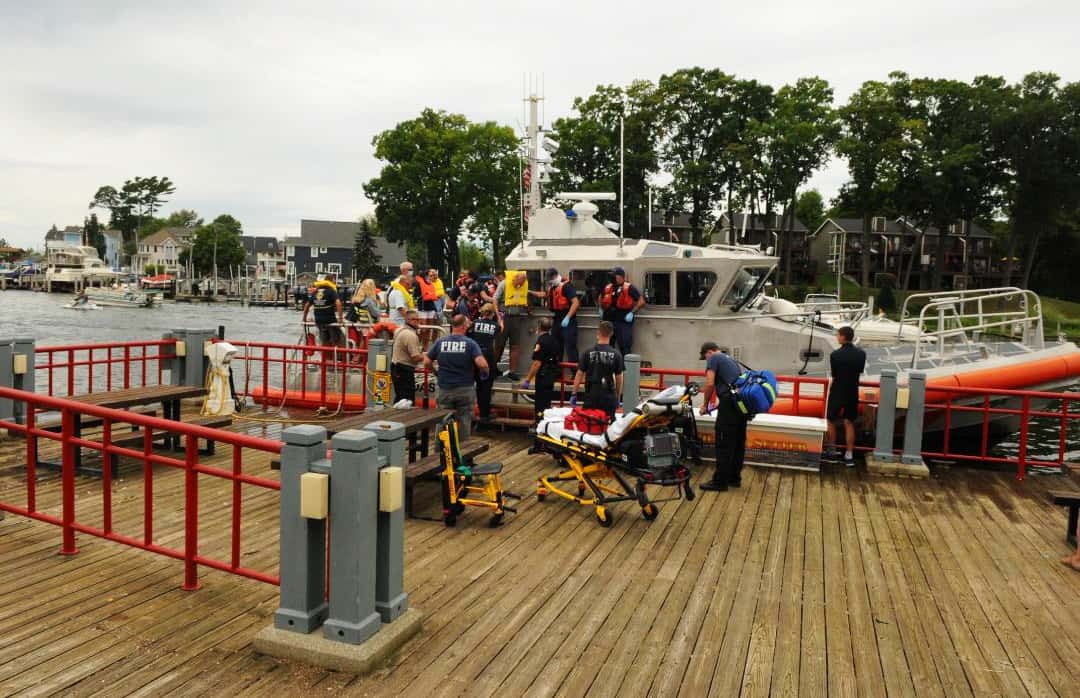 A leisurely Saturday afternoon excursion on Lake Michigan ended with 10 people being rushed to the hospital in South Haven after being overcome by carbon monoxide aboard the boat they were traveling in.
South Haven Area Emergency Services personnel were alerted along with the Coast Guard from the St. Joseph station when a distress call was issued from a 32-foot pleasure craft that was bound from St. Joe to South Haven on the big lake when the captain of the boat radioed ashore that he was unable to continue operating it, and some on board had passed out from the dangerous situation.
Authorities say that the boat was about a mile south of the South Haven pier heads and about 1,000 yards offshore when the distress call was issued around 2:45 this afternoon, Saturday, August 1st.
The Coast Guard from St. Joseph responded along with the Van Buren Sheriff Marine Patrol and South Haven Area Emergency Service.
An unknown number of the 10 people on board were reported to have passed out. All onboard were transferred to the Coast Guard boat and taken to South Haven for treatment by South Haven Area Emergency Services personnel in three ambulances. All ten people were then taken to Bronson-South Haven Hospital for evaluation and treatment.
The disabled boat was scheduled to be taken into South Haven Harbor by a commercial boat towing service. The investigation continues, and no names have been released by authorities at this point.
The photo accompanying this story on Moody on the market is courtesy of South Haven Area Emergency Services.