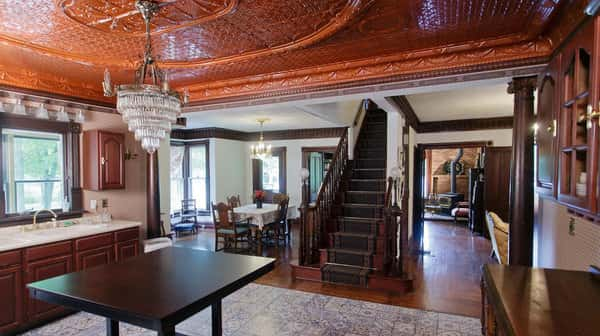 Last fall a major league labor of love was poured into a classic home and the surrounding acreage in a bid to create a truly memorable destination wedding venue in the community of Riverside. There were plenty of hiccups and a few twists and turns in the road along the way, but that dream has now become reality for Tom & Prudy Nelson and their team at what is now known as Stonegate Manor.
The 1847 Manor House, a beautifully restored Victorian estate, sits at the center of a glorious tract of land surrounded by acres of trees here in Michigan's Great Southwest, an absolute hidden treasure for brides seeking a country estate with pure elegance and superb sophistication. Even the entry to the property flanked by stone pillars tells you that you are venturing back in time to a more glorious era.
The centerpiece is the Victorian home, originally hand-crafted by artisans in 1847. Alongside sits a carriage house, six beautiful acres of mature trees, and a first-class newly refurbished, air-conditioned, event center with beautiful French doors opening onto a shaded porch flanked by wildflower meadows.
Stonegate Manor is the newest "wedding of distinction" venue in Southwest Michigan, while still evoking a sense of Victorian timelessness, at 2251 Riverside Road in Benton Harbor. The very nature of the site makes it particularly fitting and undoubtedly comforting to those engaging in a journey they hope will last forever when they are married there.
Tom Nelson says that craftsmen and others "have lovingly awakened the beauty of the property," and Stonegate Manor is now accepting reservations for weddings, family reunions and other special events of nearly every size.
The beautiful Riverside Room, which seats up to 200, is newly remodeled, complete with the French doors onto the large covered porch, modern bathrooms and more. Baby or wedding showers, rehearsal dinners, meetings and other small gatherings, can be accommodated in the 1847 Manor House, the beautifully restored Victorian. Additionally, that home (which sleeps seven) is available for short term rental, or for rental in conjunction with a wedding on the property, allowing couples full use of the estate.
The Stonegate Manor estate also offers several unique outdoor sites for wedding or renewal ceremonies on the Riverside Road property. Jessica Pennington of Stella Event Design has joined the Stonegate Manor team as Sales & Marketing Manager, and she can be reached at info@stonegatemanorevents.com.
Click the link below to go to the Stonegate Manor website for additional information: