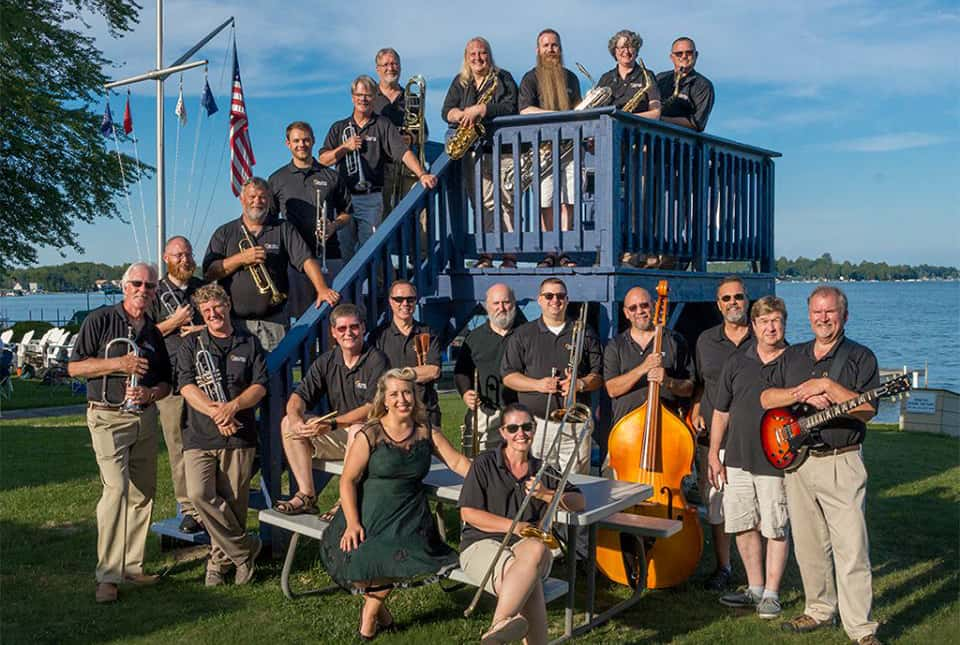 For nearly two decades a hearty band of souls have been stepping up to the music stand to bring a unique blend of outstanding music to some of the finest summer venues in Michigan's Great Southwest, and you have the opportunity to see and hear their magic when they make a triumphant return to the Box Factory for the Arts in St. Joseph this month.
The Box will welcome back the Lake Effect Jazz Big Band on Friday, August 23rd for their second performance of the summer.
Make plans to be at the Box Factory for a 7pm performance that night for just $10 general admission.
The Lake Effect Jazz Big Band is in its 19th year of bringing a unique blend of traditional and contemporary jazz big band music to great summer venues all acros southwest Michigan. The band performs new compositions for contemporary big bands as well as new arrangements of classic standards and golden oldies.
You'll hear them perform music from the libraries of Stan Kenton, Frank Sinatra, Ella Fitzgerald, Natalie Cole, Duke Ellington and others. The Lake Effect Jazz Big Band is committed to preserving the uniquely American art form of big band jazz in concert and jazz festival settings across Southwest Michigan.
The band is led by Steven L. Reed, retired instrumental music teacher for the St. Joseph Public Schools, where he taught jazz ensemble, orchestra, and band for 35 years. Several members of the Lake Effect Jazz Big Band are current or retired music educators and jazz education is a priority for the entire band.
The Lake Effect Jazz Big Band will once again feature soloist Becky Derbas Selvidge.
The band performs between twelve and fifteen concerts each summer including Jazz Festivals, full length concerts at the Box Factory in St. Joe, and outdoor venues in Southwest Michigan cities and townships. Featured artists that have performed with the Lake Effect Jazz Big Band include vocalists Michelle Bythrow, Paul Mow, Katie Rohrer, Lisa Dabrowski, and Chicago jazz vocalist Tammy McCann. Instrumental soloists have included local trombonist Ed Bagatini, Chicago vibraphonist Jim Cooper, and Ann Arbor alto saxophonist Doug Horn.
You'll find The Box Factory for the Arts at 1101 Broad Street in St. Joseph.
For more information, you can contact the Box Factory for the Arts at 269.983.3688 or visit https://boxfactoryforthearts.org/
The photo accompanying this story on Moody on the Market is courtesy of the Lake Effect Jazz Big Band.