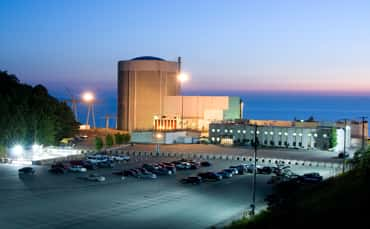 The Palisades nuclear power plant in Van Buren County won't be reopening. The U.S. Department of Energy has rejected an application from Holtec International for a grant to keep the plant going. Holtec in September applied for the federal grant under the Civilian Nuclear Credit program, which was established to avoid premature retirements of reactors due to financial hardship. Holtec's Patrick O'Brien tells us the company got word Friday the application was rejected.
"We fully understood that trying to restart the plant would have some hurdles," O'Brien said. "We were attempting to do something that had never been done before in the industry. It was going to be a challenge, and potentially, a first for the industry."
O'Brien says this appears to be the end of the line for the Covert facility.
"We went through the process. We remain committed to still trying to help the nuclear industry meet challenges and solutions, but for Palisades, we'll continue the focus of the decommissioning path."
Palisades shut down in May and its decommissioning is expected to take decades. Holtec's attempt to keep Palisades open had the backing of Governor Gretchen Whitmer. O'Brien says the Department of Energy said Palisades does not meet the criteria of the Civilian Nuclear Credit program.