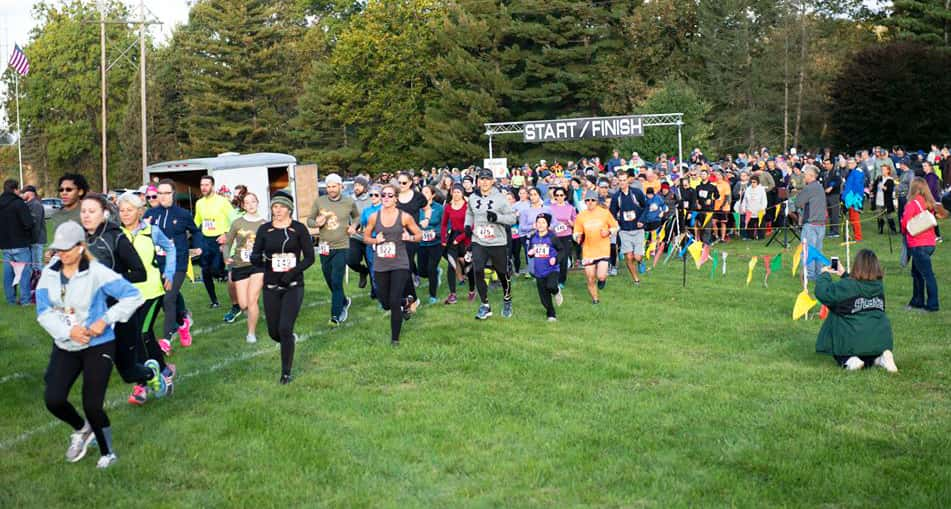 Chalk up another stellar performance by the team of volunteers hosting the 2018 Fit 4 Fall 5K held last month at St. Joseph's Riverview Park. With huge support from the community and another great turnout of runners and walkers, the 7th Annual Fit 4 Fall 5K matched its 2017 success to benefit three local non-profit organizations once again.
This year's Fit 4 Fall 5K, held on October 13th, was a another strong field. With support from over 530 registered racers, more than 50 volunteers, and nearly 100 local sponsors and donors, organizers from LECO Corporation were able to raise $18,000 for three local organizations.
The proceeds are going to benefit Hospice at Home which is a program of Caring Circle, the Alzheimer's Association, and the LOGAN Autism Learning Center in Southwest Michigan—the $18,000 will be divided equally between those three organizations, with each receiving $6,000.
The Fit 4 Fall 5K was truly a community effort. LECO Corporation and Starks Family Funeral Homes were the presenting sponsors this year, and close to 100 other sponsors provided monetary support and/or in-kind donations to help with the cost of putting on the race.
Overall male and female race winners in the running category were Lucas Balkema and Ceci Ruchti, and overall walkers were Doug Ludens and Nancy Nelson. You can visit the Fit 4 Fall 5K Facebook page for full race results and photos from the event.
They'll keep the race running, too, as the 2019 Fit 4 Fall 5K is scheduled for Saturday, October 12, 2019. It will again be held at Riverview Park. Registration and other information will be posted at www.fit4fall5k.com sometime in the early spring of 2019.