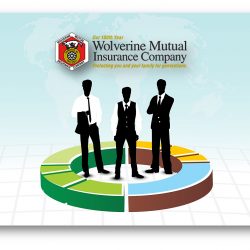 If you thought that the recent 100th Anniversary celebration at Wolverine Mutual Insurance Company of Dowagiac would be a sort of swan song and that the company would quietly rest on its laurels and ease to the sidelines you could not possibly have been more mistaken. In fact, the company has just welcomed three key executives to officer status as they raise the bar on the future.
Jim Laing is President of Wolverine Mutual Insurance Company. He says, "These exemplary gentlemen bring more than 60 years of combined experience to our leadership team," and adds, "Each has been instrumental in championing our company's growth and raising our standards for excellence in financial protection and customer service for our policyholders."
Three key execs earned the promotions including:
David L. Moran — David was named vice president – marketing and is responsible for coordinating and executing the company's marketing strategies. He also manages communications and relations with WMIC's independent agency sales force. Moran has been with the company for 36 years and most recently served as marketing manager. He and he and his wife, Karen, reside in Dowagiac.
William T. Jennings — William was promoted from underwriting manager to vice president – underwriting. He oversees the development of WMIC's surplus growth, coordinates risk selection with its reinsurance partners and implements and manages strategies to improve underwriting results. Jennings has been with WMIC for 21 years and is a 1986 graduate of DePauw University, Greencastle, Ind. He and his wife, Becky, live in Paw Paw.
David M. Peterson — David was named general counsel, vice president – claims after serving 6-1/2 years as general counsel and claims manager. Peterson directs claims staff and operations as well as manages the insurer's litigation and legal issues. He is a 1996 graduate of Indiana University, Bloomington, Indiana. and a 1999 graduate of Michigan State University Law School in East Lansing. Peterson and his wife, Amy, reside in St. Joseph.
Wolverine Mutual Insurance Company reached its 100th anniversary milestone this year. A multi-million-dollar insurer, it provides 40,000 policyholders with automobile, homeowner, rental dwelling, motorcycle, watercraft, recreational vehicle and personal umbrella coverage in Michigan, Indiana and Wisconsin. To learn more about Wolverine Mutual Insurance Company, its personal lines products and independent agency locations, click the link below: