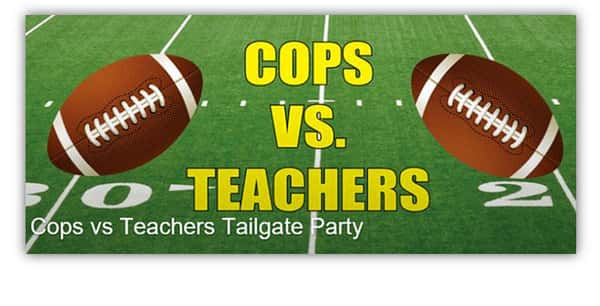 School spirit is running rampant in the Paw Paw Lake region today ahead of a major football game that will be preceded by a United Way themed Cops vs Teachers Tailgate Party — and everyone's invited!
The Coloma Township Police Department and Coloma Community Schools have put on their United Way "game faces" this campaign season, quite literally, by agreeing on a friendly wager of who can raise more money prior to tonight's football game between Coloma and Eau Claire at Coloma High School.

Prior to kickoff, there's a "Cops vs Teachers" Tailgate Party that will consist of fun games, plenty of food and a drawing with the grand prize being a Kitchenaid Pro Series stand mixer, valued at $569.99. Police officers from Coloma Township's Police Department and teachers from Coloma Community Schools will take to the 50-yard line at halftime of the game to see who raised the most money. The crowd will really get into the results inasmuch as the losing team will take pies to the face.

Both the cops and teachers are looking for support, to avoid being pie'd, but more importantly, to give back to the community.
Charlotte Rogers is Campaign Coordinator at United Way of Southwest Michigan. She's pumped for this, saying, "This is going to be a very fun event," She adds, "It's great to see Coloma's police department and Coloma's teachers teaming up to help support our community."
The tailgate will begin at 5:30pm this evening, and will go until the 7pm kickoff of the Coloma vs. Eau Claire game. A Facebook event page has been set up and you can find that by clicking this link:
If you'd like to catch the pie to the face action in person, you'll find that Coloma High School is located at: 300 W Saint Joseph Street in Coloma. Charlotte hopes to see you there!