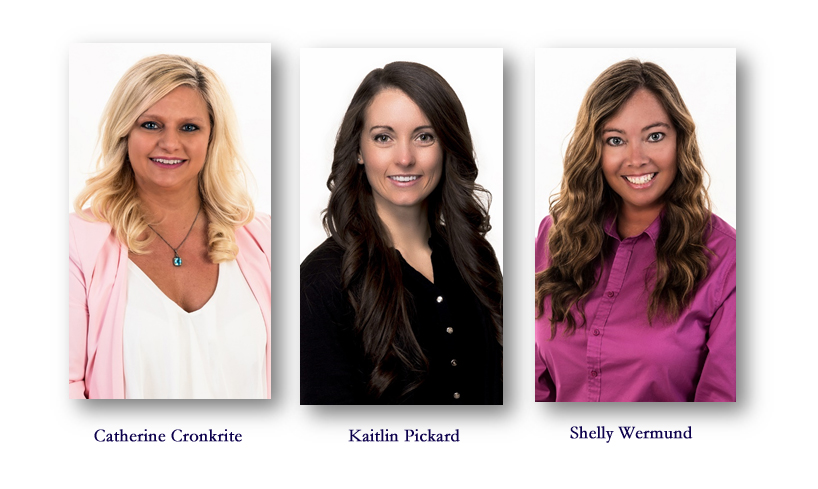 Achieving industry certification is tough enough under ordinary, everyday situations. Imagine the pressure to perform when you're working to achieve rigorous guidelines while working from home in the middle of a global pandemic. That's the case for three of the best for CE Competitive Edge headquartered in Stevensville.
Word has arrived this week that the trio of Catherine Cronkrite, Kaitlin Pickard and Shelly Wermund have all earned the certification of Certified Advertising Specialist, or simply CAS as administered by Promotional Products Association International, the largest international not-for-profit association for more than 16,000 members of the $24-plus billion promotional products industry. They work in both the Stevensville and Grand Rapids offices of Competitive Edge.
Catherine Cronkrite is the Competitive Edge Customer Service Manager, Shelly Wermund is their Program Manager and they both work in the Stevensville office. Kaitlin Pickard is a CSR/Graphic Artist and works in the Grand Rapids office.
The Certified Advertising Specialist (CAS), and its companion ratings of Master Advertising Specialist (MAS) and Master Advertising Specialist Plus (MAS+) Certifications are the promotional products industry's premier professional designations.
Those individuals with a PPAI Certification are industry leaders — the ones who have attained a higher standard of professional competence, knowledge and experience. PPAI industry certification is acquired through a combination of dedicated certification classes, demonstrated years of employment in the industry, elective courses, and a successful demonstration of expertise. Certification is maintained through continuing education to ensure current knowledge and leading-edge professional skills.
The Certified Advertising Specialist (CAS) Certification requires 25 hours from a structured industry approved curriculum along with 25 elective credits, completion of the Trained Advertising Specialist (TAS) certificate, and a passing score on the CAS Certification dedicated course quizzes. The rigorous curriculum required includes an overview of the promotional products industry, promotional programs, best practices/ supplier-distributor relations, advertising and marketing overview, product safety and business ethics. Upon completion of the core curriculum, individuals then can structure their own course schedules to deliver the greatest relevance and value for their careers.
The Master Advertising Specialist (MAS) Certification and PPAI Master Advertising Specialist Plus (MAS+) Certification are even more advanced and decidedly more rigorous in their criteria for achievement.
Through industry certification, promotional products professionals can earn all three designations to demonstrate a commitment to both business excellence and continued professional growth. A relatively small percentage of professionals hold these certifications and are often the industry's innovators and leaders.
Industry authorities suggest that the promotional products medium is an essential element in the marketing communications mix, saying that a "branded" tangible product turns an ordinary message into a marketing experience an audience can see, touch, hear, smell and even taste. Promotional products are among the most efficient and effective media buys with the advertising industry. For more information about Promotional Products Association International (PPAI) or to learn more about the proven power of promotional products (including research and case studies), you can visit the PPAI website at http://www.ppai.org or contact PPAI at 972-258-3063 or PR@ppai.org.
Competitive Edge, one of the largest full-service promotional product distributors in the United States was started in a basement by Mary Jo Tomasini. Today, Competitive Edge operates from offices in Stevensville and Grand Rapids employing more than 20 people. Always mindful of developing a successful business within the promotional product industry, Ms. Tomasini and Competitive Edge have been the recipient of many awards locally, regionally, and nationally, including the Outstanding Women Business Enterprise of the Year. Competitive Edge has a team that has earned multiple certifications:
Mary Jo Tomasini, MAS+
Paula Wygonik, MAS
Lisa DeJong, MAS
Noreen Soos, CAS
Sarah Hadley, CAS
Teresa Dente, CAS
Now, they add three new names to their certified team in the form of Catherine, Katilin and Shelly.