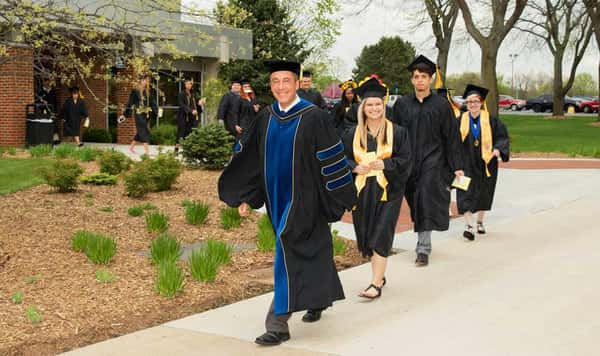 Students at Southwestern Michigan College will face tuition increases going forward and the school has carefully hand crafted a new partnership with Glen Oaks Community College in Centreville for enhanced cooperation. That agreement is the result of months of hard work by both institutions to create unique opportunities for residents of both constituencies.
The Southwestern Michigan College Board of Trustees reviewed the college's proposed 2016-17 operating budget last night and approved the joint resolution for enhanced cooperation with Glen Oaks Community College. They also toured the newly-renovated Foster W. Daugherty Building, accepted gifts and awarded four service pins at the meeting on the Dowagiac campus.
The college's spending plan for the fiscal year beginning July 1, 2016 is balanced at $23,035,000. The budget contains a 2-percent in-district tuition increase from $113 to $115.25; in-state, from $146.75 to $150.25; and out-of-state, from $159.75 to $164. Registration fees and technology fees rise one dollar, from $18.75 to $19.75 and $27 to $28, respectively.
The budget will be adopted after a public hearing at the June 20 meeting.
Thomas F. Jerdon is the SMC Board Chair. He says, "The Board of Trustees is unanimous in our commitment to fiscal responsibility. This budget continues to fund educational advancements and quality improvements at the college in a fiscally sound way."
The new, joint agreement with Glen Oaks in Centreville brings increased cooperation between the two institutions. By working together, the two colleges plan to more effectively provide both communities with a greater variety of sustainable academic offerings.
As a first step in the agreement, the colleges will collaborate on a diesel mechanics program (to be offered through Glen Oaks) and an early childhood education program (offered through SMC).
Jerdon says that the agreement states, "Both institutions agree to direct interested students in these programs, including dual-enrolled students, to the appropriate institution to help make these two programs successful." He adds, "SMC looks forward to partnering with Glen Oaks, as both are fine institutions. Both campuses have many things in common, including similar college districts, and committed leadership dedicated to providing affordable, high-quality college education in a rural area." He concluded, "We look forward to further growing our combined efforts to serve southwest Michigan."
There will be an open house September 27th showcasing the renovation of the Daugherty Building, which converted the former science home into the communications, humanities and social sciences building. The public is invited, and more details will be forthcoming.