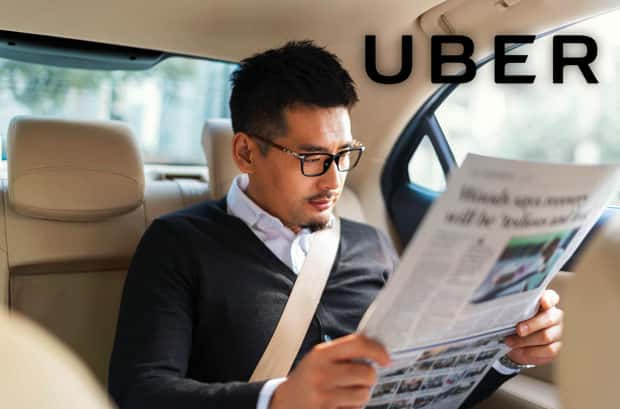 If you've been anxiously awaiting the opportunity to hail a ride with Uber like most of the rest of the civilized world, operations will officially begin tomorrow in St. Joseph and Benton Harbor just in time for summer fun, and you can thank some very influential friends for making it happen. Jerry Price, Lisa Borre, Rachel Luce, Lana Rapette and David Krock teamed up with John Egelhaaf starting some eight months ago to begin lobbying for the rideshare service here. Having heard complaints from dozens of friends and businesses about the lack of such a service, they went directly to Uber and after convincing them of the critical need — they made it happen.
They as a team and Uber say that whether you're just heading to the lake, exploring Michigan's Great Southwest or looking for even if you're looking for a flexible earning opportunity, thousands among us can now access such opportunities with Uber through the simple tap of a button. Both UberX, the company's popular ridesharing product, as well as UberXL, an option for larger parties up to six passengers, will be available to local riders.
Uber is a technology company that connects riders and drivers through a smartphone application. With Uber, riders can push a button on their phone and get a ride within minutes. The start of the summer season brings more visitors to the beaches of Lake Michigan and popular destinations such as wineries and breweries. Uber takes the hassle out of getting from point A to point B, and serves as a safe alternative to drunk driving.
Uber partners with local drivers who use their personal vehicles to give residents and visitors a ride on their own schedule, opening up flexible earning opportunities for the residents of St. Joseph and Benton Harbor. Uber is also beginning operations in New Buffalo, South Haven, Saugatuck, Holland, Muskegon, and Grand Haven.
James Ondrey is General Manager for Uber in Michigan. He says, "I am pleased to announce that Uber is officially launching in St. Joseph and Benton Harbor, just in time for the official kick off of summer. Residents and tourists alike can now use Uber to go to the beach, a brewery, and everywhere in between. Those looking to earn extra income now have a flexible earning opportunity available to them at the tap of a button."
Jerry Price is Community Outreach & Development Director for the YMCA of Southwest Michigan. He calls it all, "Great news for the residents of Southwest Michigan and we are excited to welcome Uber to St. Joseph and Benton Harbor. Uber will not only help keep our roads safer, but their presence will help us in our mission to bring economic opportunities to the community."
John Egelhaaf is Executive Director of the Southwest Michigan Planning Commission. He weighs in on the subject saying, "We are excited that Uber will be providing service in St. Joseph and Benton Harbor just in time for the busy summer months. The announcement is also well timed to coincide with the county-wide transportation services study in Berrien County." He adds, "Uber will help us ensure there are more safe transportation options for visitors to the lakeshore as well as help provide jobs for St. Joseph and Benton Harbor residents."
To celebrate the launch, Uber is offering new users one free ride up to $15. Users can enter LAKEMI17 into the app to redeem the offer beginning tomorrow, Friday, June 16 at 1:00pm through October 1 at 11:59pm.
Here's how it works: To use Uber, first download the free Uber app for iOS or Android. Then, create an account using your email address and phone number and add your payment information.
When you're ready to go, open the app and enter your destination in the "Where To" bar. You can do so by:
Searching for the name of a place
Entering an address, or;
Setting a pin
Once you've selected the location, just tap 'Request.' When your driver is on the way, you'll see:
Your driver's picture and name
Picture of the vehicle, and make and model
Car's license plate number
You can also watch the driver travel to your location on the app's map. When your driver arrives, check the photo and license plate number; that way, you know you're getting in the right car with the right driver. If you need to get in touch, you can call or text your driver through the Uber app.
When you arrive at your destination, just hop out—your trip will be automatically charged to the payment method on file.
After every trip, you can rate your experience and provide anonymous feedback about your driver. Should you need to get in touch, the in-app support feature is there to help.
For more information on how to sign up as a driver, click this link here.
Uber's mission is to bring reliable transportation to everywhere, for everyone. They started in 2010 to solve a simple problem: how do you get a ride at the touch of a button? Six years and more than two billion trips later, we've started tackling an even greater challenge: reducing congestion and pollution in our cities by getting more people into fewer cars.