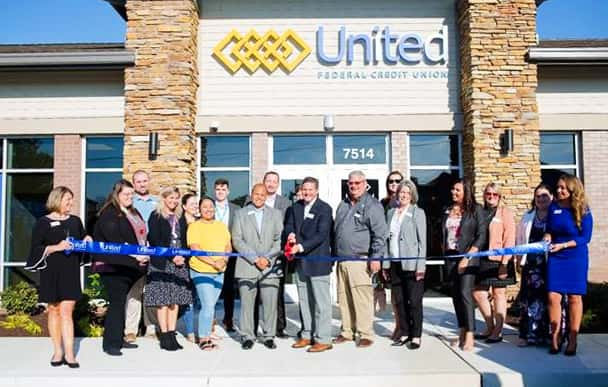 Terry O'Rourke's team is on a roll across the region, as they expand their market envelop in Northern Indiana. O'Rourke is CEO at United Federal Credit Union, where they celebrated continued expansion with the opening of the Toscana Park branch in Granger yesterday, September 17th with a ribbon-cutting ceremony. The branch, located at 7514 Gumwood Road, is the third free-standing United branch to open in northern Indiana since 2018.
Alysa Snell is United's Market Vice President for Indiana. She says, "Opening this new branch reaffirms United's commitment to serving our community," and adds, "Since we first announced plans to expand in northern Indiana, the team at United has made amazing connections through community partnerships and hours of volunteering. We've made a difference in the lives of our friends and neighbors by making United a place where our members feel comfortable discussing their finances, and we're thrilled to be part of the incredible momentum being generated in Granger, Mishawaka, and South Bend."
Denise Weaver will lead the Toscana Park location as Branch Manager. Weaver will use her more than 20 years of financial services experience to maintain the performance of the branch, provide solutions to members, and leadership and supervision to staff. Prior to her appointment as Toscana Park Branch Manager in July, Weaver served as United's assistant branch manager at the credit union's Edison Lakes branch in Mishawaka.
Weaver says, "Our Toscana Park branch team knows first-hand what is possible when truly passionate people come together to work hard for each other, the membership, and the community." She adds, "Not only do we help our members get the best financial service possible, we also have a willingness to step up and step in, so this community continues to grow and prosper."
United opened the doors to its new 2,500 square foot branch on September 3rd and is currently serving members. Construction of the branch building started in January and was managed by The Redmond Company. The Toscana Park branch is a full-service extension of United, offering personal and business banking services including loans, mortgages, and investment planning.
Rob DeCleene is Executive Vice President of the South Bend Regional Chamber. He says, "From the moment United Federal Credit Union entered our market, they have demonstrated a visible commitment to the community,"adding, "It's great to see their success and growth. It's good for them and wonderful for our region."
United also made a $1,000 donation to the Gary Sinise Foundation in honor of Member Scott Wilson's military service. Wilson is a retired Lance Corporal who served three years in the Marine Corps in Operation Freedom I and Freedom II in Iraq. He is one of the first members to join the Toscana Park branch. Students of Penn High School's brass quintet played the national anthem for the branch's flag dedication ceremony.
In October, United will open its fourth branch in northern Indiana, located at 3630 Bremen Highway. United opened its first two locations in the region in 2018 with branches on Edison Lakes Parkway in Mishawaka and Ireland Road in South Bend
United Federal Credit Union has served its members since 1949 by helping them to build a sound financial future, and consists of more than 174,000 member/owners worldwide. The credit union manages assets in excess of $2.8 billion. Its corporate offices and main branch are in St. Joseph, with additional branches elsewhere in Michigan as well as in Arkansas, Indiana, Nevada, North Carolina, and Ohio. For more information you can visit online at www.unitedfcu.com.