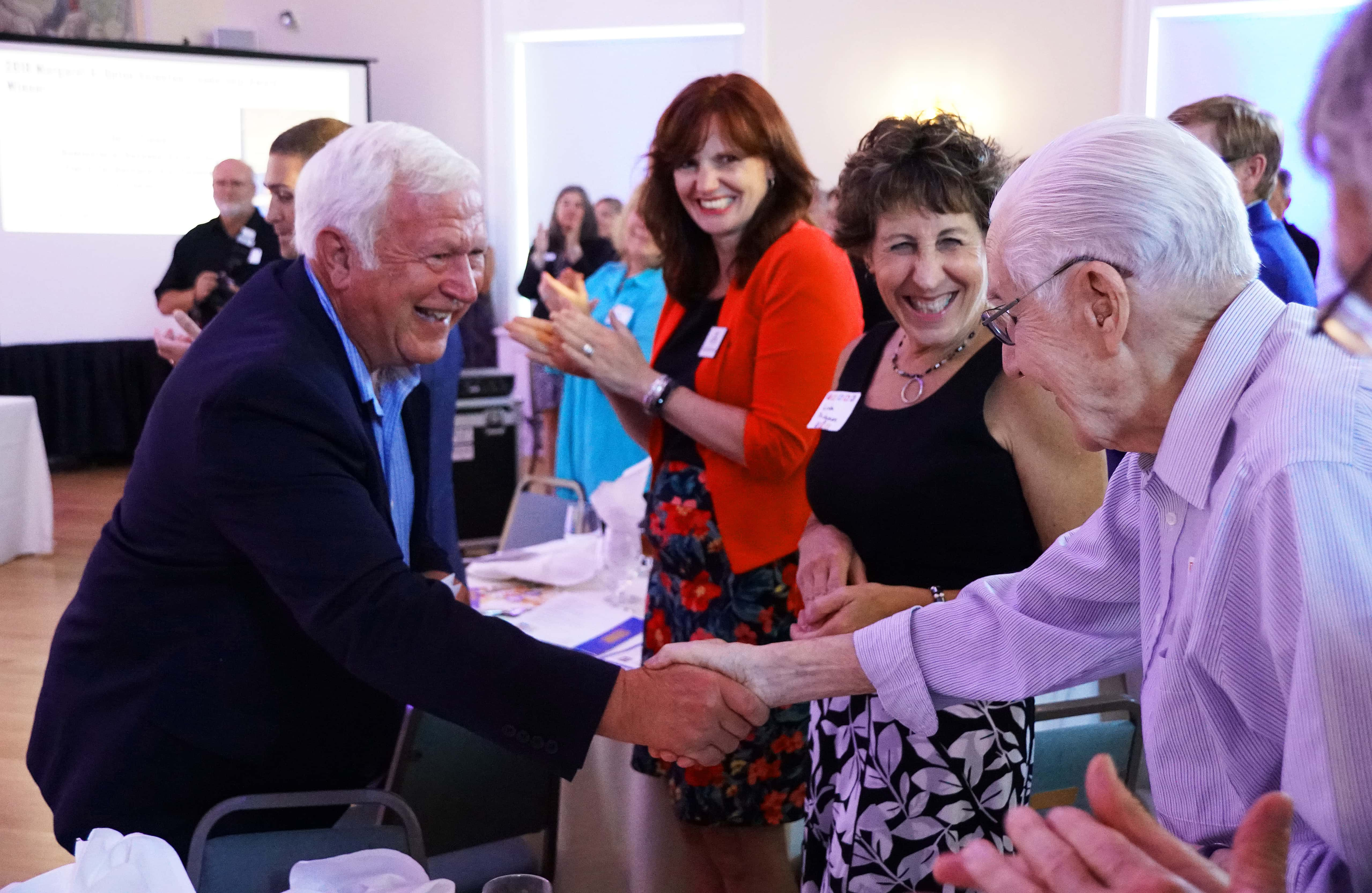 Jerry Flenar of Buchanan started his legendary life of volunteerism with the Buchanan-Galien Lions Club seemingly a lifetime ago. It was that humble beginning and a family tradition of taking time to care about the community in which you live that led to an ever-increasing workload on behalf of other non-profit organizations that moved the judges to select Flenar as the winner of the 2018 Margaret B. Upton Volunteer Leadership Award tonight.
Flenar joked that he worked for companies willing to allow him time to volunteer, "So long as it didn't interfere with the 60-hours a week they had me working on the job." Flenar's amazing track record of leadership in volunteerism paved the way for his victory tonight from among a field of three nominees who also posed daunting talents, the other two are shared below.
The winners for United Way's Live United youth scholarships, and Emerging and Sustaining Awards were also announced.
The Margaret B. Upton Volunteer Leadership Award is presented to one volunteer in Berrien County who demonstrates a long-standing history of volunteer contributions, diversity of volunteer experience with multiple organizations, and teamwork and leadership experience. Flenar will receive $3,500 from the Upton Foundation to donate to the non-profit organization of his choice.
Flenar has a lifelong history of dedicating his time and services, as well as his personal assets and finances, to the community of Michigan's Great Southwest through many organizations. Flenar's been recognized as Buchanan's Volunteer of the Year Award Winner twice since 1968. Additionally, he has received the prestigious "Buchanan's Lifetime Achievement Award" two times.
In the photo accompanying this story on Moody on the Market, Flenar (l) shakes the hand of 2017 Upton Award Winner Arden Pridgeon (r) as Berrien Community Foundation Director Lisa Cripps-Downey and Pridgeon's daughter, Linda Pridgeon look on in glee.
Here is a list of Flenar's volunteer contributions:
Buchanan Area Chamber of Commerce – Current President of Board – 16 years
Buchanan-Galien Lions Club – Current President of Board – 37 years
Buchanan Community Schools Board of Education – 13 years
Buchanan Promise Board (new board this year) – 1 year
Friends of McCoy Creek Trail Board – 8 years
Buckteen Class Reunion Board – Current President of the Board – 12 years
Buchanan Community School Farm Board – 30 years
Buchanan Little League Coach – 8 years
Flenar was one of three nominees recognized for this great honor. The others include:
Phil Maki
Nominated by St. Joseph Public Schools, Phil is the epitome of a community-minded individual. Phil has served on the Cornerstone Alliance Board of Directors, SJPS Foundation Board of Directors, Berrien Community Foundation and City of St. Joseph Planning Commission. He was awarded the David R. Whitwam Outstanding Achievement Award in 2015 and has spent his volunteer time lately with a focus on job growth in Southwest Michigan as a board member of Michigan's Great Southwest Strategic Leadership Council.
Dorothy Parker
Nominated by SW MI Advocates and Leaders for Police and Community Trust (ALPACT), Dorothy brings wisdom, energy and a quiet strength to each task she undertakes. Dorothy's compassion to see youth strive, survive and succeed drives her in many of her volunteer efforts. Dorothy has been a contributing member to the NAACP, on the Peace Walk Committee at Benton Harbor High School, a Foster Grandparent through Area Agency on Aging Region IV, on the Michigan Adolescent Pregnancy & Parenting Program Steering Committee and is an active member of the Delta Sigma Theta Sorority.
Other awards tonight included:
EMERGING AND SUSTAINING VOLUNTEER AWARD WINNERS
The Emerging and Sustaining Volunteer Awards recognize volunteers from Berrien or Cass County who show a commitment to United Way's goals in the areas of Education, Income, Health or Basic Needs. These volunteers elevate organizations to new levels.
The Emerging Volunteer winner will have the opportunity to direct $300 to the non-profit organization of their choice while the Sustaining Volunteer receives $500.
EMERGING VOLUNTEER AWARD WINNER
Pat Winans
Nominated by New Heights Christian Community Development Association, Pat, as a "lead mechanic" with the Cars Ministry program, has been instrumental in providing critical repairs and vehicles to low-income individuals in need of transportation.
Other nominees:
Laura Goos
Nominated by the Berrien County Democratic Party, Laura, described by her peers as a thoughtful person with a greater good in mind, is also active with the Safe Shelter for Domestic Violence, Box Factory for the Arts and St. Joseph Public Schools.
Mike Ford
Nominated by New Heights Christian Community Development Association, Mike is the volunteer "shop manager" for the Cars Ministry responsible for coordinating all work when the garage is open and continually working to help the organization become more efficient and effective.
Ashlee Jaffee-Montgomery
Nominated by Cass County Great Start, Ashlee has helped plan and execute numerous events hosted by the Great Start Cass County Parent Coalition. She always goes above and beyond the call to help and has a wonderful voice to share with the community and parents.
SUSTAINING VOLUNTEER AWARD WINNER
Margaret O'Neill
Nominated by Meals on Wheels/Senior Nutrition Services, Margaret volunteers with her church, the D.A.N.K., Lake Michigan College Mendel Center Mainstage as well as Meals on Wheels. Her energy and passion help ensure that the seniors are healthy, active, engaged and nourished.
Other nominees:
Steve Mejeur
Nominated by Well of GRACE Ministries, Steve's commitment to leadership, fundraising and encouraging the board and staff is fundamental for the success of any non-profit. His love for the community, his heart for helping and his business talents help Well of GRACE reach and serve over 500 teen girls and women each year.
Nancy Saylor
Nominated by Girls on the Run of Southwest Michigan, Nancy, retired from teaching, continues to volunteer to put together boxes for the coaches, sort shoes and shirts and help at the annual 5K event. Her support and encouragement as a coach and volunteer have positively impacted many girls, coaches and parents.
Tara Smith
Nominated by Domestic and Sexual Abuse Services, Tara is a volunteer on their Emergency Response Service Team where she educates and empowers all victims to become survivors through their services. Tara is always reliable in times of need. No matter what time of day or night it is, she is willing to help a victim.
Colette Scott
Nominated by Niles Salvation Army, Colette has been a volunteer for 15 years in various roles such as receptionist, member of the Emergency Disaster Service Team, Women's Ministry, Youth and Adult Camps, "Lunch Bunch" community meals, Back-to-School backpack program as well as Thanksgiving and Christmas Assistance. Colette loves the opportunity to serve others.
Bob Stanwood
Nominated by New Heights Christian Community Development Association, Bob has been an instrumental part of the Cars Ministry by helping to write grants, developing and streamlining processes, securing tool donations from Snap-On tools and working on the vehicles himself. Because of Bob's involvement, the Cars Ministry has seen a 350% increase in output since 2015.
Roger Herbstreit
Nominated by New Heights Christian Community Development Association, Roger's brainchild was the Cars Ministry program, a community outreach event where volunteers provided free oil changes and brake jobs to single moms. In the nine years since its inception, 95 individuals have been assisted with the provision of a vehicle or a critical repair of their own vehicle.
Joshua Simons
Nominated by the Berrien County Cancer Service, Joshua lives a life of giving to others. He is a member of the Board of Directors for the Berrien County Cancer Service, participates in running and cycling events supporting health-related causes such as Tour de Cure for diabetes, Tour de Mitt for the Hanson Hospice Center and Holy Half Marathon, a Notre Dame charity fundraiser for devastated communities.
LIVE UNITED YOUTH SCHOLARSHIP WINNERS
The winning youth volunteer demonstrated a commitment to volunteerism through: Innovation, Dedication, and Advocacy for Community Improvement.  The winners will receive a $1000 scholarship made out to the college on their behalf.  Only current High School Seniors were eligible to apply.
Berrien County Winner
Kailey Skarbek of Niles High School
Cass County Winner
Nick Bradley of Edwardsburg High School
In the photo below, Jerry Flenar poses for photographs with United Way President Anna Murhphy following tonight's big event at the Heritage Center in St. Joseph.