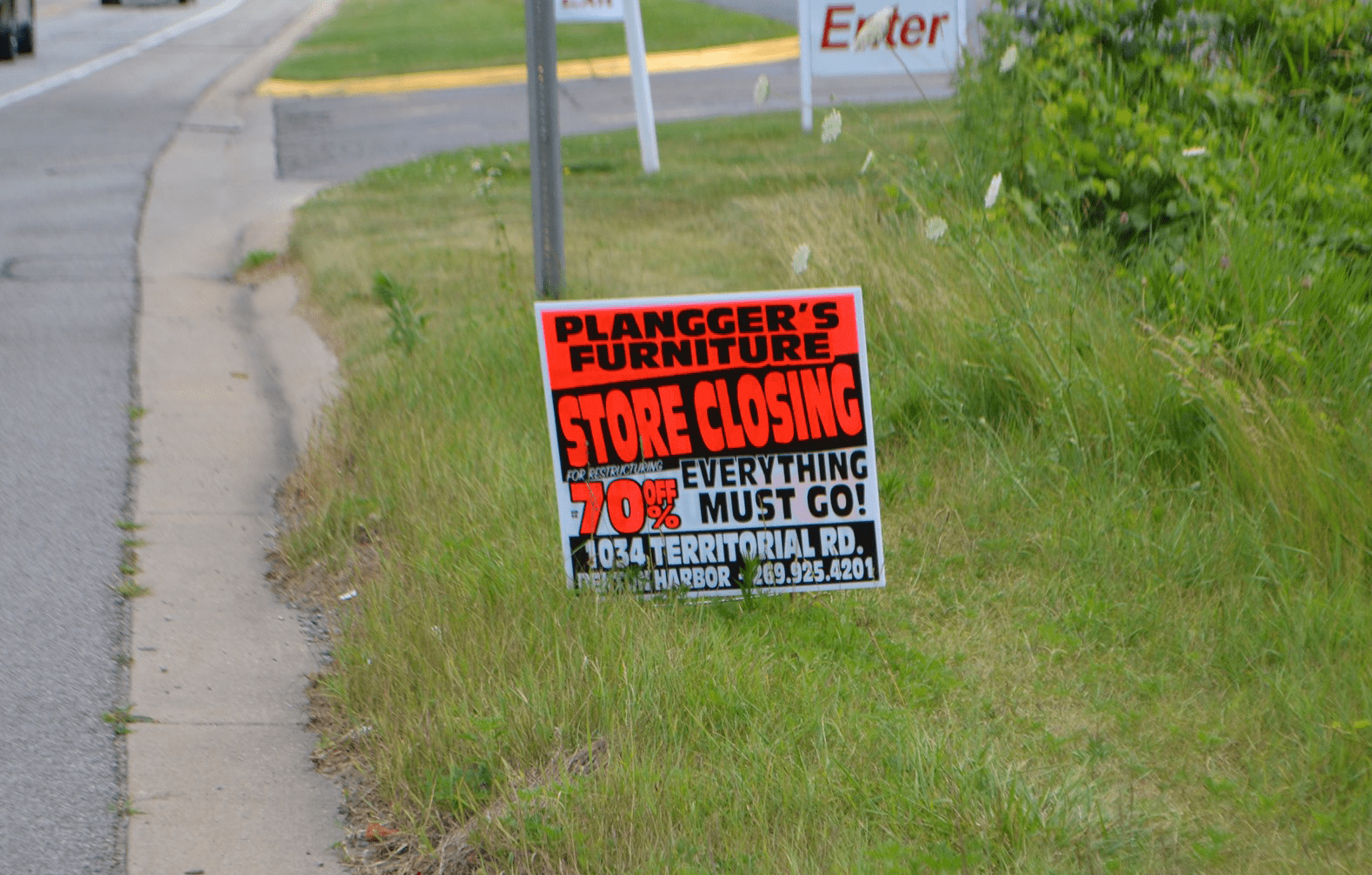 On Sunday, many observant MoodyontheMarket.com readers began contacting us with photos of signs dotting the intersections around the Benton Harbor/St. Joseph areas announcing the supposed store closing liquidation of Plangger's Furniture in Benton Harbor, a 67-year family fixture on Territorial Road.
Luckily, some of you are pretty good with your cameras (and apparently have better eyes than our writing team!), wherein you noticed that under the STORE CLOSING heading is a small set of letters saying "…for Restructuring. It was certainly a surprise to many a traveler who quickly took in the headline and sent us a message asking us to take a look into the matter.
We had the chance to confirm that information today from Richard Plangger himself, who assures us that the business is simply trying to get a mass of inventory off the showroom floor, quickly, and at discounted prices, so they may restructure the building's showroom space for a better furniture-buying experience.
"Since 1952, our goal at Plangger's Furniture has been to provide families in Southwest Michigan with the highest quality, most affordable options in home furniture," Plangger tells us. "Our goal remains the same today, and to ensure we can deliver on that promise, we are offering steep discounts on existing inventory so that we can restructure our showroom floors with new and exciting products.
"We will continue to offer one of the largest selections of home furniture in the area and look forward to improving the overall experience for our valued customers. We are thankful for the continued local support and look forward to the next six decades as a family-owned business serving our community."
So, there you have it. While the signage may be jarring, Richard Plangger would really appreciate seeing your smiling face at 1034 Territorial Road in Benton Harbor soon to help him make some space.
The photo accompanying this story was posted to our News/Talk 94.9 WSJM Facebook page by user Jeff Ochs.