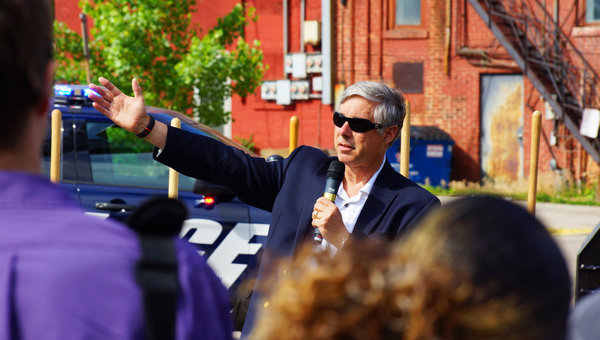 The fight against crime in Michigan's Great Southwest will get a boost from new grant dollars announced this morning by Congressman Fred Upton.
The St. Joseph congressman has today announced that Berrien County and the city of Kalamazoo are receiving federal grant resources to support a broad range of activities to prevent and control crime and to improve the justice system.
The Edward Byrne Memorial Justice Assistance Grant (JAG) Program – administered by the Department of Justice – is providing $28,024 to Berrien County and an additional $87,499 to the City of Kalamazoo.
Upton says, "At a time when there's so much uncertainty in the world, our families should feel certain that their homes and communities are safe. These grants will help in that effort." He adds, "We'll keep working with our law enforcement, local governments, and community partners to build safer communities for everyone who calls southwest Michigan home."
According to the Department of Justice, funded programs or initiatives may include:
Multijurisdictional drug and gang task forces
Crime prevention and domestic violence programs
Courts
Corrections
Treatment
Justice information sharing initiatives
Other programs aimed at reducing crime and/or enhancing safety
The Edward Byrne Memorial Justice Assistance Grant Program is named after New York City Police Officer Edward Byrne. In the early morning hours of February 26, 1988, Officer Byrne was in his patrol car when two armed gunmen crept up to his car from both sides. Officer Byrne was shot five times in the head and died when he was only 22-years old.